I guess today is my Steem anniversary. This was something I was not aware of until @acidyo pointed it out to me on a comment I posted. I knew it was coming up in August, just never thought about the date.
It is a wild ride and I am so glad I found this place two years ago.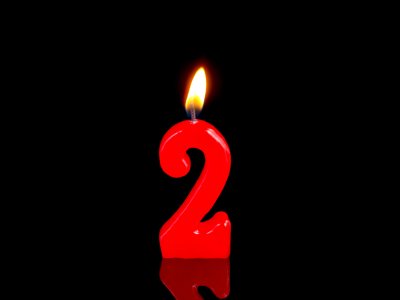 Source
When I got here, I had no following and very little money. I was not one who had a huge presence on YouTube or Facebook. In fact, I was not a content creator. Instead, I was just a guy who showed up on Steemit.com based upon the recommendation of someone at a cryptocurrency gathering.
I am fortunate that I was one who stuck. In spite of the ups and downs, I believe Steem has an incredible future ahead of it. We are going to see things that make people's heads spin. The progress we are making in terms of development is going nicely.
There are a lot of wonderful people on this platform. That is something that so many miss. I wrote a post about Steemleo last night. The knowledge on this platform is incredible. For a long time, I felt this is an epicenter for knowledge about cryptocurrency. Look at the articles and insight posted by hundreds of people about not only Steem, but other cryptos such as EOS, Bitcoin, Ethereum, and Tron. Personally, I feel this knowledge rivals anything on Cointelegraph or sites like that (although the coverage of a diversity of projects might not be here).
The same is true for many other subjects. Just looking around, there are a lot of people who are very advanced when it comes to different topics.
Part of my journey has been buying STEEM at different intervals and powering up. To this point, I have not taken one token out of the Steem ecosystem. Everything I was rewarded with, along with buying, is still on here in some form. Now with Steem-Engine (and hopefully SMTs by next Spring) we are seeing the opportunities expand.
Investing in STEEM (and Steem) has been a worthwhile endeavor for me. While we are in the midst of a horrific bear, things are still expanding and growing. That bodes well for all who invested, either time or money.
I want to thank everyone who is active and helping this place grow. This is not an endeavor that is up to a single person or group of people. That is the key with decentralization. Everyone has the ability to participate and make the thing grow. Steem is going a thousand directions at one time and it is wonderful. That is what decentralized organizations do.
As the tentacles of Steem spread in different directions, we will be attracting people from many different backgrounds. This will only add to the growth and innovation we see arising down the road.
To anyone new, I would suggest finding something that interests you and throw yourself into it full force. Whatever your like, get involved. With the recent advent of tribes, we see the ability to focus our attention in a more specialized area. This is key.
Remember, you are important. It does not matter what your stake is compared to the Whales, you could be the next great Dolphin or Orca. Or, to go one step further, you might end up being a LEO or STEEM whale. There are so many opportunities and they just keep increasing.
So once again, thank you to everyone for an incredible ride. I look forward to where we will be next August when I will be 3 years old and I cannot help but to shake with excitement. If the next 12 months mirror the last 6 months, we are going to see some wild things popping up here.
---
If you found this article informative, please give an upvote and resteem.