Our second AMA on telegram will reveal some vital information that will link you to how to about 25k to 85k worth of Naira/BTC grow your understanding about the project as the community prepare to welcome First Kudi.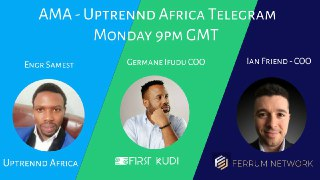 Uptrennd Africa pleased to announced the second AMA on her telegram with First Kudi.
Uptrennd Africa has been working towards educating the community on Crypto/Blockchain Project to aid the adoption in our continent. Our second AMA on telegram is here. Uptrennd Nation is powerfully aware of what Ferrum Network project is all about but many of us don't really check out the products and services they render to this Crypto World.
The AMA is going to be moment of learning, earning, and understanding First Kudi & Ferrum Network Project as its applies to this decentralized world (Cryptocurrency).
Who To Attend?
The AMA is for all. Get yourself ready to be partakers of great happenings at Uptrennd Africa and the knowledge impacted won't leave your memory for future purpose.

Facilitators
1. Germaine Ifudu
COO First Kudi &CTO TLG Ventures
2. Ian Friend COO Ferrum Network
Giveaway Attached
15,000 FRM
Date : Sunday 30th March, 2020
Time: 9 PM +GMT
Venue: Uptrennd Africa Telegram
Host: Uptrennd Africa
Make Sure You Register At Uptrennd.com
Tipping 1UP Will End The AMA. Don't Miss Out Of This Event!!!