Hello my Dearest Foodies,
We are entering the time when our houses begin to smell like cinnamon, apple pie or pumpkin pie and gingerbread. Although, we already had Thanksgiving here in Canada, there is more holidays on the way there for I am working on delicious and guilt free desserts!
Today I have for you truly decadent, yet highly nutritious carrot cake. It takes little bit of work to make it, but it's well worth it, I guarantee.
I wish you a wonderful week 🍂🧡🍂
HOLIDAY CARROT CAKE
Whole Grain Spelt Carrot Cake with Cashew Cream, Spiced Caramel & Roasted Pecans
Vegan – Refined Sugar Free
Author: Lena's Vegan Living
INGREDIENTS
• Whole grain spelt flour 4 cups
• Xylitol – Birch sugar 1 ½ cup
• Carrots 4 ½ cups (shredded, very finely)
• Baking powder 4tsp
• Baking soda 1 tsp
• Salt 1 tsp
• Pumpkin spice 1 1/2tbs (store bought or homemade)
• Grape seed oil ½ cup (or oil of your choice)
• Unsweetened applesauce 1/2 cup
• Orange juice 2 cups (preferable fresh squeezed)
• Walnuts crushed 1/2 cup
• Spring cake forms 7inch 3
• Parchment paper
• Piping bag
PROCESS
• Preheat oven to 340F.
• Cut 7inch diam circles out of parchment paper and line your cake forms. Brush the bottoms lightly with oil first, it will help the paper stick.
• In a large bowl, mix the flour with sugar, baking powder, baking soda, salt & spice.
• Mix thoroughly and add carrots, oil, apple sauce and orange juice.
• Mix thoroughly again and divide into your forms into three equal portions.
• Place in the middle of the rack and bake for 45min or until the toothpick comes clean when you prick in the center.
• When ready, let it cool for a few minutes before taking out off forms.
• After, let cool on the rack completely and place into refrigerator overnight, before decorating.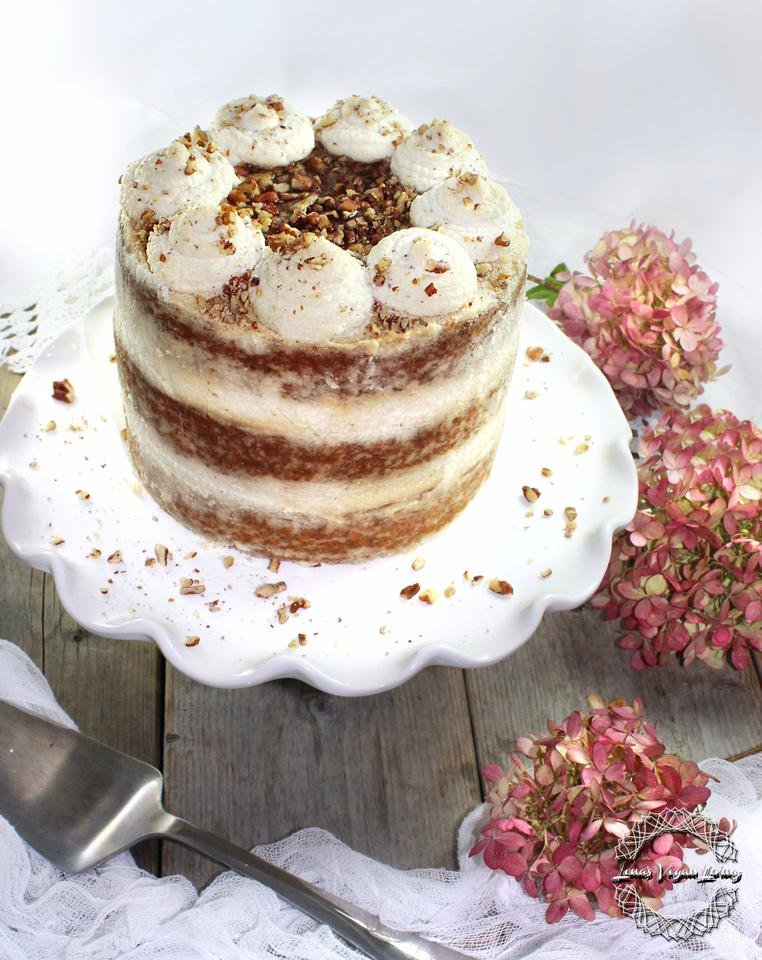 CASHEW CREAM
• Cashews 2 cups (presoaked for 4 to 6 hours)
• Canned coconut cream 1 cup (cooled, including the coconut water)
• Xylitol – Bitch sugar 1/2 cup
• Vanilla extract 1 tsp
• Lemon juice ¼ cup
Blend all in the blender until smooth and place into refrigerator for 2 to 3 hours or overnight.
TO DECORATE
• Apply three ¾ cups of cashew cream on bottom and middle cake layer and spread with spatula all the way to the edge.
• Place them on top of each other and the third layer one on top.
• Apply thin layer of cream on top and all around the cake.
• Decorate with piping bag and place into refrigerator.
• In the meantime, prepare your spiced caramel.
• When ready, carefully pour the caramel in the middle, you need less than ¼ cup.
• Roast whole pecans on heated pan. Reduce the heat and stir with spatula so both sides turn golden. It will take only few minutes, so be careful, do not burn.
• Let it cool down for 5 minutes and transfer into a blender. Grind by pressing pulse button. Make sure they remain chunky.
• Sprinkle on top of your cake most dense the center and serve.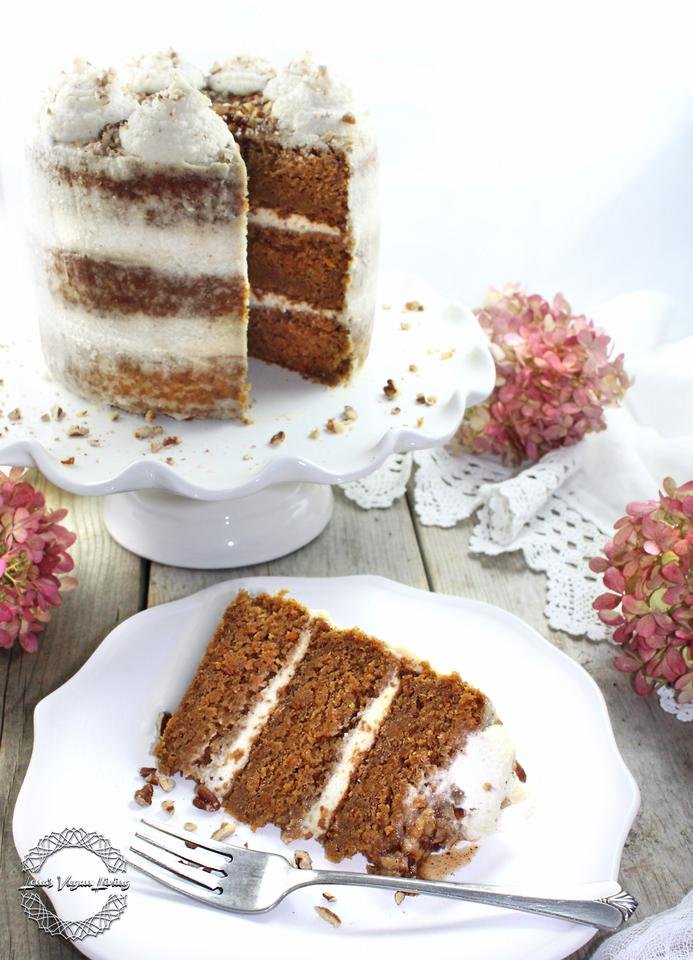 SPICED CARAMEL
• Maple syrup ¼ cup
• Orange juice 1tbs
• Lemon juice 2tsp
• Pumpkin spice 1/8tsp
• Himalayan pink salt 1/8tsp
PROCESS
• In a small pot, bring maple syrup to boil, add rest of the ingredients and stir well.
• Reduce the heat and let it simmer for 5min.
• Take it off the heat and transfer into small dish. Let it cool down for 10min.
PUMPKIN SPICE
• Ground cinnamon 1tbs
• Ground nutmeg 2tsp
• Ground ginger2tsp
• Ground cloves 1tsp
Mix all thoroughly and store in a sealed jar.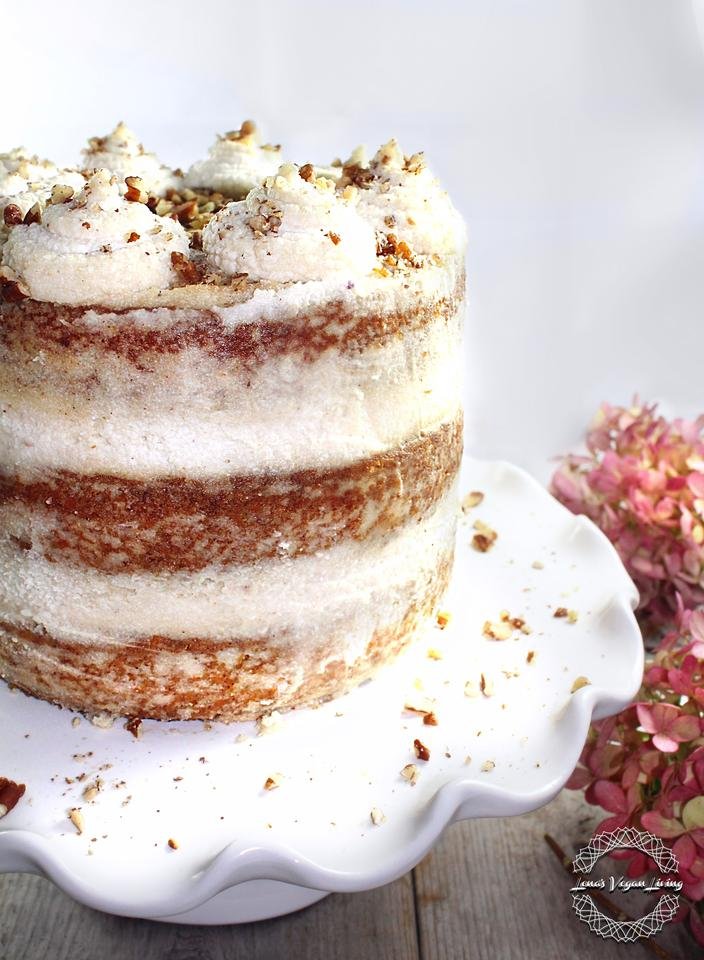 THANK YOU FOR VISITING & BON APPETIT
FOR RECIPES PLEASE VISIT MY Lena's Vegan Living Blog

|