This is my entry for #dailypetphotography hosted by @kona. A few days ago I had to stop everything after someone shouted about snake in the garden. I ran to the garden to find my cat playing with a very small baby snake. This snake was very beautiful and the patterns on the body were very intricate. He was so quick I could hardly follow him with my camera.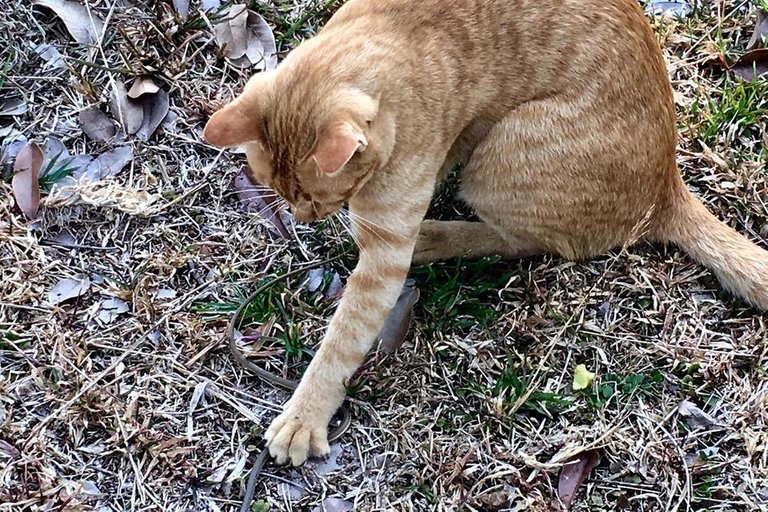 Joan was distracted by me and the snake slipped away for a moment. I backed off to see what would happen; Joan jumped into the snake stopping him in his escape. I had a good look, the snake was unharmed. My gardener was keeping quite a distance away from the scene. People here just dislike snakes and would certainly kill all the big snakes they happen to find in the fields. I had to teach some local children about their usefulness and to let them go free. I hope they would remember my message.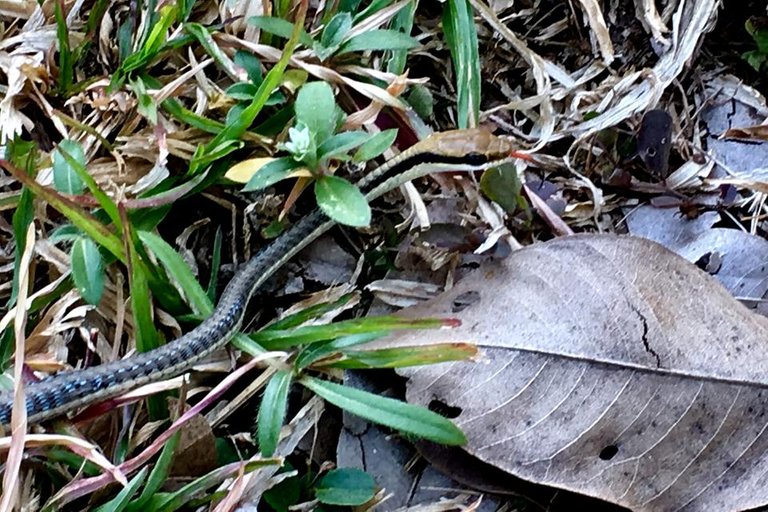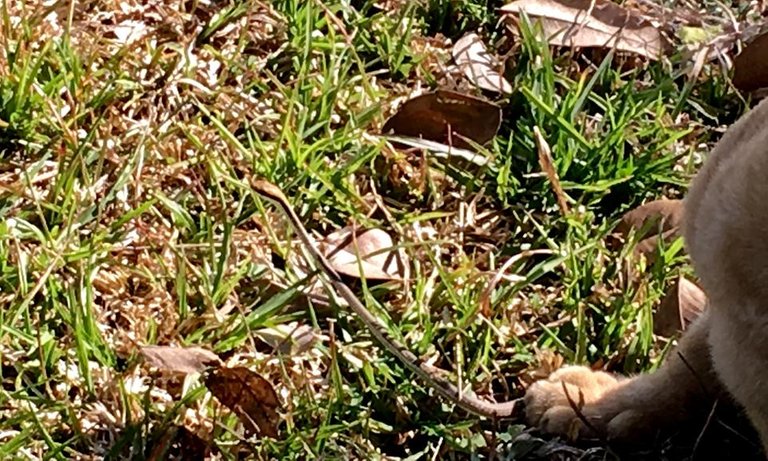 Once I found out that this snake is not venomous, I had the urge to pick him up! But my cat. Joan, was still playing his game with the snake. I found my chance to touch his body and tried to pick him up. To my surprise, this snake was quite strong and heavy! The muscles were reacting very fast and he tried to slip from my fingers. He's so slippery and he dropped from my hand. Joan followed him for a while trying to pick the snake up with his teeth. The snake slipped off and Joan lost his interest! The snake got away and continued to live in the garden.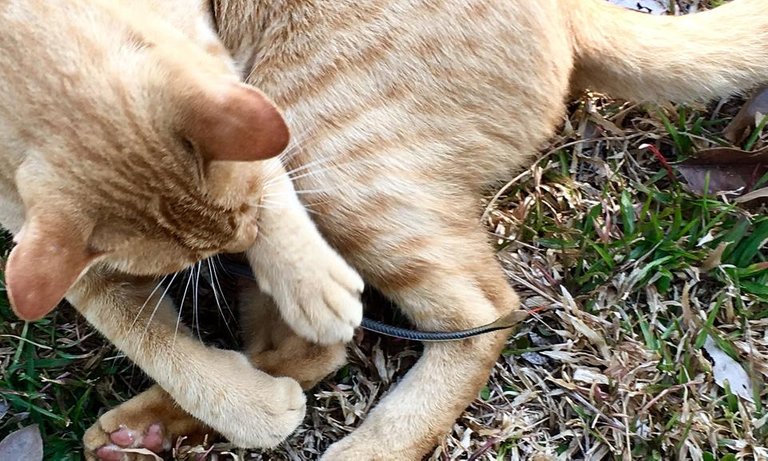 เมื่ออาทิตย์ที่ผ่านมา เราต้องหนุดทุกอย่างและวิ่งไปที่สวน เพราะมีคนตะโกนว่างูมา เราก็วิ่งไปเจอแมวของเรากำลังเล่นกับลูกงูอยู่ที่สนามหญ้า งูตัวเล็กมาก และมีสีสวยมาก ที่หัวมีสีส้มตัดกับลวดลายลำตัวสีเทาขาวดำทีาสวยมาก เราก็เฝ้าดูว่าแมวจะทำอะไรกับงูบ้าง ตอนแรกเราอยากจะรีบช่วยงูโดยจับโยนไปในป่าไผ่ข้างบ้าน เรารอดูก่อนว่าเป็นงูมีพิษหรือเปล่า พอรู้ว่าเป็นงูไม่มีพิษ เราก็อยากจะจับงูมาเล่นบ้าง แต่แมวคงไม่ยอม เราก็รอโอกาสก่อน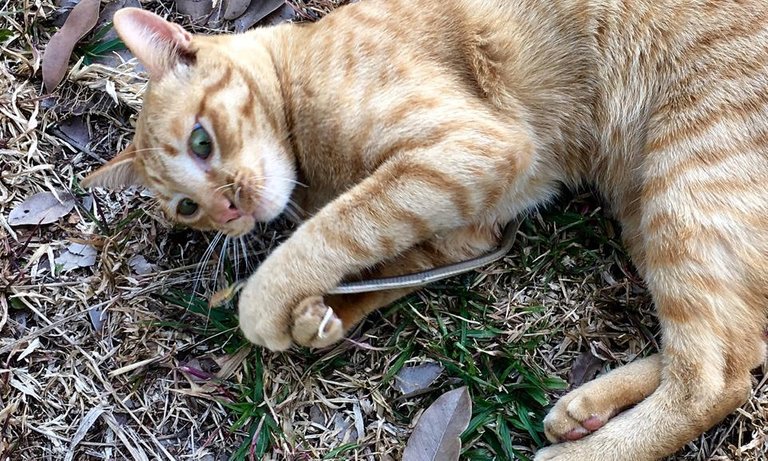 คนที่นี่มีความเชื่อว่าต้องจัดการงูตัวใหญ่เมื่อเจอทุกครั้งเพื่อความปลอดภัย เขาไม่รู้ถึงคุณประโยชน์ของงูที่มีต่อระบบนิเวศน์ เราก็เลยสอนเด็กในหมู่บ้านว่า งูมีประโยชน์อย่างไร และเราควรปล่อยให้งูมีชีวิตอยู่โดยธรรมชาติ เราดูแมวเล่นกับงู พอได้จังหวะเราก็จับตัวงูเบาๆ และพยายามจะช่วยจับไปปล่อย แต่เรากลับแปลกใจมาก ที่งูตัวเล็กๆจะมีกล้ามเนื้อที่แข็งแรงมาก และผิวตัวลื่นมาก มันสามารถดิ้นจนหลุดจากนิ้วมือเราไปได้ แต่เจ้าแมวก็วิ่งไล่ตระครุบตัวงูอย่างรวดเร็ว แมวพยายามจับงูด้วยการคาบไปด้วย แต่งูแข็งแรงมาก มันดิ้นจนหลุดไปได้ แล้วแมวก็เบื่อเดินไปที่อื่น เราก็ดีใจที่งูไม่ได้รับบาดเจ็บเลย และก็หนีไปซุกซ่อนในสวนต่อไป
I was glad the snake was unharmed and he lived in my garden. During the last few years, I had helped four small and medium size snakes and encounter about eight snakes so far!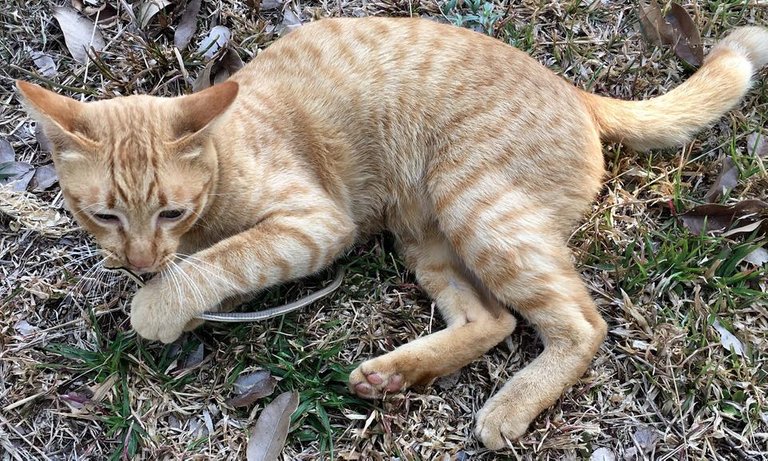 Wishing you peace, good health and prosperity.
Cheers.