This is my entry for #dailypetphotography created by @kona. Last night I was in the garden looking at the crescent moon and stars in the sky. The cold wind was blowing making it feeling like winter has finally arrived. Suddenly my favourite cat's face appeared in the dark sky. I missed my dear Snow and my fond memories of seeing him growing up from an awkward kitten to a handsome adult cat rushed into my mind. That brought both happiness and pain to me at the same time.
I lost two cats this year: Rosie and Snow.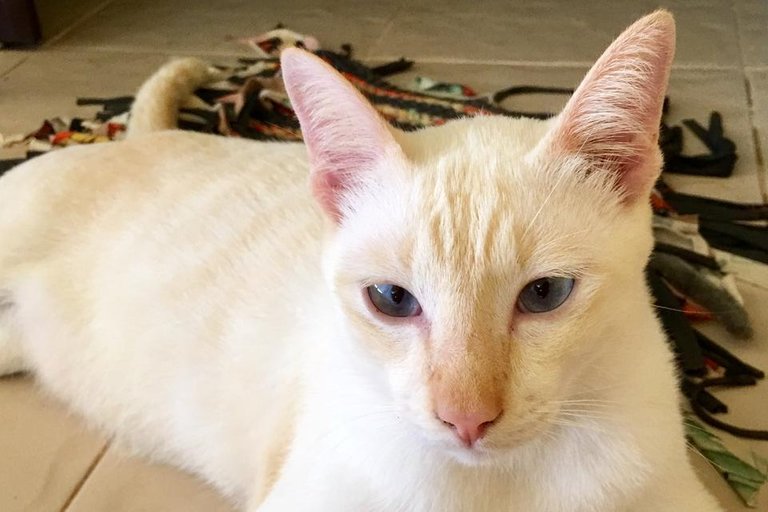 I could recall how Snow was the first kitten to walk towards people who were watching his mother feeding her four tiny kittens. Snow was very inquisitive and brave for he was not afraid to be picked up by me. I tried to play with these wildly born kittens hoping that they would become tame one day. Snow was my hero as he seemed to be by my side whenever I wandered in the garden. He was watching out for those snakes. My cats had killed several small snakes and scorpions making the garden less dangerous. Snow was a very good companion, always sleeping on the mat behind my chair. What's more, he's a very loving cat who held the family close together. Snow would lick each cat for up to ten minutes each day; he was spreading the love around making this cat family very lovingly united.
The black velvet sky with hundreds of stars with major constellations so close to earth. Winter month is the best time to look out for stars, especially the Pleiades. Night time temperature has dropped drastically from 32degree Celsius during daytime to about 14 degree Celsius in the night. I hope my Snow has been reincarnated as a human being living not too far away from my place so that one day we could become good friends. I do miss having six cats together as in the past.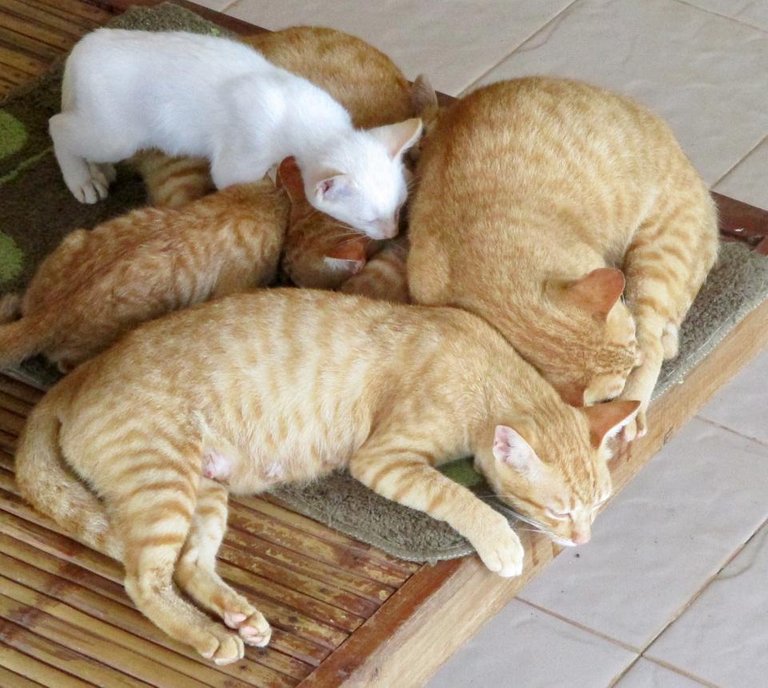 My mountain of six cats! What's a nice cat tribe!
เมื่อคืนเราไปเดินเล่นดูดาวในสวน อากาศเริ่มหนาวแล้ว ลมแรงมากตลอดคืน ทำให้อุณหภูมิลดจาก 32 องศาในตอนกลางวัน เหลือเพียง13-14 องศาในตอนกลางคืน คืนเดือนมืด มีดาวอยู่เต็มท้องฟ้าสีดำขลับ แล้วเราก็เห็นหน้าแมวที่ถูกสุนัขรุมฆ่าตายไปเกือบสี่เดือนแล้ว เราคิดถึงเจ้าสโนวมาก และคิดถึงเจ้าโรซี่ที่หายไปเองด้วย เราเสียใจเรื่องการตายของแมวที่ต้องได้รับความเจ็บปวดมาก เราเสียดายที่ไม่มีโอกาสได้ช่วยเหลือมัน. ส่วนแมวอีกตัวที่หายออกจากบ้านไปคือ เจ้าโรซี่ สองตัวนี้เป็นคู่หูกัน ชอบช่วยกันเลียขนและทำความสะอาด เจ้าสโนวเป็นแมวผู้นำที่ชอบเลียขนและทำความสะอาดให้แมวทุกตัวทุกวัน. มันจึงเป็นแมวที่ทำให้ครอบครัวแมวเป็นปึกแผ่น และรักกันมาก
เราเฝ้าดูเจ้าสโนวตั้งแต่ยังเป็นลูกแมวอายุหนึ่งเดือน มันเป็นลูกแมวตัวแรก ที่กล้าเดินมาหาคนที่กำลังดูแม่แมวเลี้ยงลูกแมวสี่ตัว และมันเป็นแมวตัวแรกที่ยอมให้เราจับมาเล่นได้โดยไม่หวาดกลัวด้วย. พอโตมา มันก็ชอบตามมาเฝ้าเราเวลาเดินไปรดน้ำต้นไม้ในที่รก มันคอยระวังเรื่องงูให้เรานั่นเอง แมวที่บ้านจัดการงูขนาดเล็กไปหลายตัว แมวป่องสีดำทะมึนหลายตัวด้วย และเจ้าสโนวก็ชอบมานอนอยู่หลังเก้าอี้ทำงานของเรา คืนที่หนาวเหน็บกับดาวเต็มท้องฟ้า ทำให้คิดถึงอดีตที่เรามีแมวถึงหกตัวโดยไม่ได้ตั้งใจ นั่นเป็นเวลาที่สนุกมากกับการดูแมววิ่งเล่นไปมาในสวน เดือนนี้เหมาะกับการดูดาวและหวนคิดถึงความหลัง
The good old days for my six cats!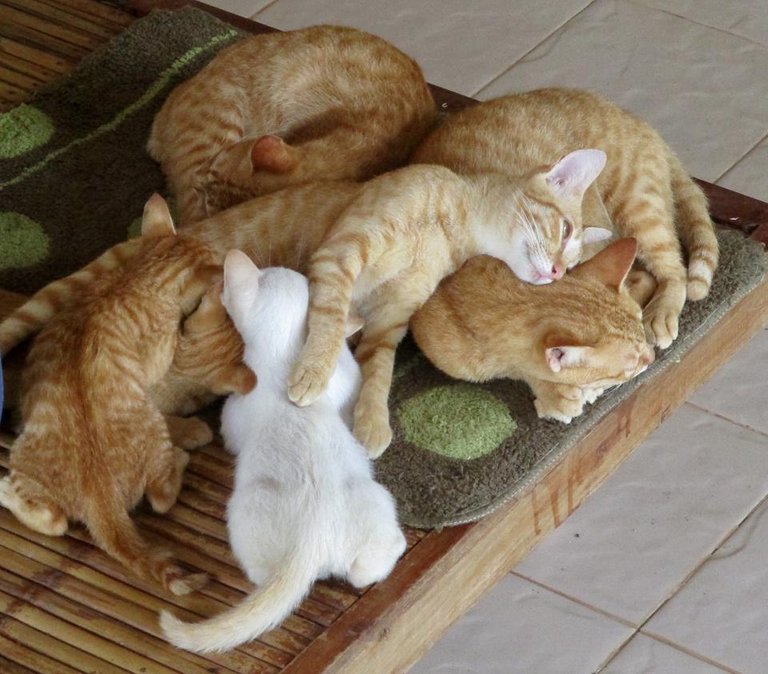 Snow liked to sleep behind my chair! He's always looking after me.
Wishing you peace, good health and prosperity.
Cheers.