Background
August will find me having been on the STEEM platform for four years. This post will be my 172nd posts.
Sorry if me saying the STEEM platform offends you, but for me the HIVE platform is simply an extension of the STEEM platform with the Ninja mined tokens having been moved to the the slush fund of the SPS system (or whatever it is called on HIVE) from the Steemit Inc.'s account(s).
It is considered a slush fund, by me, because it is stake vote administered with @gtg's Return Proposal (#0) which raises the bar on what the community can endorse on their own without the V.22.2 Cabal's approval. With all the narrative that the HIVE fork was done for decentralisation purposes, even with the Ninja mined tokens now being hidden in the slush fund, let's see how that decentralisation has worked out in a fairly recent graph...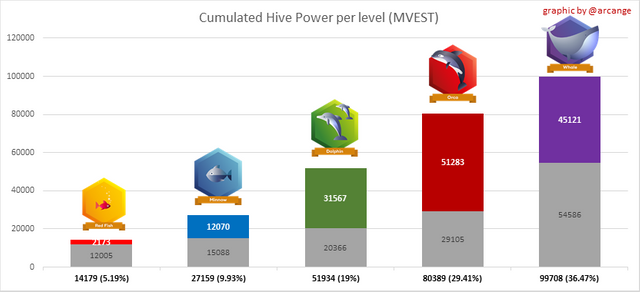 Excuse me for digressing
So in my four years on the platform there has been 171 posts by me. Not exactly the record of a spammer.
First came the visit from the little brother of the bully
First @hivewatchers dropped in on my post to tell me that two of my posts were too short and considered spam; while taking the opportunity to self vote (well they actually have secondary accounts to not make it so obvious) which was always outside of community standards when last checked. However the V.22.2 Cabal cannot pass up an opportunity to token grind.
Anyway, here it is in their own words...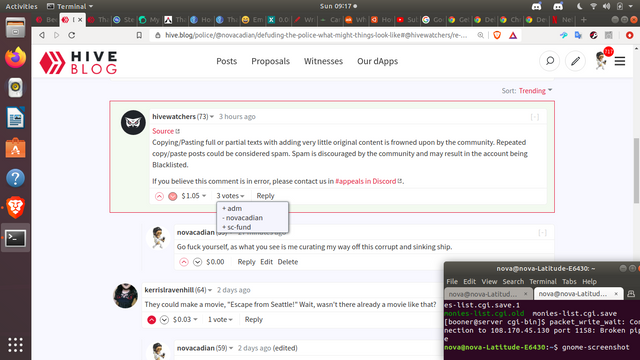 They basically wanted me to grovel to them for two posts after 4 years and less that 200 posts in total that somehow met their guidelines of spamming! Such actions are bully tactics without context.
As if the threat mattered to me financially; although that threat annoyed me as a supporter of the STEEM platform until the V.22.2 Cabal splintered it asunder. My powering downs is me getting off this sinking ship, so they were told in their Discord court room as much...
Just thought to drop round so as to tell GuiltyParties[.com] et al to go fuck themselves. They are witnessing me curating my way off this sinking ship. While they don't like how many words are in my post they are self voting their own fucking comment. Sure they don't use the exact same account yet it is the circle jerking fashion used by the V.22.2 Cabal in all their scamming activities from comment to witness voting. Can't wait to see HIVE go to dust once the fools buying more with their STEEM sell off are finished. Thanks for the motivation to finish my last gift to HIVE; the Doomday Extension. More on that at: https://hive.blog/base64/@novacadian/base64-encryption-explained
Bullies don't like to be put in their place.
So their older brother, @steemcleaners, was sent around to ruff me up. What a joke and example of the vindictive nature of this V.22.2 Cabal Administration.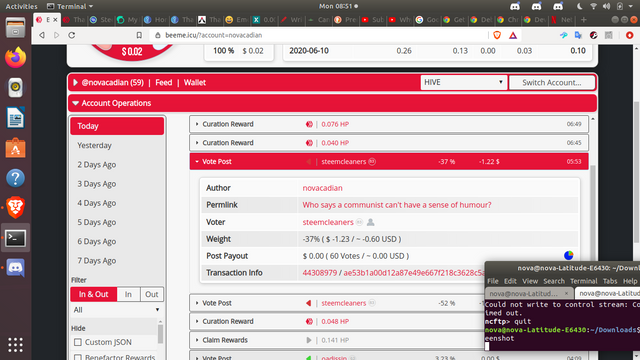 Powering down your STEEM?
If you are powering down your STEEM and buying HIVE, where do you think the HIVE is coming from that you are buying. Sure some of it is from little fish like myself that want off this sinking ship, yet the vast majority is circle jerking grinding tokens of the V.22.2 Cabal who need you to give credibility to their scam called HIVE.
And all you non-consensus witnesses...
You are chumps of the V.22.2 Cabal, securing their network out of your own pockets while they grab the lion's share and sprinkle crumbs to the conned users below.
Mark my words, my feeling is that HIVE will go to dust. That's one category below shit coins. And so it should for the lies of narrative and vindictive actions made in its creation.
Flag away bullies!
Opps, forgot the rewards on this post have been declined. Might have to resort to your other power freak tool...