Last month I conducted a dPoll, Are you posting with Build-It tribe?. As the title is self explanatory, this dPoll was to ask Steemians whether they are using Steem Engine tribe Build-It or not. This dpoll was also an attempt to bring this tribe into the knowledge of the Steemians, who are still not aware of its existence, even though, they are posting on Steem Blockchain DIY, How-To & Life Hack related articles, so that they could get some extra rewards for their hard put efforts.
15 Steemians participated in this dPoll. 14 of them responded with "NO".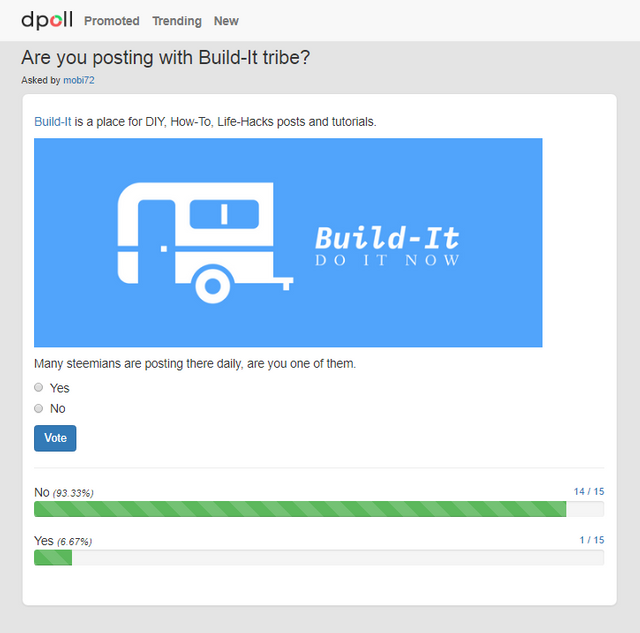 There could be a number of reasons why some of the Steemians are not posting on Buil-It...
They don't understand completely what this tribe is exactly for,
They don't think, they fit to write for Build-It' niches ... DIY, How-To, Life-Hacks,
They think it is not worth their time to write in terms of rewards or financial benefits.
Build-It is a platform where you can find Life-Hacks, DIY projects & How-To tutorials, and of course, you can share your experiences in all these categories as well.
#Build-it is a community, born out of the need to empower and strengthen DIY (Do It Yourself) projects, How-to tutorials and life hacks. Among many others, Build-it.io was set up as a means to encourage and reward high-quality DIY and How-to projects.
...Source
I have some questions...
Have you ever made a showpiece from the empty cold drink bottles or
Do you have any unique idea how to insert thread in the needle head easily or
Do you know how to make a rainbow with a hot glue gun or
Any type of idea which utilize daily life useless or the objects which are gonna be ended up in the waste bin to make something creative or
Any clever idea which makes day to day life tasks/chores easier.
If yes then Life-Hack is the tag that you can use in such of your posts ... and, if your answer to the following questions is in yes as well then you can use DIY tag in those of your posts.
Have you ever change an electric switch,
Installed and/or repaired a water faucet,
Colored/Painted your house/room,
Fix the UPS/Laptop/computer,
Installed any popular or otherwise software and the details of the procedure would be useful for others as well, etc etc etc.
are you eligible for writing on build-It:
In the previous section I left the tag How-To, here is the reason why. Like "Life-Hacks" & "DIY", "How-To" category also covers a wide range of topics.
Some of them are and could be writing about...
Investment strategies, how to choose where to invest.
Games/Sports tips, techniques, training, strategies.
Tips/Techniques/ training of photography or to make a photo memorable.
How to use different herbs/natural-medicines
Blogging tips/sites/resources/style of writing, presentation
You know, what is the interesting part, I got all these ideas after visiting the blogs of the Steemians who voted in the dPoll, mentioned in the beginning of this post. Isn't it interesting, they are already doing it all.
rewards & benefits on Build-It:
@build-it.curator is the main official curating account of Build-It, its 100% upvote has the value of $0.39 and at the time of writing this post it gives 2.75 of Steem rewards, you can split it into half because authors get 50% payout after the #newsteem.
Other than Steem, @build-it.curator's upvotes also reward the bloggers with BUILD tokens, its 100% vote is valued around 350 BUILDs, again split it into half for the authors.
BUILD are among the Steem Engine tokens which have reasonable price.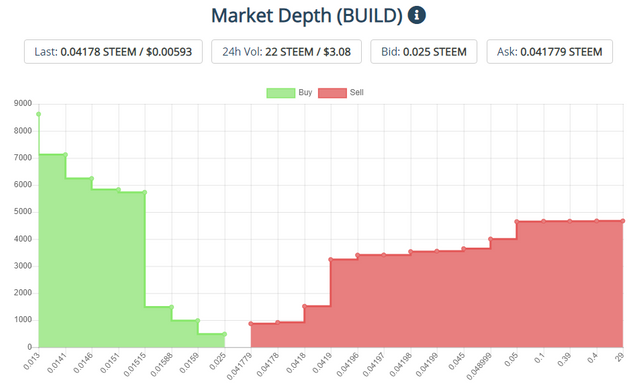 BUILD token on Steem Engine Market
BUILD tokens are on sale for the rate of 0.04178 Steem per BUILD on Steem Engine market, and the highest bid is 0.025 Steem per BUILD, and despite the fact that the frequency of buying and selling BUILD tokens tends towards 0.04178 Steem per BUILD...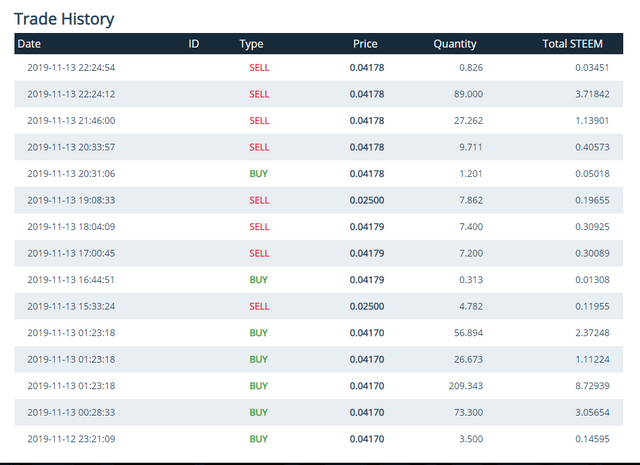 Trade History of BUILD token on Steem Engine Market
...we'll consider it of 0.025 Steem per BUILD, then 350 BUILD has the value of 8.75 Steem, so the total value of @build-it.curator's 100% upvote becomes 2.75 + 8.75 = 11.50.
IMHO, that's more than a good value.
One more thing, founder of Build-It, @waleedtee, has confirmed that they are taking part neither in selling nor in buying of BUILD tokens, these all are Build-It's Community Members...

---
in the end:
Overall, Build-It is one of the Steem Engine Tribes which are bringing more traffic on Steem Blockchain As a dedicated & loyal Steemian, I would love to see Steem prosper and be the widely used blockchain with growing number of users and, if I am not wrong, you would too.
HAVE A NICE DAY