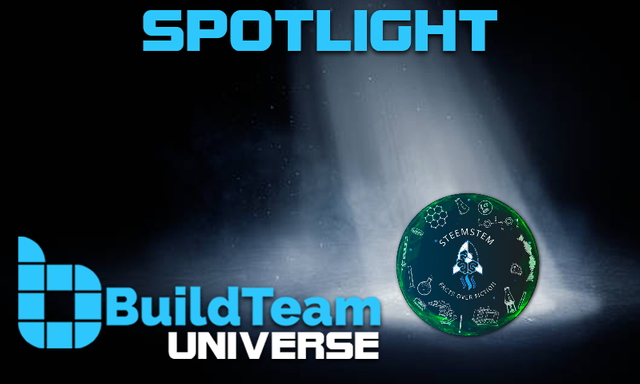 As announced almost two weeks ago, @buildteam has entered into a curation cooperation with @steemstem. To give you an idea what this cooperation looks like, we are giving you an overview.
What is SteemSTEM and why did we choose it?
SteemSTEM is a community that has been around on Steem for about 3 years, and rewards excellent STEM content, which his not just science but also technology, engineering, and mathematics.
The goal is to improve the quality of STEM content on the Steem blockchain and, in their words, "increase the usage of the Steem blockchain for science communication".
A flourishing STEM community consisting of not just experts but also people just generally interested in the subjects has the potential to draw more eyes to Steem, and give it an edge over other social networks.
SteemSTEM has an experienced curation team which is overseen by the SteemSTEM managers @lemouth and @mobbs. In addition to that, there are the "honour members", which act as mentors, plagiarism finders, and generally, help facilitate positive community interaction.
According to the SteemSTEM Distilled (a weekly curation report) posted on the 17th of September, SteemSTEM supported that week 57 posts written by 30 authors.
On top of all of this, SteemSTEM has its own Steem user interface that, instead of being a Steemit clone, has been crafted to serve the community's needs.
BuildTeam considers SteemSTEM a valuable part of the Steem ecosystem, which is why we picked this specific curation initiative to support.
What does the support look like?
Due to decreased bot-based post promotion, the voting power of the @minnowbooster account tends to sit at 100% a lot. To avoid wasting votes, @minnowbooster votes on all posts voted by SteemSTEM.
The voting strength is subject to change (as @minnowbooster will not use all available voting power on curation). It started out as a 10% vote, and has been increased to 25%.
If a post has been chosen by the SteemSTEM curators and voted by the @steemstem account, you will see this comment: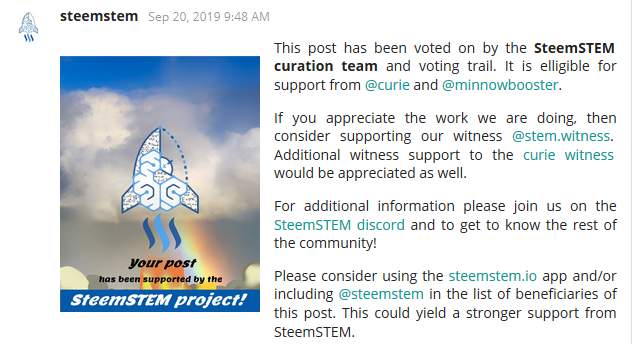 Is it possible to join Cooperation?
If you are also interested in supporting high-quality STEM content on the Steem blockchain, you can simply trail the @steemstem account with your vote.
An easy way to do that is to sign up for Steemvoter and create your own trail, or to join the Steemvoter SteemSTEM guild.
This way, you won't miss out on any voted posts!
And if you want to see what SteemSTEM is curating, you can check out the "#curation-feed" channel on the SteemSTEM discord server. Link dropping there is not possible, but you'll see the curation process live.
---
| Visit our website for more! | Subsribe to our YouTube Channel |
| --- | --- |
| | |
Set it up today and contribute to building a better tomorrow!


( Want an easier way? Use our SteemConnect proxy link! )
Get support and connect with us and other BuildTeam fans!



---
Disclaimer: This is a @steemvoter subscription payment post. Thank you to Steemvoter customers for allowing us to use your Steem accounts to upvote this post by virtue of your free subscription to the Steemvoter.com curation automation service. @steemvoter is proudly a @buildteam subsidiary and sister project to @dlease, @tokenbb, @ginabot, @steemsports, @btuniverse, @steemsports-es and @minnowbooster.
Beneficiary Declaration: 10% @null BURNPOST! 10% to @steem.dao proposal fund.