PMC Bank of India Shows the World Why Cryptocurrency Is Necessary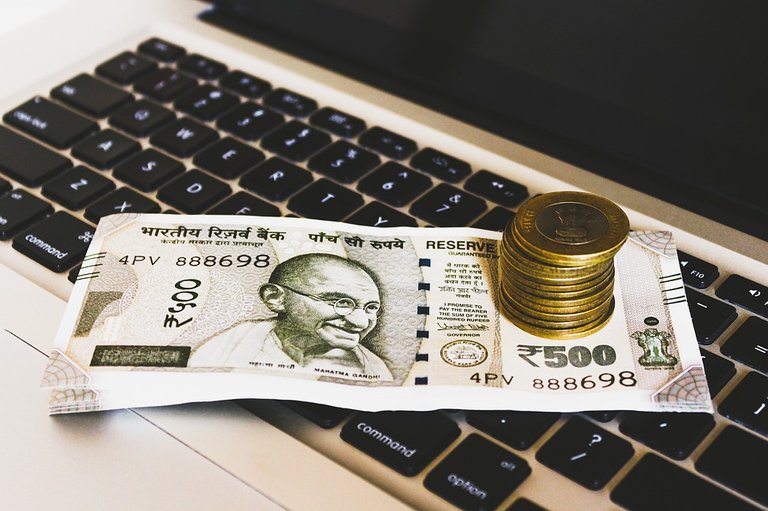 India is Ground Zero for the battle between the establishment and cryptocurrency.
The second most populated nation is doing its best to ban cryptocurrencies and give the banks a free path to continue their games. The level of corruption in India is moving to new highs.
Punjab and Maharashtra Cooperative(PMC) Bank is now mired in the middle of a scandal. The ones feeling the biggest impact is the customers of the bank who are cut off from their funds.
The bank tried regulators by using technology and misreporting financial information. Non-performing assets were hidden by submitting manipulated financial information.
This is an ongoing trend we see in the banking world. A tweet last month summed up what is taking place.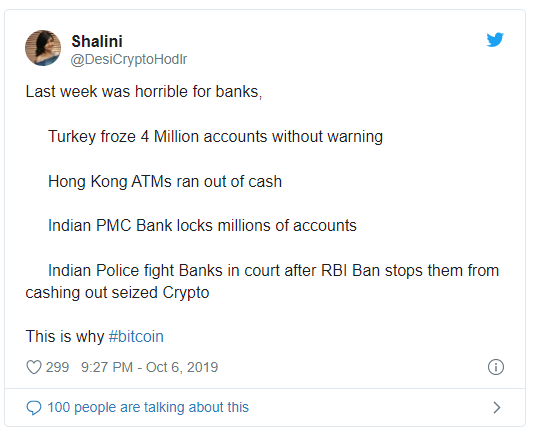 We are starting to see millions around the world affected. It makes one wonder when the tipping point will be reached and people will stop accepting this behavior.
Another on Twitter explored that very idea.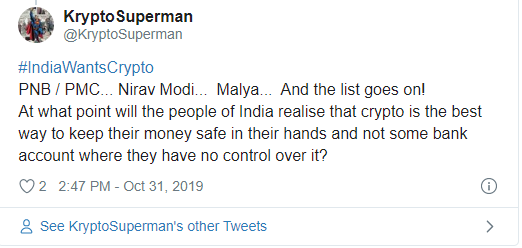 The situation does not apply only to Indians. Venezuela is seeing hyperinflation due to the actions of the government. Wells Fargo, one of the largest banks in the United States, is continually in hot water with regulators for corrupt actions that rob customers.
In the end, only fines are levied which the bank happily pays.
Cryptocurrency provides ownership of one's money. There is no way to prevent one from accessing it. As long as the key is held, the money is available.
Blockchain also negates the behavior we are seeing out of the bankers. With all transactions immutable on the blockhain, technology cannot be used to hide nefarious activities like in the case of PMC.
As the list of banks robbing customers grows, when do people stand up and say no more? With Bitcoin and other cryptocurrencies providing viable alternatives, it is only a matter of time before people wake up.
That is unless the bankers start changing their behavior. Of course, they have shown an unwillingess to do this.
---
| Visit our website for more! | Subsribe to our YouTube Channel |
| --- | --- |
| | |
Set it up today and contribute to building a better tomorrow!


( Want an easier way? Use our SteemConnect proxy link! )
Get support and connect with us and other BuildTeam fans!



---
Disclaimer: This is a @steemvoter subscription payment post. Thank you to Steemvoter customers for allowing us to use your Steem accounts to upvote this post by virtue of your free subscription to the Steemvoter.com curation automation service. @steemvoter is proudly a @buildteam subsidiary and sister project to @dlease, @tokenbb, @ginabot, @steemsports, @btuniverse, @steemsports-es and @minnowbooster.
Beneficiary Declaration: 20% @sbdpotato beneficiary post.
---
---