EOS is a top 10 blockchain according to its ranking on Coinmarketcap.com. It is presently ranked 8th with a market cap close to $4 billion.
This does not exempt it from having issues.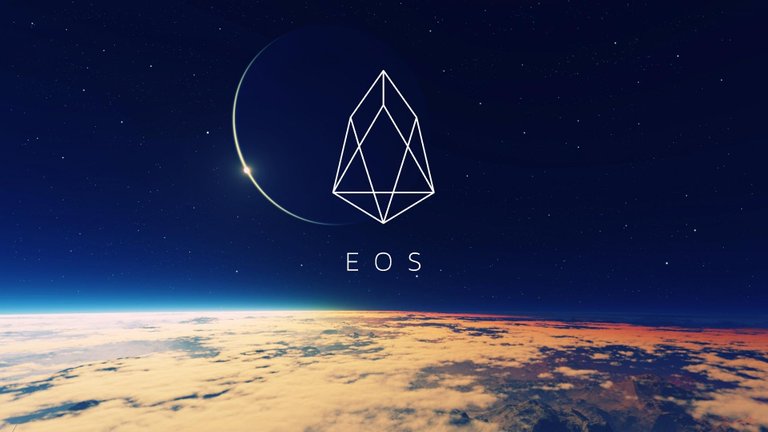 Source
It was a little over a week ago that Block.One, the developer behind EOS, released its social media application, Voice. This was announced last year with great fanfare. It was touted as the new model in social media.
What makes Voice different is that it enables everyone to have their voice heard. It does it be ensuring that each person is just that, a human person.
Dubbed as "Blockchain's Facebook", this initiative is raising a lot of privacy concerns that plagued Facebook over the past couple years.
To sign up for Voice we see the following requirements.
Name
Home Address
Phone Number
Government issued photograph
The photograph is used as the pic for the user profile.
Privacy advocates are very concerned about what happens to the data. The service provider who verifies the information will use it for debt collection or to assist law enforcement.
EOS is basically bringing KYC to the world of social media. This is something that was reserved for the financial sector.
To make matters worse, the application is not running on EOS. The company decided to run it on the EOSIO software.
"While Voice is in beta and a highly iterative state, it will be run on a purpose-made EOSIO blockchain. In time, we would like Voice to leverage the EOS Public Blockchain, and potentially others that can meet the performance and governance demands of Voice."
https://bitcoinexchangeguide.com/block-ones-beta-launch-of-eos-based-social-network-voice-raises-privacy-alarms/
It is not smooth sailing for the blockchain either.
Coinbase is having problems with EOS. In the month of February, there were three issues according to the people at Coinbase.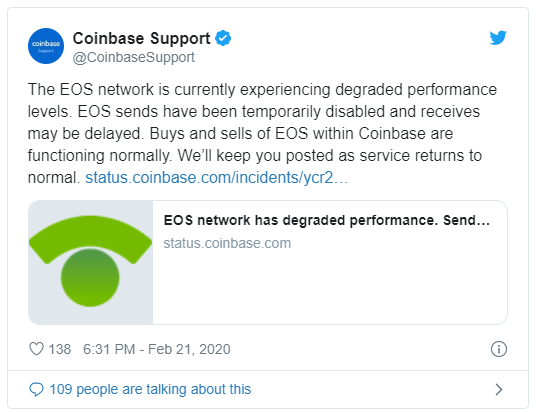 According to reports, Coinbase said no transactions were lost. Users did experience delays when sending from Coinbase to external wallets.
It has been the third time this month that EOS had an issue on the exchange. On Feb. 14, Coinbase first announced delayed EOS withdrawal requests but the incident was soon resolved and the exchange stated, "We are actively monitoring this issue."
The two days after the incident, there was yet again delays encountered in EOS send/receives which has been resolved the same day again. Coinbase wrote at that time,
"We are currently working through a backlog of outgoing EOS transactions. Customers sending EOS from Coinbase to an external address may experience a delay before the transaction appears on the blockchain. Deposits, buys, and sells are unaffected by this incident."
https://bitcoinexchangeguide.com/eos-suffers-major-outage-on-coinbase-as-network-performance-issues-arise/
EOS held an ICO that lasted close to a year. It was done to decentralize the platform from the first day. This has not worked out quite as planned since centralization questions have plagued EOS from the beginning.
Accusations of vote trading also raised similar issues. Governance was called into question on a number of occasions.
For the time being, there are a lot of questions surrounding the EOS platform. How quickly they over come them remains to be seen.
---
---
---
---
| Visit our website for more! | Subsribe to our YouTube Channel |
| --- | --- |
| | |
Set it up today and contribute to building a better tomorrow!


( Want an easier way? Use our SteemConnect proxy link! )


Get support and connect with us and other BuildTeam fans!



---
Disclaimer: This is a @steemvoter subscription payment post. Thank you to Steemvoter customers for allowing us to use your Steem accounts to upvote this post by virtue of your free subscription to the Steemvoter.com curation automation service. @steemvoter is proudly a @buildteam subsidiary and sister project to @dlease, @tokenbb, @ginabot, @steemsports, @btuniverse, techinvestor.io, @steemsports-es and @minnowbooster.
Beneficiary Declaration: 20% @taskmaster4450, 80% @buildteam