Has it already started right before our eyes? Are the bulls really going berserk? Sometimes it is hard to believe what you see.
My confidence in those two counts is not very high yet but this could change soon.
If we are actually going to reach my target of 222.222$ by the end of 2022, both counts are absolutely plausible.
I hope it is not the second one because it would mean that the best buying opportunities are over. This is bad if you want to buy in cheap...
I am kinda happy with my HODL stack already, but greedy me wants more...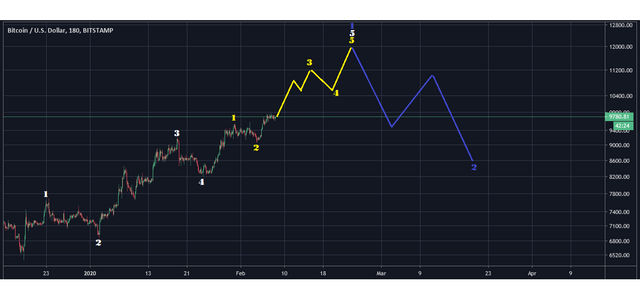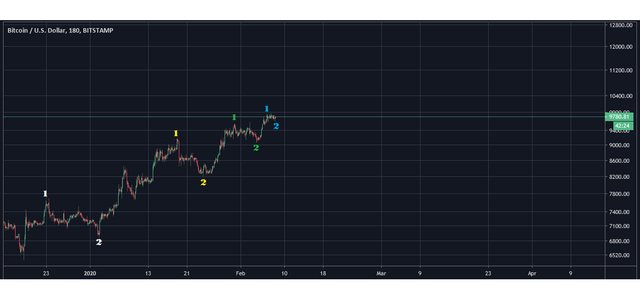 Did you know that after the halving in May 2020, 900 less Bitcoin per day will be mined? Did you also know that there is not enough BTC in existence for every high net worth individual in the world (>10 million USD) to own just one single Bitcoin?
Go figure what will happen once the demand really kicks in. The FOMO is going to be bigger than anything the world has ever seen.


If you think this to be useful information:




Feel free to use and share my charts, but please mention me, @ew-and-patterns as the author. Otherwise it is considered plagiarism and I will flag you and advise my friends to do the same.




Please consider leaving a comment, like or resteem, if this post entertained you or helped you see things differently...
Have a nice day :-)


#bitcoin #btc #crypto #cryptocurrency #cryptocurrencies #steem #sbd #ethereum #eth #ripple #xrp #bitcoincash #bch #eos #litecoin #ltc #stellar #lumen #xlm #digibyte #dgb #cardano #ada #iota #tether #neo #tron #trx #omg #verge #xvg #bitshares #bts #nano #monero #xmr #dash #ethereumclassic #nem #binance #binancecoin #vechain #tezos #omisego #steemit #money #life #altcoin #altcoins #trading #investing #investment #investments #forex #forextrading #market #finance #gold #silver #commodity #commodities #stock #stocktrading #stockmarket #facebook #fb #apple #aapl #spx #xau #xag #usdjpy #usd #amazon #amzn