---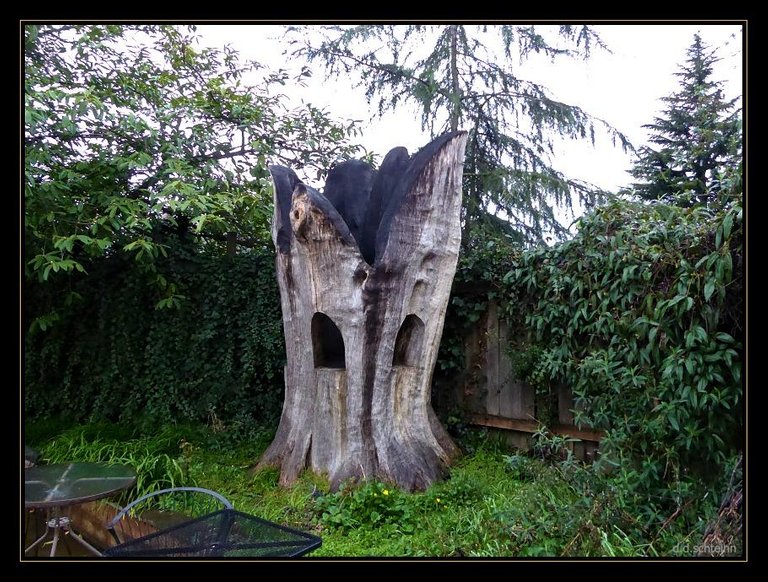 Yes Timmy, The Test Will Be Multiple Choice
---
---
Bilbo Is Out To Lunch
"Baggins's likes to eat breakfast late, doesn't Baggins's? My precious. Breakfast after eleven, oh, precious." And who of this planet doesn't enjoy such fare? No matter HOW big and/or hairy your feet might be.
While eating a late-morning brunch recently with a friend in the outdoor area of this eatery, I noticed a very odd Hobbit tree. Just sitting in the center of the court, minding it's own, very slow-moving business. ("How could you miss it, DD"?) OK, yes, it was rather obvious. And cool, in an odd, Middle-earth sort of way. And an interesting natural attraction for we outdoor diners of regular, everyday morning-earth.

---
---
~ § ~
---
---
But What Does It All Mean?
I have absolutely no idea what the significance of this tree might be. And since this is an 'order it at the counter, pick it up yourself, then walk outside and eat it ' place, I didn't have a chance to ask the waiter/waitress what the tree scoop was. As there weren't any to ask. But no worries, I can make a bunch of stuff up, if it will make everyone feel better. So, here goes.
It's:
A chiminea tree, for lighting candles within at night. The smoke, heat, fire and stuff all go out the top 'chimney' part. That's why it's all black at the top.
Just that kind of tree. They grow here. Short, chunky and tufty at the top. With very geometric holes in the side. And no bark. Or leaves.
A 'Cubby' Tree. They grow naturally here too. Complete with little 'window' cubby holes, to hold your purse, car keys, bum bag, coat, miniature dog, or other valuables during brunch.
The end result of very artistic, highly mathematical, well organized woodpeckers. And certainly overzealous, if the top is any indication.
Something from space. Dropped here from a great height so it would stick efficiently into the dirt. No doubt to give it a natural look, to not arouse any suspicions. Probably left here for one nefarious reason or another. Gives me the willies to think about it during a nice meal. So...perish the thought.
A tree that died of something or other, sometime during it's very long life. Lightning strike, fungus, old age, too many of those small dogs, whizzing on it BEFORE it became a Cubby tree. Or: [Fill in the blank as you see fit]. And once it died? Someone made a cool, natural sculpture out of it with a chainsaw. Rather than knocking it all the way down and hauling it off, thus leaving an ugly hole in the ground for we diners to fall into after brunch beers.
Take your pick, and I'm sure everyone will be happy.
---
---
~ § ~
---
---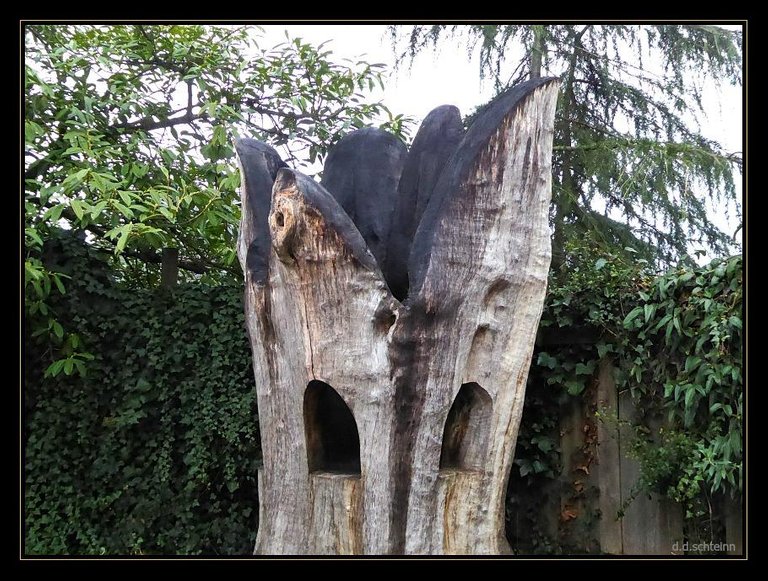 A Closer-Up View
---
---
~ § ~
---
---
An Even CLOSER Up View
It looks a bit ominous at this angle. I keep expecting it to jab a long walking stick in the ground, then holler out across the courtyard toward us, "You Shall Not Pass!!"
---
---
~ § ~
---
---
Well, I guess that about does it for this Hobbit tree. I'll keep you informed, if I go back there for another brunch. And I remember to ask someone in charge what the scoop is. I'm sure you all shall remain perched on chair's edge, until that time.

oo
~ Finto ~
---
---
( :
---
---
Thanks @old-guy-photos for putting out Tree Tuesday
---

---
---
Thanks for stopping in and viewing Tree Tuesday and a cool Hobbit tree during brunch. If you have any thoughts about odd trees, sculpted trees, trees left here by beings from space, how in the world you could even MAKE a chiminea tree...WITHOUT burning it to the ground in 12 seconds flat, or anything else this post reminds you of, please feel free to comment away in the spaces below. I'd love to hear from you.
---
---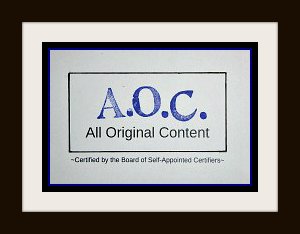 ---
---
Please UPVOTE, COMMENT and FOLLOW if you enjoy my works.
And go to @ddschteinn -- There's a whole lot more...
Posted: 07/23/2019 @ 17:50~ Post No. 322
---
---

---
Excerpts From Late-Night Conversations With A Mechanical Cat
Fact Number 157
---