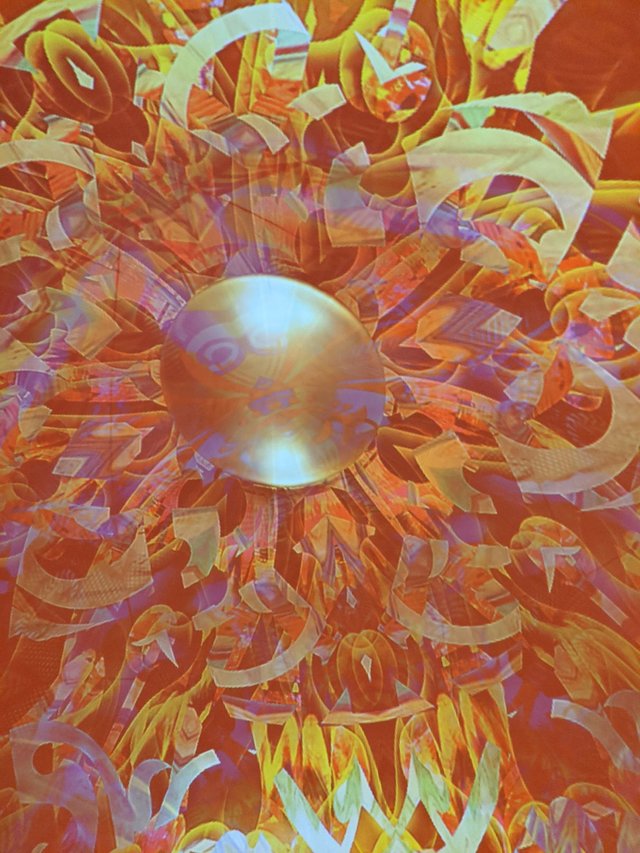 ---
A short time ago I was laying on the couch doing my evening routine. @mrsbozz had went in to bed to read one of her books and I was watching some of my shows that I DVR and she doesn't care about. She came walking out into the living room and said "hey look at this, doesn't this look cool".
It took a second for my eyes to adjust to what she was showing me, but apparently the local planetarium was doing a special showing of this film called "Mesmerica". It did look pretty cool and before I knew it we had our tickets purchased and our seats booked.
Unfortunately, I don't have a ton of pictures from the event. As you can imagine being a planetarium, it was fairly dark in there and they specifically warned against using your phones or taking pictures out of respect for everyone else's "night vision".
I took the above picture while we were waiting for the show to start. They were playing various pieces of music and this art was dancing around on the ceiling of the dome.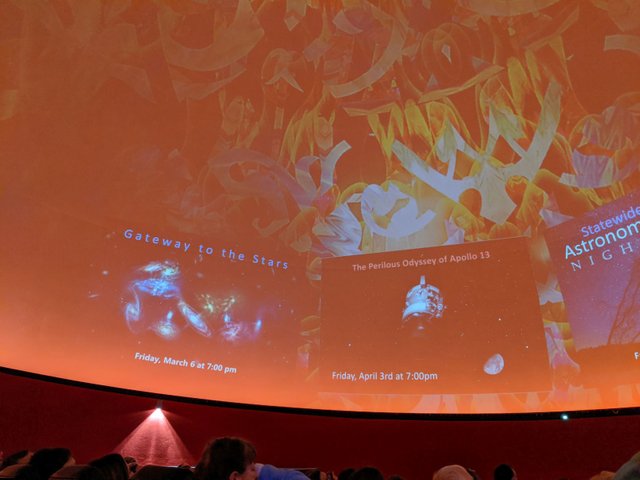 ---
I took this photo shortly before the show started, I thought it was interesting to see some of the other programs that they have lined up.
My one complaint about the planetarium is the comfort of the chairs. They are reclined slightly, but to get a better view of the dome it would be nice if you had the option to recline them even more. Typically, they are catering to students of the college and local school districts so comfort isn't the first thing on their mind.
We had sprung for VIP tickets so we were one of the first couples to enter the viewing area. This allowed us the ability to pick some pretty good seats. Apparently the farther up front you are the harder it is to get a full panoramic view.
Before they kicked off the showing, they had a short demo of what makes the planetarium so special. They showed us some footage of the surface of an asteroid that was recently taken on a flyover by some probe (Rosetta I believe). They first showed it as you would see it in a theater (in a rectangular frame). Then, they expanded the footage and it filled the whole dome. It was pretty awesome. It really felt like you were right there flying over the asteroid.
After all of the oohs and aahs, we moved on to the show.
The show was visually stunning and the art combined with the music of James Hood was really a feast for all of the senses. It lasted about an hour long and I think that was just about perfect. Any longer and my neck probably would have been stuck permanently in the position required to look up at the ceiling.
I am not really sure how you would categorize the music. Maybe "New Age"... There were parts of it that seemed quite electronic so I immediately thought about @rok-sivante while I was watching it. Additionally, this seems like the kind of thing that @steevc would make a trip into the city to view.
I am not sure where the term Mesmerica comes from. Based on the title I was expecting to see some more landscape and panorama of the United States set to music. Instead as you can see from the video it was more digital graphics and fractal type artwork than drone footage or something like that.
Additionally, despite the title of "Mesmerica" James Hood has a distinct accent that is definitely not American. No big deal, but it kind of threw me. He does have some dialog about four times through the course of the show. It is all mostly geared towards mediation and relaxing. The idea of mindfulness is picking up more and more traction. I just read a great post by @ericvancewalton about this very thing and my wife has been incorporating mindfulness techniques into her social work routine.
It was very soothing and a pretty cool show. I am really excited that I was able to go to it. The people behind us commented how amazing it would have been if they had dropped some acid before it started, but I thought it was pretty great sober.
If it comes to a city near you and the ticket prices are in your budget, I highly recommend checking it out!
You can checkout the soundtrack of Mesmerica on Spotify via this link
---
---

:::