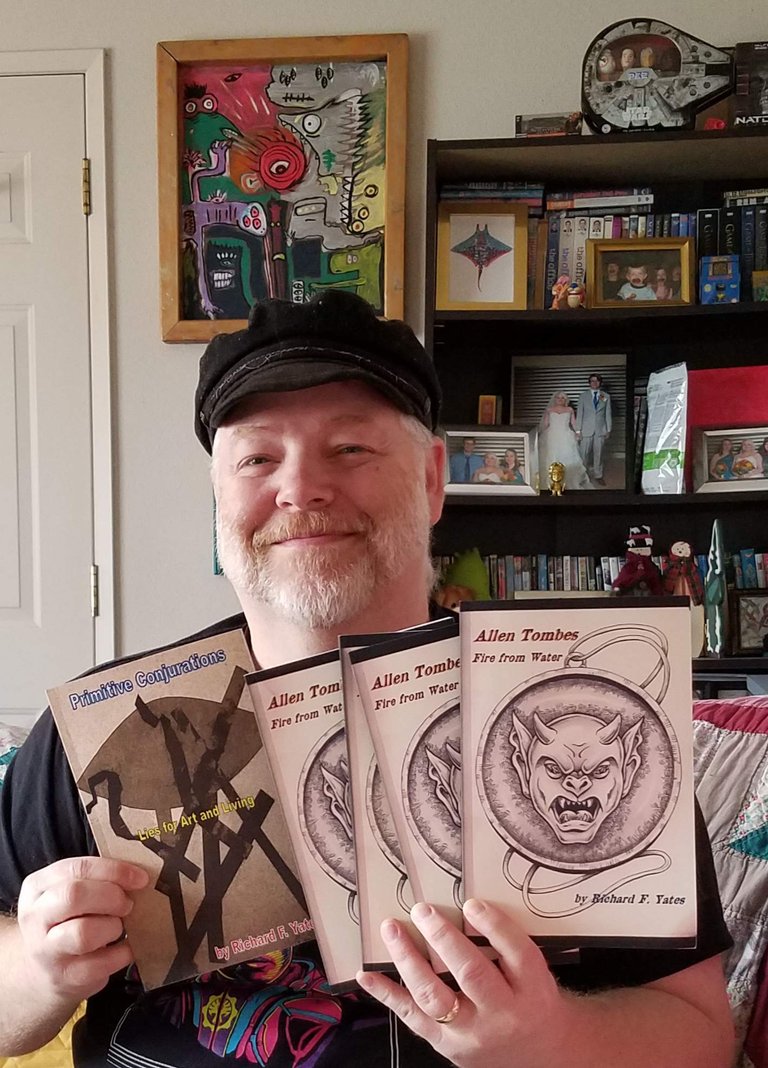 [Photo of my ugly mug by Mariah "The Boss" Yates! 2019.]
The physical copies of my new book arrived today, and I'm pretty dang excited! I chose a matte finish, and the artwork by Mark Counts looks fantastic!!! Almost velvety!!! (I also ordered a copy of my previous book, which I'd never seen in physical form, and I'm very happy with how that one turned out, too...)
So, between the Allen Tombes book and Primitive Conjurations, plus my Uncle Randy's two books (THREE if I can get Further Adventures finished on the quick), my poetry book, and the couple other titles my friends and I have put together...I think I've got enough materials to do a booth for the convention circuit!!!
We had a couple of craft bizarre adventures this winter, and those were pretty fun, and I've lent a hand to a screen printer friend of mine at several comic cons and U.F.O. festivals, so I think I have a pretty good understanding of what goes into these types of events---and now that I have some solid "products" to show.....I think we're ready...
I'm going to sit down and do some research, discuss with Mariah what our goals and desires would be, and then make a plan. You'll see. Meanwhile, I'm happy with how the books turned out, and that's good enough for the moment!
---Richard F. Yates (Holy Fool)
Posted using Partiko Android