This (bi)week @tribesteemup asks us "What Inspires You the Most in Life?"
It's been a while since I've answered one of these and on this hot as ballz Ozark afternoon I felt like thinking about a writing prompt and realized the TSU community probably had one!
I think this question comes at a great time because I had an enlivening conversation with a good friend of mine yesterday. As usual when we talk, we envision some meet up plans into the future. This fall we're thinking of going to an all women's hunting camp together in Montana and next year some cool things are on the horizon as well. It's fun to think of all of the possibilities, spending time with inspiring people invested in their passions, learning new things, enjoying different locales, etc.
One of the things on the "perhaps" list for next year is going to an intensive with Lynx's Living Wild School.
Living Wild is a group of 21st century hunter-gatherers as they rediscover the traditional living skills of the Paleolithic. The movement is spearheaded by a woman named Lynx Vilden and unified by the ambition to leave modernity and return to primitive living.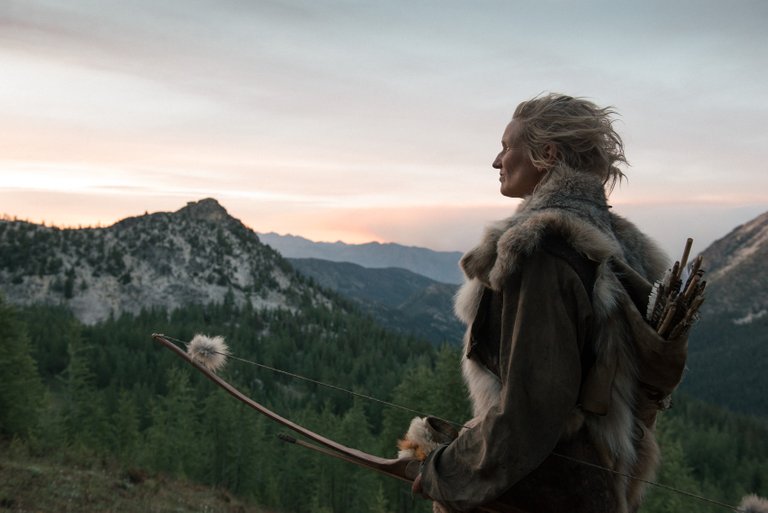 image source
It's an intensive immersion called MOUNTAIN TO OCEAN AND BACK...... and, as per the website, it focuses on:
A full 7 day intensive will start this long immersion program to give the opportunity to beginner level students of ancient technologies the chance to follow through the entire summer program. With a lot of hard work and determination there is the possibility to be ready for the Stone Age project at its conclusion.
Stone tools, Bone tools, Wood tools, Knife, saw and axe work, Fire making, Cordage, Burn bowls, Glues, Story telling, Singing, Music, Community building
---
When I first came across Lynx years ago I was immediately inspired. Something about her energy and the intention with which she lives her life instantly struck me. I feel like it's so empowering that she's chosen to deeply immerse herself in earth-based connection and skills & then shares that with others.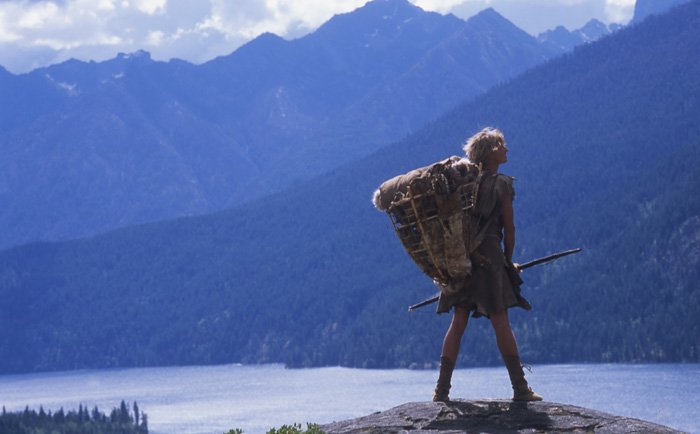 image source
There are so many ways we can live as humans while we're on earth. We can play all sorts of storylines out. Of course, there are the one's we are given (and by that I mean the modern cultural storylines of fitting into the mainstream capitalistic consumptive structure, for example), but we can also choose something vastly, wildly different.
I think I still have blocks in myself that have told me "not to go too far out there" -- "not to completely -reject- society" ... etc, stuff like this. I felt it once when I was leaving a wild area in Peru. Ini and I had just climbed a 15,000 ft mountain and had an incredible time with nature- only seeing a few people. As we got to the end, I started to cry because I didn't want to leave the wild area. Peru, by the way, as far as human cultures go, has a very cool & earth-connected culture. And most of you know I spend so much time outside already... so why did I have such a strong reaction? I think it's because I've always wanted to "not leave" the wilds. Though I homestead off-grid and have spent weeks and weeks in wild areas, I've never given myself a full scale immersion. I want to give that to myself someday.. maybe next year!
---
What inspires me most about Lynx is not necessarily the EXACT lifestyle she has chosen, but that she is going after something 100%. The fact that she exists makes such an impact and I find that inspiring:
---
What most inspires me is people who are in their lives 100% .. living alternative lifestyles that are connective, creative, beautiful.
---
What about you?