Imagine that you bought a $100 ticket to a rock festival in London.
Then, a few days later, you find a $50 deal for a rock festival in Amsterdam.
The $50 rock festival promises a much better band line up, better facilities, and an all round better experience.
On sheer impulse, you decide to buy the ticket.
Then you have one of those big 'doh!' moments...


....as you realize that the rock festivals are on the very same days!!
Both tickets are non-refundable and non-transferable!!! Bugger.
The costs to go to either event are exactly the same.
There is no other reason to choose one festival over the other.
You're faced with a definite loss whichever choice you make.
(Either the $100 London ticket or the $50 Amsterdam ticket).
Decisions, decisions...
Which one would you decide on?
Researchers posed this exact question to a group of people, and the majority said they'd sacrifice the lower priced Amsterdam ticket, even though it promised a better experience.
Why?
Aversion to loss.
Most people prefer to minimize their losses, even if it that means enduring a lower quality experience.
This is known as the "sunk cost fallacy."
People think in this way, when they say:
"Well, I've already sunk this much money and/or time into it.... I can't stop now."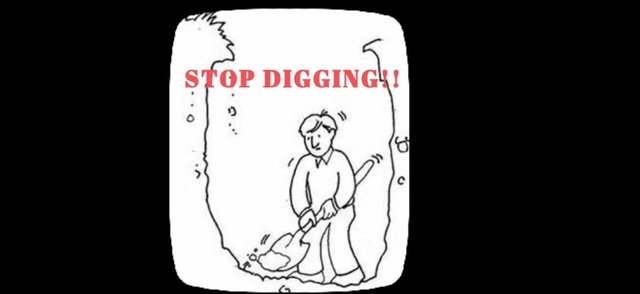 After that question, the researchers then divided the same group into two, and posed a question to Group A:
Would you spend your last million dollars on a yacht?
Imagine that you're the president of a yacht building company.
You've got a $10 million budget for research, and you decide to spend it on researching a yacht that might be able to turn into a submarine.
You spend $9 million developing it, but just before you've finished, a competitor launches a yacht that can turn into a submarine! Another doh! moment
But not only that, it's better than your own, in every way.
Would you spend the last $1 million finishing out the development of your yacht/submarine?
Then the researchers posed the following question to Group B:
You're the president of a yacht building company. You've only got $1 million left in your research budget.
Someone suggests that you put that $1 million towards the development of a yacht that might be able to turn into a submarine.
But you know that your competitor has just released such a yacht.
(you also know that your competitor's yacht is vastly superior to anything that you could build).
The scenario is the same. 'Sunk cost' is the only variable between Groups A and B.
What was the two groups responses?
The vast majority in group A ( 80 percent !!), said 'yes', they would spend their last $1 million finishing the yacht.
And less than 10% in group B, agreed...
Incremental costs are the factors that 'should' influence decisions, and not sunk costs.
Who among us is so rational?
It could be that less than 4.5 % of the entire population! (in Western countries).
Would you throw good money after bad?

Animals seem to know better...
A lion waits near a herd of zebras. He's been sitting there for a couple of hours, hoping for his next meal.
He realizes that he won't catch any of the zebras, because they're too far away, and they will outrun him, if he were to make charge.
The lion doesn't think, " Bloody hell, I've been waiting here for two hours, I may as well hang around".
No.
When he eventually figures out that zebra ain't gonna be on the menu that night, he just buggers off.
But humans, for all there superior brain size, are pretty unique.
Their Ego's are unique.
We throw good money after bad ( upto 95.5 %, do, anyways).
Hanging onto investment that we know are losing bets ( using empirical data, and not emotions ) all in 'the hopium' of 'seeing if I can break even' - or even - I can turn it around and make a profit.
People stay in jobs that make them unhappy.... After all, 'I've already put ten years into it.'
People go further into debt using credit cards. 'I'm in so much debt now, an extra $200 won't make any difference'
The point is...
Consider the sunk cost fallacy.
Consider which group you want to be in. The 95%, or the 5%.
.....When you're holding (hodling) an investment - and I'm talking waaaay after any financial data can rationally justify you keeping it....
.....Or forcing yourself to continue to run a business that doesn't make enough profit to sustain you - just because you've started it.
...Ego can blind you to your own intelligence (or lack of).
The time - and money - that you've sunk into a losing bet, is utterly irrelevant.
Throw good money after bad, why don't you?
You'll definitely have plenty of company.

95 % of people might agree with your strategy!!!
THIS NOT A STEEM BASHING POST.(btw)

BUT...
Working from the perspective of the 'sunk cost fallacy'...
I'd say 5% are critical of things , but the vast majority (95%?), are hodlers, and the 'steem cannot be wrong', gang - the sycophants.
I'm only using steem as an example of my post, (as I see it).
Think about it....