Breaking news !
So breaking in fact, that I'm not even going to start the post tonight. But it's BIG.
As in MASSIVE.
A cold beer and four pretty women have first dibs on my dabs, so to speak, so it will have to wait until tomorrow for the full report.
It may take several reports in truth, to fully breakdown what we at the PD have come across.
It tells of history that's been covered up by big pharma, big chocolate, and big bottles of whiskey.
Basically, every thing about it, is bloody BIG.
And there's more...
A famous Hollywood star has spent his entire acting career trying to tell us about the real truth!
Mel GIbson, who shall remain anonymous, gave us a breathtaking interview.
"Listen, cobber," He said to us in our meeting with him, " I only did Brave heart to get people to look at the real history of went on in Scotland, it was nothing like the film, but I hope to get people digging. Not peat though, that kinda protected nowadays, but , you know, historically.
He went on, slurring slightly, "William Wallace never said what he said on the battlefield, for example...It had jack shit to do with freedom.."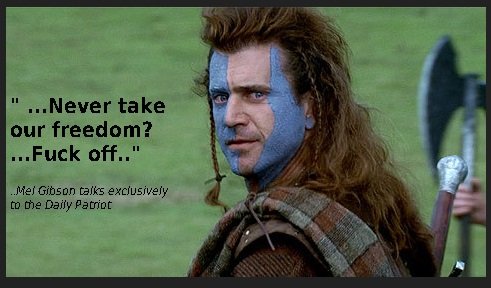 Walking around the room, he became more and more animated (he was real though, it wasn't a cartoon voice over or anything)
He continued.."The entire Scottish history,-from the Romans building Hadrian's wall, to Nicola fucking Sturgeon, trying to leave the UK, has always been about one thing,....."
I think he went quiet for some kind of dramatic effect....Or he had trouble staying upright, we weren't sure which..
"FUCKING WHISKEY, COBBER!" He yelled loudly. "That's it , it's all it was ever about - the whiskey. Sod freedom, lets get sloshed!"
He carried on, not waiting for a response, " Wallace never cried 'give us freedom, or give us death', bloody hell no, he cried ' give us finlaggan, or give us death'.
We were gobsmacked with the revelation.
Anyway, more coming tomorrow, and this is just a taster. Wait until you hear about...oh, no, that's for tomorrow...
A word from our sponsors....