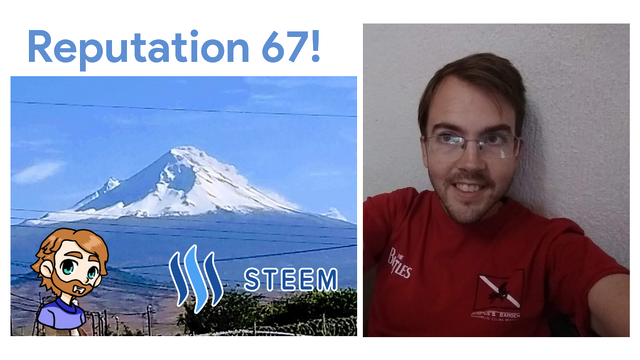 Hey guys!
It's been so long since I last made a post in English, there are so many updates! Let's start!
The first one is that I finally reached Reputation 67! It sure took a long time but I feel happy with the process. I guess my next goal is to reach 70 but I need to post more and more to reach that level. I feel like I was on 66 for a lot of time... Anyway, that is just a number and it really does not determines my experience and commitment in STEEM, it's a good indicator but not the only one or the most important one.
Another thing that I have already mentioned in my last post in Spanish is that I have started working in Guadalajara. The job it's good, it's challenging but it is in a very important company. I'm going to work attending calls from customers of a very cellphone service provider in the USA. Most of the calls will be in English and even though I got a decent level in this language I am still a little nervous and anxious because there are too many thing that I must do in the call and things that I cannot do. I guess it will take practice. I am still in training, I have a very good trainer and a great group of coworkers/classmates, they come from very different backgrounds and we get along fine. Read my last post in Spanish if you wanna know more.
This new job has kept me from posting a little bit. I have been tired and also I do not have a lot of time. But my main goal still is to keep growing in STEEM and also my crypto portafolio. So far I have about 5500 STEEM in several accounts and I also have (almost) 14,000 CREA, I got some EOS and only a few TRON. I do no own any Bitcoin, Ether, Ripple or any other big cryptocurrency yet, I know this may not be very wise but I prefer to have my investments in platforms like STEEM and CREA where I can earn a passive income through curation and content creation.
Life in Guadalajara is good. My marriage with Gris is going great, we have a little cat that is about to "explode", she is pregnant and may give birth in the next few days, my estimate is no more than one week 'till we got kitties. The weather here is pretty lame, it is mostly clouded, the other day it rained the whole day. I guess we have to get used to this kind of weather. I miss the heat from Morelos and also the water sun heating thingy taht we had for the showers, here the boiler is not working properly...
The picture of the snowed volcano that appears in the main image was taken by my mom today in the morning. That used to be our view each day. We miss Morelos (our home state) but we are happy to be here in Guadaljara and we are giving our best to grow.
Speaking of growth I would like to share two songs that have help me get motivation when I am feeling down.
The first one is called Grow by Satsang. I was listening to this song when today and a phrase got me, it goes like this: "And everything that's new to me, is an opportunity so I'm gonna GROW, and you can GROW too..."
And a Live Version:
The more I listen to this song the more I love it.
---
And the other song is called Courage to Grow from Rebelution.
This are the Lyrics. src.
This is a song for those
Who lost their hope
A long a long time ago
I know someday that you will find it somehow
Because you're not too old
To accomplish goals
And all the answers are within your soul
Its up to you, you gotta figure it out
Uh huh
Whether you want love or money
Good fortune or fame
You want a brand new card
You want the world to change
You better take some action right now, oh yes
Because there's nothing in the world that you can't get
So don't fill your life with confusion and regret
You better take some chances right now
Well you can gain the world
But for the price of your soul
Yes I know, well I know, yes I know
You can gain the world for the price of your soul
But I hope you take the road less traveled
And I hope you find the courage to grow…
So that's all for today I will keep posting in English and also in Spanish. I will balance my job with my STEEM enterprises. Wish me luck and success.
---