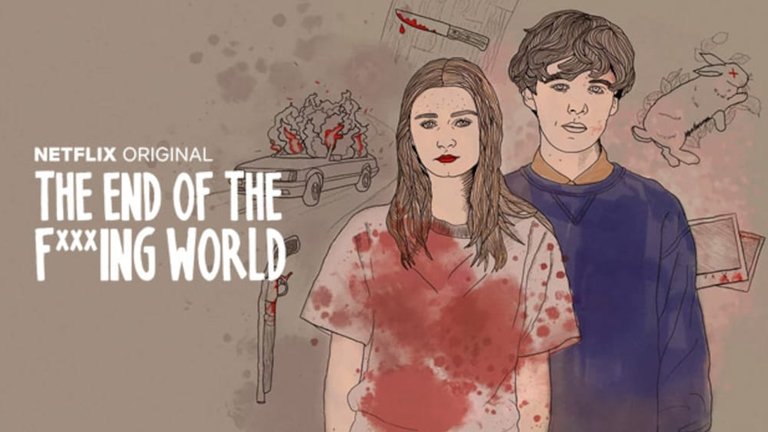 Hey Leute,
seit kurzem kann man die 2. Staffel der Serie "THE END OF THE F***ING WORLD" auf Netflix sehen.
Hierbei handelt es sich um eine englische (also britische) Drama Serie. Die erste Staffel wurde erstmalig im Oktober 2017 über Netflix ausgestrahlt. In deutsch erschien sie wenig später und zwar im Januar 2018. Anscheinend basiert die Serie auf einer Comic-Reihe (Quelle Wiki.) von der ich allerdings nie etwas gehört habe... Die zweite und aktuelle Staffel ist jetzt seit November verfügbar.
Wie bereits erwähnt handelt es sich hierbei um eine Drama-Serie. Ich persönlich finde die Serie gehört allerdings eher in die Sparte Comedy da sie vom Aufbau her sehr witzig gestaltet ist. Das Thema, um welches Inhaltlich geht, ist allerdings dramatisch weshalb die Serie auch offiziell so eingestuft wurde.
Handlung:
Der kleine 17-jährige James ist ein Psychopath. Er plant die Umsetzung seines Kindheitstraumes: einen MORD an einem Menschen.
Gesellschaftlich isoliert kommt es daher wie gerufen dass sich die ebenfalls psychisch krank wirkende Schulkameradin, Alyssa, in der großen Pause an ihn wendet. Mit einigen eigenen Problemen "im Schlepptau" entscheiden sich die beiden kurzerhand wegzulaufen. Mit einem schnell geklauten Auto startet das Psycho- Pärchen in ein lustiger aber auch teils verstörender Road Trip der die beiden ratz fatz an ihre Grenzen bringt.
Dieser Road Trip setzt sich auch in der zweiten Staffel fort die unmittelbar an das Ende der ertsen Staffel anschließt. Zwar in einer etwas anderen Version aber genauso chaotisch. Hinzu kommt diesmal allerdings noch eine dritte Person die ebenfalls einen stattlichen Dachschaden hat. Ohne groß zu spoilern kann ich Sagen, dass von der Realisierung des Mordwunsches über eine Hochzeit bis hin zu einem für Psychopathen gut geplanter Rachefeldzug alles vorkommt...
Fazit:
Auch bei dieser Serie handelt es sich um eine Empfehlung. Meiner Meinung nach ist die Serie auch unterbewertet. Die Charaktere sind sehr sympathisch auch wenn es alle samt Psychos sind. Einziger Kritikpunkt könnte sein das die Schauspieler stellenweise zu jung wirken. Die 17 Jahre nehme ich dem Hauptdarsteller "James" nicht ab. Vor allem in der zweiten Staffel bekommt man den Eindruck dass es sich bei den Figuren um Kinder handelt die alleingelassen worden sind und mit ihrem Dasein völlig überfordert sind. Das steht in Konflikt mit den humorvoll dargestellten Handlungen. Die Serie soll ja eher unterhalten und nicht gesellschaftliche Probleme verharmlosen.
Dennoch besticht die Serie durch eine schrullige, humorvolle und in gewisser Weise auch traurige Handlung und Darstellung. Die Handlungen sind so aufgebaut dass sie ein kurzweiliges Sehvergnügen erzeugen und die Dauer der Episoden (ca. 20min) laden förmlich dazu ein eine Staffel an einem nass-kalten, windigen Sonntag "wegzusuchten".
Von daher Viel Spaß
Trailer:
Staffel 1:
Kritiken:
Wirklich qualitative bzw. gute ernstzunehmende Kritiken die zitierfähig sind habe ich leider nicht gefunden. Anscheinend fehlt es der Serie dazu an Reichweite. Die User-Bewertung auf dem Movie/Serien- Forum moviepilot.de sind vielversprechend.
Link: https://www.moviepilot.de/serie/the-end-of-the-f-ing-world/kritik