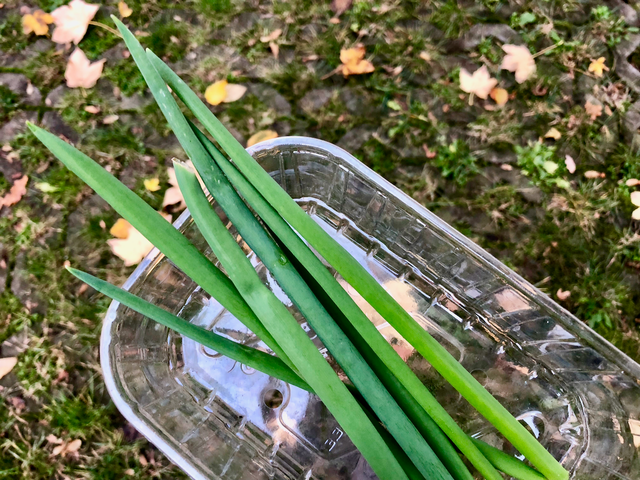 Last month I decided to send half of my reward until SteemFest to @t-r-f, a support program for SteemFest participants to compensate their travel cost.
Half of my reward goes to SteemFest Travel Reimbursement Fund
Since all the posts that has @t-r-f as a beneficially were payed out today, I summed the amount of reward. From 32 posts, 21.488 STEEM and 22.108 SP were donated. The data is from steemd.com. I extracted lines with "t-r-f comment benefactor reward: ..." and summed the amount with a script I wrote before.
Due to the current low STEEM price, it wasn't much. Ja but it at least help other Steem friends who attended SteemFest :)
I wish I can make more donation next year!
Photo: Spring onions from garden.
--
先月、SteemFestまで報酬の半分を参加者の旅費サポートプログラム(TRF: Travel Reimbursement Fund)に寄付することにして、ちょこちょこ寄付してきました。
SteemFestの旅費サポートプログラムに報酬の半分を寄付します
今日ちょうどすべての投稿の支払いが終わったので、以前書いたスクリプトを少し手直ししてSteemdのデータから総額いくら寄付したのか計算してみました。結果はというと、32投稿で21.488 STEEM、22.108 SPを寄付しました。
STEEM価格が低迷していて、1000円にもとどかず、結果として去年の$10(Funditionで寄付をしました)を下回ってしまいました。とはいえSteemit/Steemファンのどなたかの旅費の助けになったら。
来年はもう少し寄付ができるといいな。そしてまた自分自身SteemFestに行きたいです :)
写真: 庭でとれた再利用ネギです。うちで使う分には十分で、月に一回1束買うか買わないかです。で、その下の部分を庭のプランターの端っこにまた植えていっています。