Hello my dear readers!
For someone who has little experience in Blockchain, and who comes to his encounter with this technology by chance, this path becomes an ascending route, of surprising and fascinating knowledge that makes you want more, it is like a kind of addictive substance that It catches you but you don't want to leave, and beyond that, you want to share every experience lived as if it were the best thing that happened to you in life. (In the case of steemit, it is one of the best things that has happened to me).
With each step you grow, each experience enriches you, but what you have lived serves to encourage the path of many who begin to walk this path, for this reason we must share our experiences, experiences that someone can pick up on the road, learn and benefit from the same.

One of the experience I have had recently was my first transaction in the internal steemit market, made through the BlockTrades exchange, yes! Although it seems incredible, after more than a year publishing on this platform on August 1, 2019 I made my first operation in BlockTrades exchange, the reasons for this are many and here I share some: very low rewards in the publications, the lack of knowledge in which operations could be carried out and the lack of knowledge about the operation of the page.
It is a decentralized exchange system based on the blockchain of steem, and that provides excellent service to platform users. In Block Trades you can make transactions with the most popular cryptocurrencies in a very simple way, you can change your SBD to STEEM (It was the first transaction that you make), you can lease steempower if you wish, buy and sell the cryptocurrencies you own in a way quick and easy
Unlike a traditional exchange, you do not need to maintain a balance on our site. Instead, simply send the desired amount of cryptocurrency you want to spend, and we transfer to your wallet an equivalent amount of the cryptocurrency you are buying. This protects you from possible losses that may occur when you keep your cryptocurrency in an exchange that is vulnerable to attacks by hackers.
For large investors, security is something very important when exchanging cryptocurrencies, in that sense Block Trades offers guarantees that protect your investment and makes your experience easier when making the purchase of the currency in which you are investing .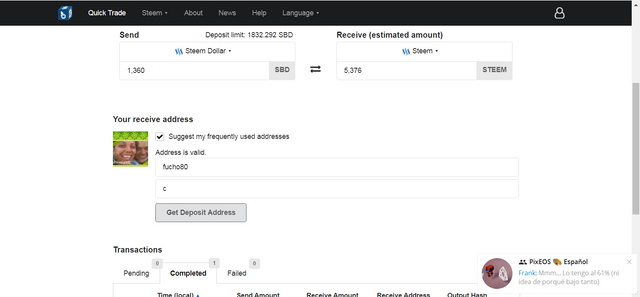 About the company, products and services of BlockTrades
BlockTrades International Ltd. is a company registered in the Cayman Islands.
In addition to acting as a market maker in cryptocurrency market pairs, BlockTrades offers OEM consulting and software services for companies seeking to interact with blockchain-based technologies, as well as general purpose software development contractors (C ++, SQL and web based software development).
This is a company that really builds trust and in which a large number of daily transactions are made. My particular experience was very pleasant and I have the motivation to continue using this exchange for my internal transactions in the chain, in addition to starting to use a number of functions that I did not know and that make our experience in the steem chain and in steemit much more Nice, safe and easy.
Now I would like to know your experience with BlockTrades exchange. Do you perform daily operations? Have you had any kind of inconvenience using these services?
---
For more information you should go to: BlockTrades - @blocktrades
---
Note: The images are screenshots taken from the website.
---
@crypto.piotr - @juanmolina - @lanzjoseg - @jadams2k18 - @fucho80
---
If you want to contribute to the growth of this account you can support me by making your donation.!
BTC: 336bgmfEUWg42pqZeqRjboQPfMG6VL8rHa
ETH: 0x7e6b6a7309d89bcDDA666695A3525C0CD35222FA
You can also do this by delegating some steempower to this account ... thanks for your support!