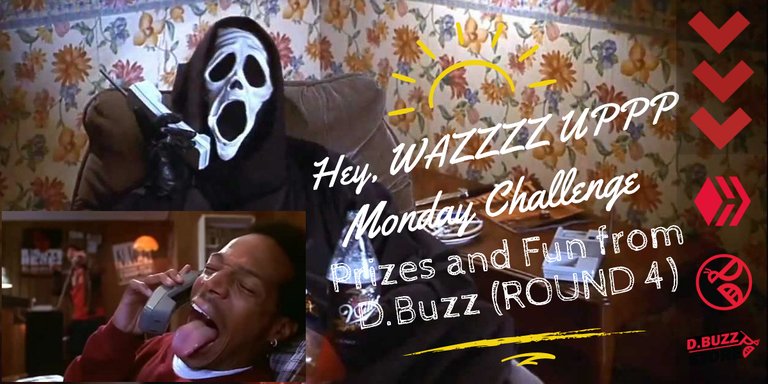 Monday Challenges >> Prizes and Fun from D.Buzz (ROUND 4)
---
Sometimes I feel Monday is a bit rude. I mean here I was quite enjoying the Sunday, and then all of a sudden, Monday comes in. It's like, "Hey man, let me keep enjoying Sunday for a bit longer". But no, like a bull on a gallon of coffee, that ain't no stopping it. Its Monday.
With Monday, however, brings one of my favorite postings of the week, "The Monday challenge"!
But first, the winners of last week!
We had two fantastic haiku entries last week.
---
"Another week starts The weekend ends too fast, huh?"
Total # Syllables 12
---
"crying silently in the heart of jealousy why it can't be me"
Total # Syllables 17
---
Both entries are fantastic and I love them both. Art is subjective as to what one is better, but the traditional Haiku has 17 syllables. As such, we had one contestant who has 17 syllables in the Haiku, @mrnightmare89.
So I'm happy to say that @mrnightmare89, you are the winner for this week! You no longer have to cry in the heart of jealousy as you are the winner. :D
Yes, @mrnightmare89 You have two weeks to reach out to us on Facebook or Discord and tell us what sweet product you want from our shop, or we can arrange another reward. WOOT WOOT!
On to the new week!
---
The challenge for today and the rules:
Monday the 13th challenge:
For the 4th challenge, we are going to keep it simple.
Do you remember the "WAZZZZZZzzzzz Up" meme?
If not, take a quick watch at this :

Dare I say that's classic.
Let's drop some "WAZZZZZzzzz Up".
Post on D.Buzz and in that post tag two friends, followed by any spelling of "What's up", or "WAzzzzzz UPppppp", Or any creative variation therein. Let's bring it back.
Rules:
Login to D.Buzz to post a Buzz with your entry & include a link to this post.
Use the hashtag #DBuzzMondays
After six days (Next Monday, at some point), we will select a winner from all of the valid entries.
We will then make an announcement post on the following Monday and Tag you.
You will have 14 days to contact us on Discord or Facebook to claim your prize! (We need to know what shirt/mug you want and where to send it. :) )
No, follow, or upvote required to play.
What is the prize?
Any product from our store:
https://dbuzz.store/
What if I can't get the product shipped to me as I inadvertently stepped into a wormhole and now am halfway across the galaxy? Well... Sorry, bro, we will get Elon Musk on it! But for now contact us, we can see about sorting out another fun prize!
Questions? Concerns? Comments?
Just Post below.
Thank you, and have a great week!
D.Buzz over and out.
D.Buzz over and out.