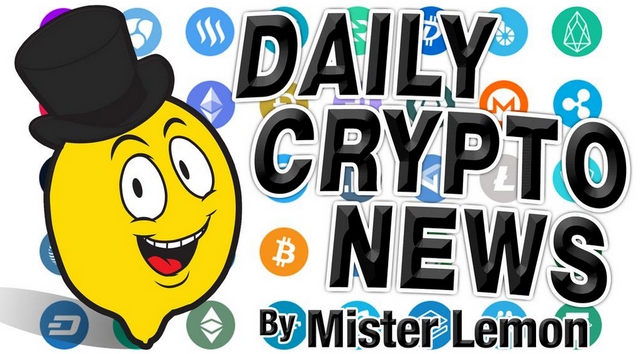 Steemit for Sale: Popular Crypto Blogging Platform Sold to Tron, Community Reacts ;
Low-Volume Bitcoin Pullback Stalls at Price Support Near $9.6K ;
Exploit During ETHDenver Reveals Experimental Nature of Decentralized Finance ;
New Partnership Aims to Bring Blockchain Sports Tokens to the NFL, MLB ;
TON Devs Worldwide Join Forces to Intervene in SEC Case Against Telegram ;
🗞 Daily Crypto Calendar, February, 12th 💰
STEEM Trading Update
Welcome to the Daily Crypto News: A complete Press Review, Coin Calendar and Trading Analysis. Enjoy!
Crypto blogging platform Steemit is undergoing a big change, migrating from its own Steem blockchain to the Tron network. The struggling crypto blogging platform launched in 2016 and made waves when big name libertarian users began to make thousands of dollars per post. The platform's heyday was short-lived, however, and after the departure of co-founder Dan Larimer of EOS fame, attempts to rebrand, and layoffs, it has finally ended up in the care of crypto mogul Justin Sun, founder of the Tron platform.
The Ask Me Anything video finds Tron founder Justin Sun in discussion with Scott, elaborating on the details and implications of the deal. In explaining why he sold the company, Scott stated he is "moving on for personal reasons" and that "there's a couple other companies that I'm working on behind the scenes privately." This is notable since one of the common criticisms of Steemit historically has been the project-hopping of leaders, with Bitshares creator Dan Larimer, who helped Scott create Steemit, leaving the project in 2017 to work on EOS development.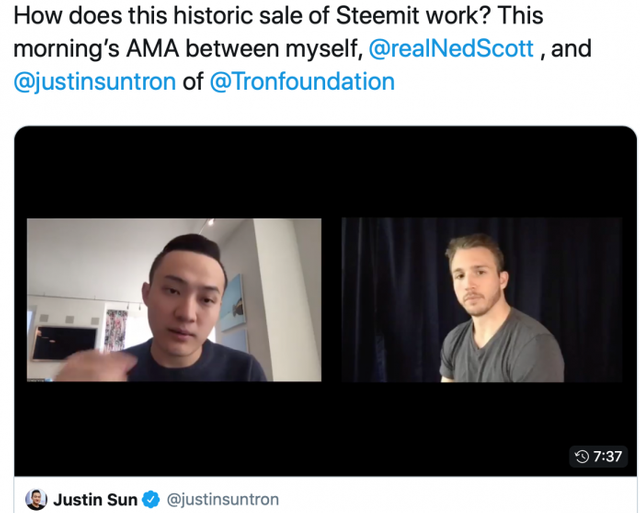 Regarding the concerns about currency migration, Sun stated in the Feb. 16 AMA with Ned Scott: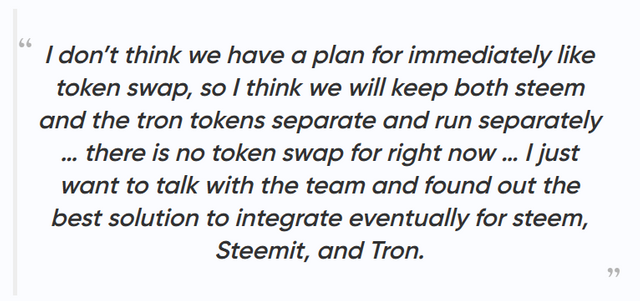 That may sound well and good, but for the dedicated bloggers who came to Steemit seeking a real decentralized social media and fell in love with the chain and platform, the official press release is clear: "Together, TRON Foundation and Steemit Inc. will look to create further value for their users and to augment their advancements in decentralized technologies," it states, "including moving old STEEM token to a new TRON based STEEM token."
Some are not so pessimistic, hoping the sale could bring steem a long overdue shot in the arm of recognition in the crypto space and beyond. As for Scott, he states in the press release, "From launching the platform in 2016 on a shoestring budget with an idealistic team to today, I've enjoyed the development of the platform and the growth of its user base — now I'm excited to see a strategic partner attempt to bring it to new heights."
Bitcoin defended key support around $9,600 on Sunday with a doji candle, stalling the price pullback and putting the market into neutral.
A break above Sunday's high of $10,051 is needed to revive the short-term bullish view. That would likely light a fire under buyers, fueling a rise to the recent high of $10,500.
On the downside, Sunday's low of $9,958 is now the level to beat for the bears.
Daily chart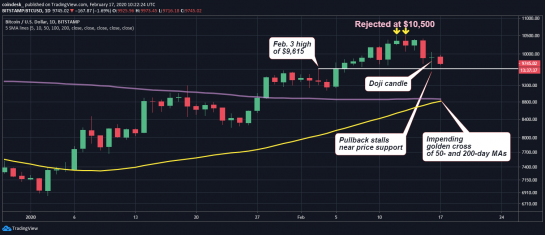 The immediate outlook would turn bullish if prices rise above $10,051, possibly causing more buyers to join the market and yielding a re-test of the recent high of $10,500.
Weekly chart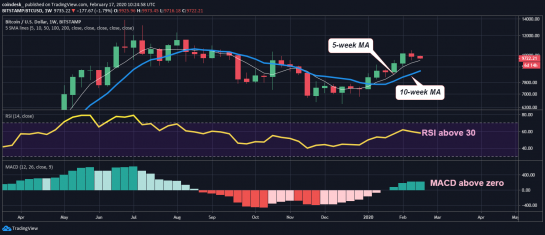 The relative strength index is hovering in the bullish territory above 50 and the MACD is producing higher bars above the zero line, a sign of strengthening of bullish momentum.
DENVER – Decentralized finance (DeFi) project bZx has suffered an attack in which a hacker successfully gamed multiple DeFi protocols to extract $350,000 from the platform, about 2 percent of the assets under management.
In response, the company took down its lending and trading protocol Fulcrum at 7:00 UTC. The company was presenting at ETHDenver during the hack. The hackers took advantage of the company's pricing oracle to trick the protocol into giving up the cash. bZx depended on only one oracle for pricing, according to sources.
The firm, which has yet to reappear at EthDenver, later confirmed in a tweet it will compensate lenders for potential losses.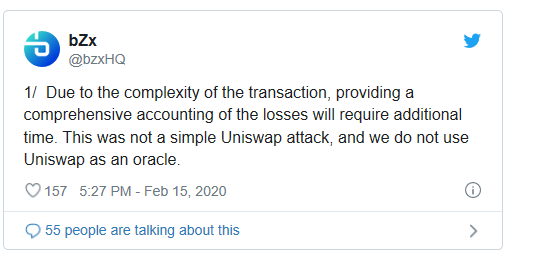 The attack could be symptomatic of a continuing issue in DeFi, said Chainlink CEO Sergey Nazarov at the event: how to source price information.
The attack was even more notable because of its timing as the team had to deal with the hack during the ethereum community's EthDenver hackathon, which largely focuses on DeFi.
Blockchain sports firm Chiliz has partnered with major marketing agency Lagardere Sports and Entertainment, according to a press release on Feb. 17.
Chiliz CEO Alex Dreyfus told Cointelegraph that — as part of the partnership — Lagardere's sales team will present Chiliz and its blockchain-based fan interaction system Socios to new sports teams, leagues and sports federations.
Dreyfus explained that, since Lagardere has a major presence in the United States, it will help expose Chiliz and Socios to teams in major sports leagues such as the National Football League and Major League Baseball — where average team valuations are in the billions of dollars:
"The strong presence of Lagardere Sports in the U.S., especially in NFL and MLB, will help Chiliz to have a footprint for the first time. Our existing portfolio with FC Barcelona gives us a strong leadership in the U.S., but we want to start to go to the next stage by onboarding U.S.-facing sports in the next few months. This partnership will help, as some others that will be announced."
A group of international Telegram Open Network (TON) contributors have submitted a court document criticizing United States regulators' line of attack against the project.
The group has formed a non-profit association, "The TON Community Foundation," and collectively submitted the brief on Feb. 14 in the form of an amicus curiae.
An amicus curiae is a brief that offers expertise or insight into a given case on behalf of an entity that is not formally party to the case itself — i.e. an entity that is neither a plaintiff, defendant, nor legal counsel for either side.
The court can decide whether or not to take the brief into account at its discretion.
🗞 Daily Crypto News, February, 17th💰
Live Telegram AMA with Binance Dex February 17 @ 3:00 am - 4:30 am GMT.
"We have a Korean listing coming in due time (approximately 10 days [from Feb 7th]) with a KRW pair!"
"The token swap will be available at moviebloc.com from Feb 17th 2020."
The main feature of Callisto new monetary policy is a progressive decrease of its block reward. The next reduction is estimated on 15.02.20.
Ontology Tokyo meetup discussing "Blockchain Application for Japanese's livelihood".
"We'll be making an announcement on all the huge updates we have on $Storm planned for 2020."
"Binance Futures will launch NEO/USDT perpetual contract, with trading opening at 2020/02/17 08:00 AM (UTC)."
STEEM Trading Update by my friend @cryptopassion
Here is the chart of my last analysis :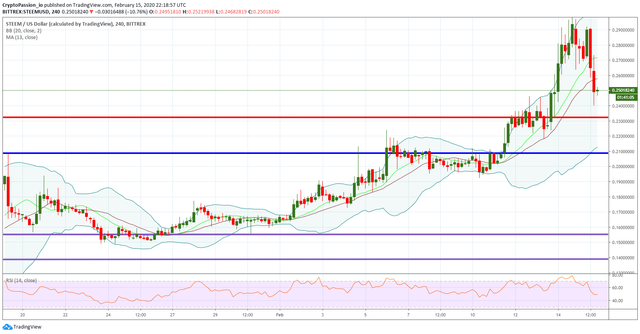 Here is the current chart :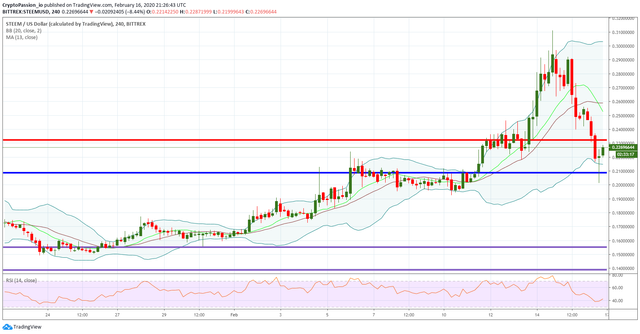 The STEEM continued to correct today and we reset the UP that we did 2 days ago due to the TRON news. Again this correction is everywhere on the altcoin market so we cannot associate that drop to a problem with Tron, even it is difficult to know the future for STEEM, between the AMA very short and the different tweets of Justin. Regarding the TA, we broke the support line at 0.23$ but the one at 0.21$ created a bounce. Let's hope that last one won't be broken in the coming hours.
Last Updates

You don't want to miss a Crypto news?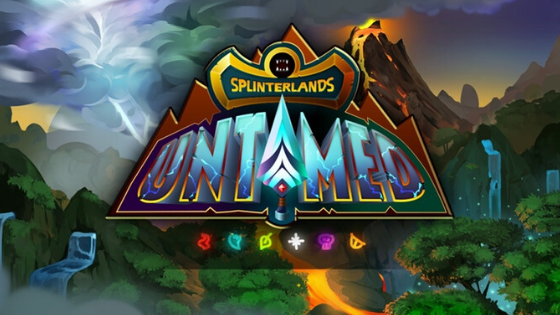 Come try out the new STEEM blockchain game: HolyBread