My life is changing a lot lately.
As the title says, I'm starting to trade actively from now onwards. I've started to fund my old account at Bitmex.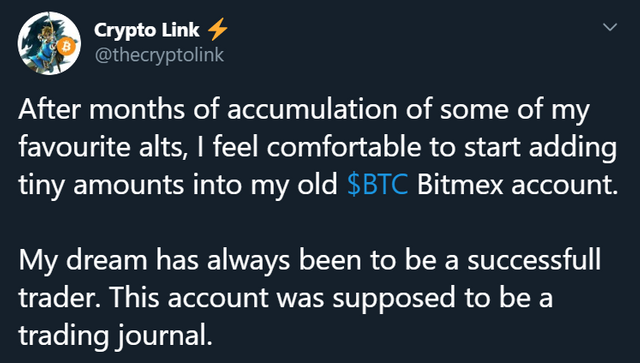 But don't get mad yet! I'm not one of those old OG's with loads of BTC's into a hidden legder.
Nevertheless, I want to do it properly:
-Little amounts (need to rust off my trading behaviour a lot).
-No leverage (yet).
-Swing trading at first, maybe some scalps later.
-Looking to add a couple % every few days/weeks.
-I'll be working my ass off to avoid at whatever cost big drawdowns. Risk management is all.
-Don't mind about profits right now, I'm focused into the 'testing' and emotional part (need to rule yourself first to be successfull).
-Trading ONLY Bitcoin $BTC
Hope you're entertained. I'll be posting here (more frequently) regular updates.


Steem on!
You can follow me on Twitter