Last night as I was scrolling through my twitter feed I noticed someone had posted a link to something called Battle Traders (full disclosure - this URL contains a referral string so I may receive something if you click on this link and sign up), a "free real-time multiplayer trading game". Curious - as always - I clicked on it to have a look. I read the FAQ and saw that there was the option to play for free so, with nothing to lose, I gave it a go.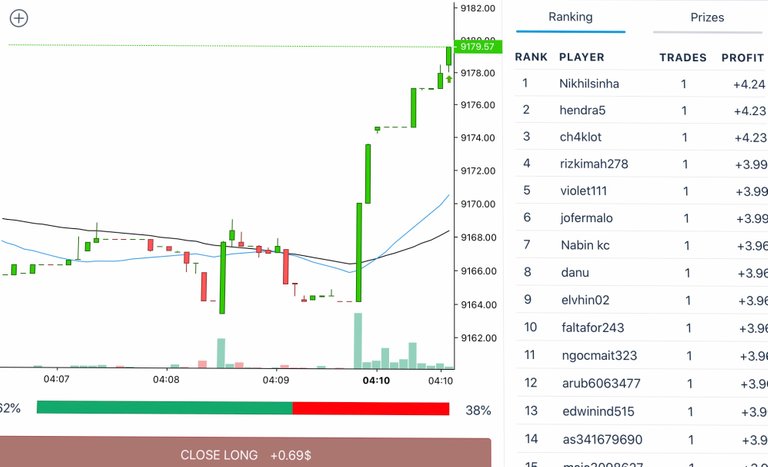 Screenshot from Battle Traders game
This game is so addictive! Here's how it works in a nutshell.
You enter a 'tournament' - either the free version or the one that requires you to have some in-game 'battle points' (BP) to enter (when you sign up you get 500 free BP anyways so you can even have a go in the non-free ones too!)
A tournament lasts 5 minutes. At the end of the tournament, the next one begins 30 seconds later so it happens fast!
When you're in a tournament, basically you make a choice - you go long or short the BTC price (or wait). During play, you see the BTC chart (real-time - I think?). Once you open a long or short position, the profit or loss for that position moves according to the BTC price. You also see your overall profit/loss for the tournament. You also see real-time the number of short vs long positions that the other players in the tournament are taking.
That means there are several data-points to pay attention to - the chart, your current position, your overall profit/loss and everyone else's positions.
At the end of the five minutes you are given a position on the leaderboard and awarded (or not - depending on your performance) BP.
BP can be converted for real BTC! Every BP is equal to 0.0002 USD. The minimum BP required to withdraw for BTC is 25000 - so $5 FIAT.
I find the decision-making and strategy in this game absolutely fascinating. I find myself asking a lot of questions - Do I watch the BTC chart? Do I just look at what everyone else is doing, especially if it's heavily weighted one way or the other? Do I deliberately open the contrarian position? Do I close my position for a loss and open the opposite, or hold and wait for it to swing the other way? Do I wait a while after closing a position before opening the next?
I could not find any information on who built this and if they make any money out of it but I noticed that the first tweet from their twitter account was 25th May so it's presumably pretty new! I think there is a lot of scope to extend the game by adding new features in future - option to select the cryptocurrency tournament to enter, longer tournaments than 5 minutes (the short time-frame does make it super-fun though!!), etc. I would expect that if it grows in popularity that down the line BP could be a tradeable token and maybe the Devs could reserve 20% or so as a treasury to monetise.
I think anyone into crypto markets would have lots of fun playing this but do be warned it is highly addictive.