The recent bitcoin selloff looks quite bearish. The last time the RSI on the 4 hour chart was so oversold (at 19 as of writing this) was on December last year, so this is a strong sell for sure. There has been a roughly 18% dip in price over the past three days, with massive sell volume. Is this a sign of a bear market?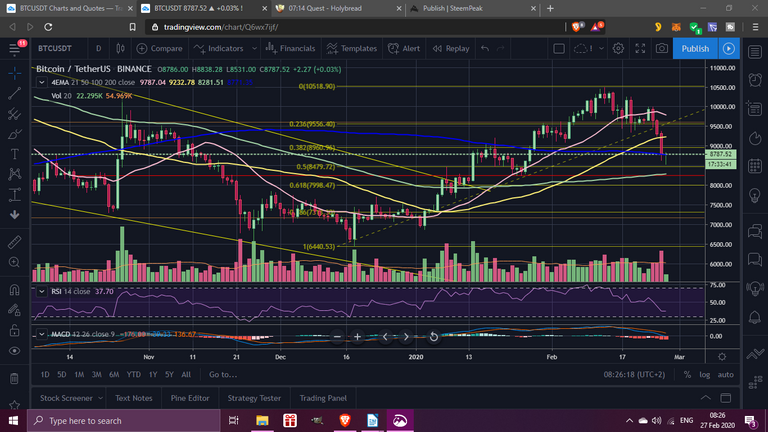 Well, certainly the overall bitcoin price is still bullish long term. This is just a short and healthy retrace in price. If we draw a fibonacci graph from the last local low at $6440 on 18 December, to the local high of $10520 on 13 Feb, we can see that price has dropped to the 50% retracement point of $8480, just in the past few hours on the Binance USDT chart. And it looks like there is a bounce at that support point and price is rebounding.
However, this is just a short term view at the moment. There may be more downside to come potentially. Usually price falls to the 0.618 retracement point, which would be $8000. The golden pocket is around there, up to about $8200. I'm expecting price to head a little lower still, to that area where there is previous support somewhere between $8000-8200. That's just my opinion of course. Price could have found a bottom already as the RSI shows the beginning of an uptick right now on the 4 hour chart.
MACD still has some potential downside though by the looks of it on the 4 hour. The recent price drop was quite steep, so there is bound to be something of a bounce back now, though it's still uncertain since the overall momentum is decidedly bearish. Let's observe and see if this is the swing back upward for bitcoin price.
On the daily chart, price is holding at the 200 day EMA or moving average which has acted as a very good support, despite wicks below it yesterday and today. As I write this, price has sprung back well, right to the 200 and we shall see today if that 200 daily EMA can hold as support. If not then the 100 daily EMA also happens to be down at my potential low point of around $8200-$8300, though it is climbing daily. If the 200 becomes resistance, then the next leg down may well occur, taking us to the 100 EMA as I mentioned.
The RSI on the daily has not quite reached oversold yet, at 30, and could still drop further, though it is leveling out ever so slightly with this bounce today. The MACD on the daily chart does however still look bearish, but we need to remember that this is a trailing indicator, based on past price history. I have hope for a nice bullish bounce overall, and a continuation of the long term bull run. Of course, we need to consider the upcoming halving in just over two months, for what it's worth. Speculation abounds as to how price will react now as we approach this momentous 4 year event.
Add to that the manipulation by whales of bitcoin price, where thy like to force a short or long squeeze on leverage or margin traders. This is one unfortunate element in the industry, a spillover from the corrupt mainstream finance market. Leverage trading is like gambling, some might call it a moral sin, some even a crime. It is a low class practice used by addicts...and millionaires with money to waste. And it affects the rest of us negatively. However, the government is hijacked by the financial world. The bankers run the world now, so we will just have to live in the criminal state.