Stock-to-flow just got even easier to follow
The stock to flow model has been all the rage lately, and now there is an even easier way to tell if price is above or below the projected line.
Stock-to-flow has been used to predict precious metals prices for decades, and more recently has been used to possibly predict bitcoin's price.
As the model was only introduced a little over a year ago on bitcoin, a little back-testing had to be used in order to see just how accurate it might possibly be.
As of now, it looks like the stock-to-flow method could account for over 90% of bitcoin's price moves, with some estimates showing it accounts for over 95% of bitcoin's moves.
And the latest model takes out Satoshi's 1 million unmoved coins: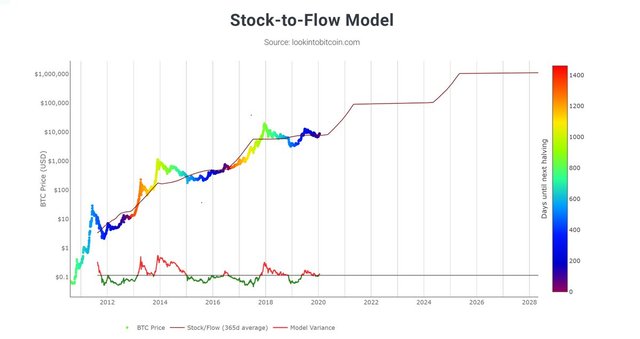 (Source: https://twitter.com/PositiveCrypto/status/1219974596566429698)
Currently, price is pretty much right where it should be
According to the stock to flow model, which has accurately forecast prices to the tune of 90%+, price is exactly where it should be.
Interestingly enough, if we look at the bottom of that chart posted above, we can quickly tell if price is above or below the stock to flow model line.
And right now it is pretty much right on it.
Though, not really a trading tool, one could theoretically buy when price is below that model line and sell when it is above it.
The interesting thing will be what the price does over the next 12 months.
Historically, price has lagged the stock to flow model during these big moves up.
Which, if it did it here again, we would expect it to catch up to the stock to flow model line in late 2021 or early 2022.
Which says prices should hit $100k around that time.
Stay informed my friends.
-Doc