If history is any indication, bitcoin could rally a ton after its next halving
As most are likely aware by now, bitcoin's next block reward halving is set to take place on May 14th, 2020.
For those keeping track, that is now less than 4 months away.
Historically, bitcoin has performed very well both in the 12 months prior and the 12-18 months post halving events.
Given that we are likely seeing the pre-halving run up right now, what might we expect after the halving?
If we look back at the previous two halvings, we could end up seeing a massive rally.
One that could take bitcoin to almost unimaginable heights.
Though, not quite high enough to keep John McAfee from eating his manhood.
To the charts...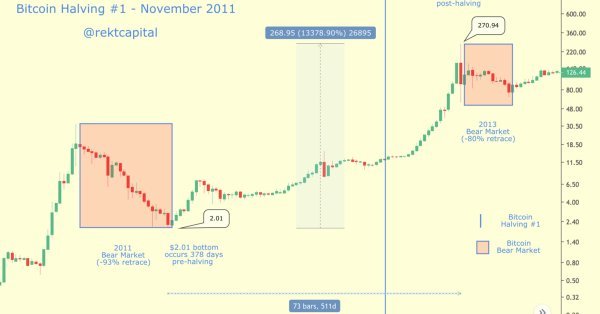 (Source: https://twitter.com/rektcapital/status/1218127798847578112)
After bitcoin's first halving, prices eventually peaked with around 13,378% (more or less) gains.
After bitcoin's second halving, prices eventually peaked with around 12,160% (more or less) gains.
Using that data, if the third having produced similar rates of return, somewhere between 13,000% and 12,000% gains, we could see bitcoin somewhere around $375k-$400k per coin.
Let that sink in a bit...
If this halving produces returns anything like the previous two, bitcoin will get up near $400k per coin!
You may need to sit down after thinking about that one...
Do I think this will actually happen?
Nope, not for one second.
Don't let my pessimism fool you though, I am still wildly bullish, just not THAT wildly bullish.
I think at some point the 'law of large numbers' will come into play and bitcoin gains will start slowing down.
In fact, I think the more likely trend seen above is the fact that the return's each halving were smaller.
Which means, I also expect returns from this third halving to be less than both the previous two.
Given that context, I see no reason that bitcoin can't eventually hit $100k within the next several years.
Crazy to think that a $100k bitcoin call makes me more conservative than most. :)
Stay informed my friends.
-Doc