Bitcoin is going to have another bubble, and it's likely coming after the next Halving
Bitcoin will have another euphoric bubbly period, it's just a matter of when.
Everything you need to know about the previous ones can be seen here: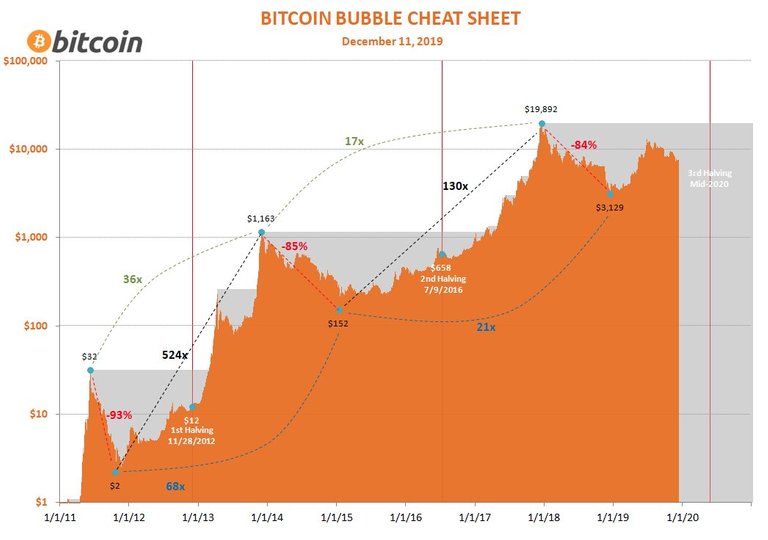 (Source:
1204788348641898496) twitter metadata:Q2hhcnRzQnRjfHxodHRwczovL3R3aXR0ZXIuY29tL0NoYXJ0c0J0Yy9zdGF0dXMvMTIwNDc4ODM0ODY0MTg5ODQ5Nil8 ~~~
As you can see, every time we had a euphoric bubbly phase, it was followed by an 80-90% retrace.
We already saw the most recent retrace that bottomed at $3,100.
What should we expect to happen next?
As it relates to our next bubble, pay special attention to the lows during those pullbacks compared with the highs seen during the most euphoric phases of the bubble.
They are circled here for you: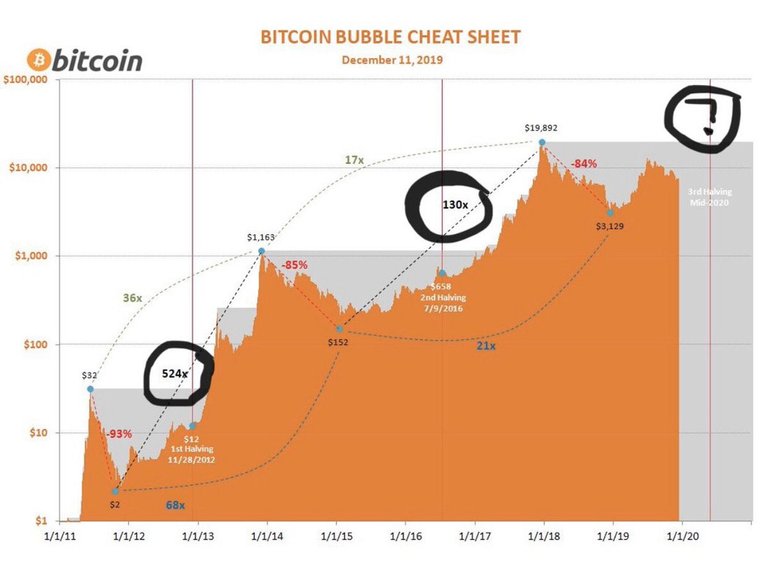 (Source:
1204791317353684995) twitter metadata:bmFyY29wb2x5fHxodHRwczovL3R3aXR0ZXIuY29tL25hcmNvcG9seS9zdGF0dXMvMTIwNDc5MTMxNzM1MzY4NDk5NSl8 ~~~
We only have 2 data points to go off of, so not a ton of data to base our trend on, but we do the best we can with what we have.
In this case, the second peak was about 1/4th the total return of the previous one.
Using that same logic and math, we could apply the 1/4th model to our next phase.
If the last phase saw a 130x return, we would expect the next phase to return something around 32x from the lows ($3,100).
That would equate to a projected price of $100,750.
Do you understand now why so many people keep pointing to that $100k price target?
Why does the halving cause these massive rallies?
It's pretty simple really, it's math.
For bitcoin to stay at a price for any length of time the supply and demand must be fairly balanced.
That means that the current demand that is coming in to bitcoin is chewing up the new daily supply each day to keep the price around $7k.
Well, if that daily new supply gets cut in half, but the demand stays roughly the same, what do you think happens to prices?
They go up!
And, once they start going up, animal spirits take over and prices well overshoot where they probably should and you get things like 30x returns in a very short period of time.
Once this next halving takes place, and the reduction in supply starts being offset by a sustained demand level, we should start seeing prices take off.
And when that happens, animal spirits take over.
Stay informed my friends.
-Doc