History says that we just need to see one thing happen for Bitcoin's next parabolic run to start
Looking at past data, it appears that bitcoin really only needs one thing to happen for the next parabolic run to start.
Beyond the time factors that get mentioned over and over again, there is a chart factor that predictably gets triggered as well.
That chart factor is a fibonacci level.
Looking at past parabolic euphoric periods, it looks like if prices clear the .65 fibonacci level on the weekly chart, it is off to the races.
Check it out: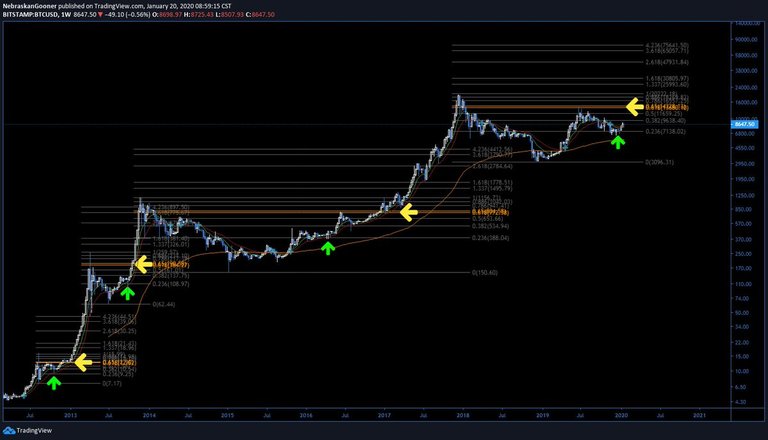 (Source:
1219274709591842816) twitter metadata:bmVicmFza2FuZ29vbmVyfHxodHRwczovL3R3aXR0ZXIuY29tL25lYnJhc2thbmdvb25lci9zdGF0dXMvMTIxOTI3NDcwOTU5MTg0MjgxNil8 ~~~
We have seen a similar pattern play out 3 previous times now.
So, what would need to happen this time around to trigger the move?
Looking at the current chart, it looks like price would need to clear about $14k before the next parabolic move would trigger.
That $14k price point would represent the .65 fibonacci level.
Also of interest, the .236 fib has acted as a bottoming point and then on the way up, the 4.23 fib has been blown through.
Which, looking at the current chart would indicate a price peak north of about $75,000.
TLDR:
A close above $14k on the weekly chart would likely spark the parabolic rally that takes prices over $75k.
Which means, $14k becomes a very important level for us to watch!
I am personally not counting on this happening for several months, but we shall see.
Stay informed my friends.
-Doc