Bitcoin has been in accumulation mode basically since inception
There are now more than 784,000 unique addresses that hold 1 or more bitcoin in them.
I know I know, you are probably needing some context to fully understand what that number means exactly.
Well, as of this time last year, there were roughly 707,000 unique addresses that held 1 or more bitcoin in them.
That means in the past year, we have seen an increase in these wallets of 11%.
And as you might have guessed, the current number represents an all time high: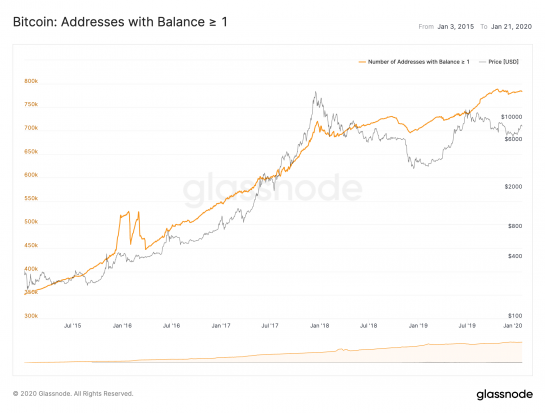 (Source:
1220019836677476353) twitter metadata:YmxvcXBvcnR8fGh0dHBzOi8vdHdpdHRlci5jb20vYmxvcXBvcnQvc3RhdHVzLzEyMjAwMTk4MzY2Nzc0NzYzNTMpfA== ~~~
What does this mean?
Unfortunately we can't say for sure exactly what this means as unique addresses doesn't necessarily mean unique users.
Which means, we can't say for certain that there has been an 11% increase in unique users over this same time period.
However...
I think there is a reasonable assumption that at least some of those are new users.
Enough so that cryptocurrency research firm Bloqport speculates that the figures likely highlight retail accumulation of Bitcoin.
With that pattern basically going up year after year, it looks like retail has been accumulating pretty much ever since they heard about bitcoin.
Stay informed my friends.
-Doc