Bitcoin looks like it is ready for consolidation time
After a massive run up, it now looks like we have peaked and are getting ready to retrace some of the recent gains.
Any coincidence it happened after bozos in the Whitehouse decided to get tough on crypto, probably not.
Anyways, it looks like the charts are calling for a decent sized pullback before major support.
Sees: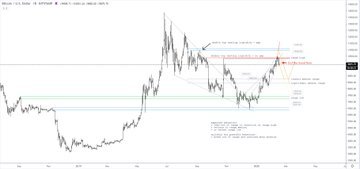 (Source: https://twitter.com/BTC_JackSparrow/status/1229035747199475714)
Not much on there until about $9k or so.
If that doesn't hold we are looking at the mid $8k's for support.
I would not be surprised to see bitcoin have some trouble these next few weeks.
We were due for a cooling off period before the halving squeeze anyways.