Volume of future Bitcoin contracts traded reaches record
Img
Since the beginning of the year 2020, cryptocurrencies have been the center of attention for financial markets. This thanks to the important bullish rally that positioned the price of Bitcoin, once again, around $ 10,000 per BTC.
It is believed that the spike was driven by the advance of the Coronavirus around the world, which led more cautious investors to seek shelters for their capital in valuable reserve assets.
Although all Bitcoin movements in recent months seemed to indicate that the market would collapse at any time, no one could have foreseen the fall of yesterday. Which left the great economies of the world in shock as they watched their bags lose between 7% and 8% of their value in a matter of hours.
And it is that the direct cause of this collapse was not the Coronavirus, but a political conflict between Saudi Arabia and Russia. The countries in question failed to agree to decrease oil production and, consequently, to avoid the fall in the price of crude oil.
The price war between the two energy giants, which lowered the price of a barrel of oil by 30% in just one day.
All this has put the world economy on its head. With central banks looking for mechanisms to build trust in investors and the Coronavirus disrupting global supply chains.
This created the enabling environment for large capitals to seek refuge in assets such as Bitcoin.
Bitcoin trading volume


Not surprisingly, after the turmoil caused by the market collapse, the volume of transactions made with future Bitcoin contracts has increased substantially.
The volume reached 198 million dollars in the main exchanges of this financial product (Deribit, LedgerX, OKEx, and CME). What surpassed the previous record of 171.3 million dollars, established in the month of February.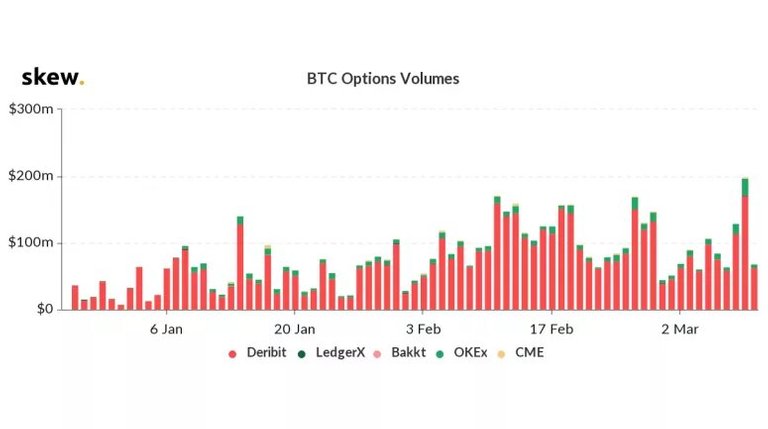 As can be seen in the previous graph, most of the operations with future Bitcoin contracts on this day, were carried out through the Deribit platform, the largest exchange of cryptocurrency options in the world. Followed in volume by OKEx and in a very distant third place, CME.
For its part, Bakkt's future physical Bitcoin contracts, which were a great promise for much of last year, did not record any transactions yesterday. Being the last movement registered in that market on February 27.
All this, together with the 1.64% increase in the price of Bitcoin, allows us to see how the consequences of Black Monday reach the crypto market. What awakens the interest of investors in products related to cryptocurrencies, in an attempt to protect their capital from the financial crisis that begins to generate the Coronavirus.
---
If this article seems informative, Leave a positive vote and resteem, this will not help much, Thanks for stopping by
---
Posted via Steemleo
---
---