As many of you know (or not!), the way of looking at the crypto markets from a long-term/investor perspective is always observing at Bitcoin, the king.
As a prominent crypto analyst well known here by the OG's used to say (decent upvote if you say their name at the comments section).
'BTC is the biggest of the stars at the firmament and the one that dictates the market sentiment'
Let's make a fast look at the market 1 week pre-halving: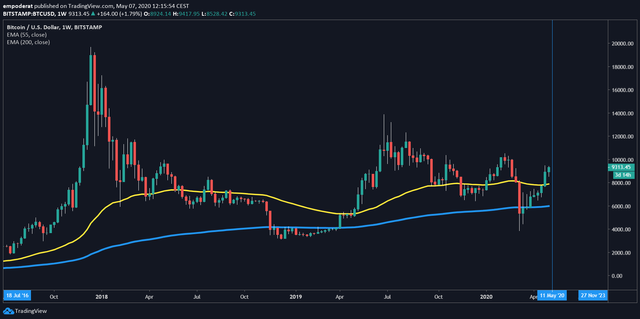 BTC above 2 major resistance zones (EMA's of 55 & 200 periods), less than 5 days for the next halving (which is a very bullish event) and recovered +100% of the losses caused by the flash crash of the 12th of March.
Only these FA is 'enough reason' to be bullish.
Only 1 thing to take in consideration.
The halving is considered by many as a 'sell the news' event. That means that a lot of people will be dumping their BTC a few hours before the event anticipating a BTC dump. IMO it's very possible we see some type of dump (nobody can predict the %'s here)
If we compare with the previous halving in 2016: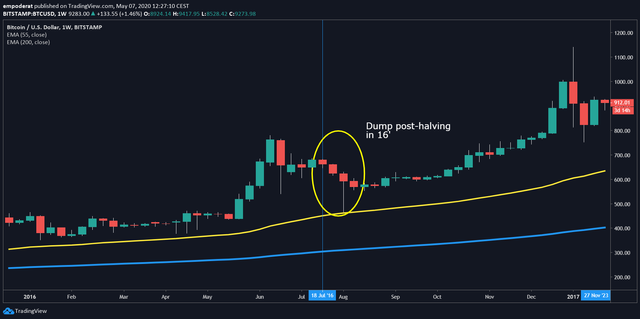 You can see that the price decreased 3 consecutive weeks after the previous halving (even with a flash crash), but we usually forget that the price rallied a not negligible ~70% a couple of months before.
These days the situation is radically different. As we dumped very hard a couple of months ago (the before mentioned march-crash).
Given the fact that we dumped that hard, it's reasonable to expect a significant dump after this halving event?
I don't think so.
And If we dump, the fall will be short-lived.
In addition: the chance of a big push to the upside is greater than a deep fall. Remember, we already dumped and we didn't had a 'proper rally' since January, we've been falling since.
If we don't fall hard, a lot of traders in the sidelines will start feeling nervous, what do you think will happen if a few of big hands start feeling the FOMO?
IMO it's a big risk to stay in the sidelines. I expect chopping or upside.
I also noticed this: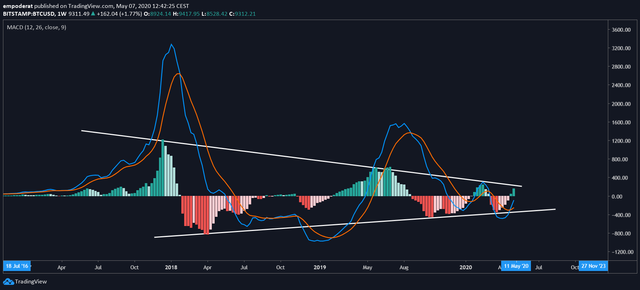 I like to see the MACD in longer timeframes as I see it as a 'giantic dock' waiting to 'break free' pressure from time to time.
And looking at the weekly MACD, we can see that the histogram has been compressing since the end of the last bull run, January of 2018. Ofc, we wasn't able to notice as we need the price to draw their whims.
Hopefully Bitcoin will wake up soon, and will caught everyone off-guard. As does every time. Doesn't matter what traders or investors say. It will keep being unpredictable.
Hope you enjoyed this post.
Thanks for reading!

You can follow me on Twitter