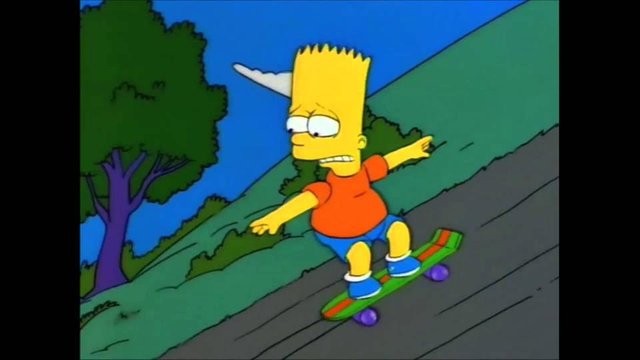 Bitcoin is looking very Bart right now.
I sure have a way with responding to the market.
As long as Granddaddy Bitcoin says above $9000 I'm extremely bullish.
--- 20 hours ago
Interestingly enough, we've crashed down to the exact resistance level of late May / early June. We had a Bart pattern here as well, right before the summer bull run. I won't make any bullish claims on this note though. Clearly that would jinx it. I expect further losses.
The bearish case for winter.
Many would make the argument that this summer bull run was somewhat of a fluke. Most people expected Bitcoin would trade flat for a year. Perhaps Bakkt FOMO alone was able to make people go crazy. If that's the case we might be in for a very anticlimactic winter.
DAI > $1 bad
Also, yesterday I made the claim that DAI trading > $1 was bullish. I kinda cringed at myself when I did this, because I've made the exact opposite claim before. If the demand to use Dai as a stable hedge exceeds that of the margin traders, clearly the market as a whole believes the price is going down.
ETH/LTC Silver Lining
These assets still seem to be outperforming Bitcoin.
Bigger spikes and lesser crashes.
Hopefully this signals that an alt-market resurgence is not far away.
Conclusion
I'm using November as a baseline for the entire potential winter bull run. If the market doesn't pick up in a couple weeks I'll assume we'll be stuck between $7500 and $9000 until early February when the halving FOMO starts to kick in.
We are at a very critical level right now.
One more week should give us a lot more information.
Will $8777 be the new $7500 and spike up?
Or will we simply descend back down to $7500?