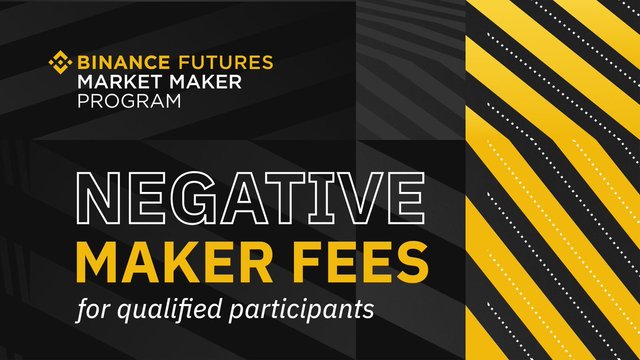 Img
The world's largest crypto exchange house, Binance, recently made an announcement where it allows its users to rate their market makers.
The so-called "market makers" are those that add liquidity to a platform. Or those who buy and sell limited orders in which the limit price is below or above the current market price. This causes an operation to be created in the order book.
According to a statement published by Binance on February 3, he said that these market makers can now be negatively qualified.
The objective of this is to improve the liquidity of Binance Futures and provide a better commercial experience for all its users. In addition, market creators who qualify "may receive a negative creator rate for selected business pairs."
In addition, Binance makes an invitation to all market makers whose trading volumes of 30 days exceed 1,000 BTC. In addition to that, it must have quality market creation strategies. If you meet these requirements, you can join the program to qualify the market makers, Futures Market Maker.
It is normal for exchanges to want to improve liquidity on their platforms by offering lower rates to manufacturers. However, Binance upped the ante by announcing that it would give a reward for placing market creation operations in "select" pairs.
Benefits of the proposal


To make this program even more attractive, Binance mentioned some other benefits for it. Starting with the manufacturer's negative rates for selected pairs. In turn, it offers higher API limits, connectivity services and ultra-low latency support, as well as weekly performance review.
It is important to note that this program covers perpetual futures in the market creation list. Also that a weekly performance evaluation will be carried out, which will be calculated taking into account various factors.
Binance also assured that they would provide daily and weekly reports, detailing the results of the market makers. This in order to help them analyze their performance.
This new Binance program to qualify market makers is made public just when the futures market is growing. Regulated companies, including the Chicago Mercantile Exchange (CME) and Bakkt of Intercontinental Exchange, who recently began offering options in Bitcoin after offering futures contracts.
It is expected that this new Binance alternative will begin to show results quickly, thus reaffirming its leadership in the industry.
---
If this article seems informative, Leave a positive vote and resteem, this will not help much, Thanks for stopping by
---
Posted via Steemleo