Dear Diary,
It is day five of the Tron Occupation of Steem, and developments continue to roll out. CZ is now actively building a narrative on Twitter to justify using exchange's powered up coins to push a hardfork on the network.
https://twitter.com/cz_binance/status/1236338999549136897?s=20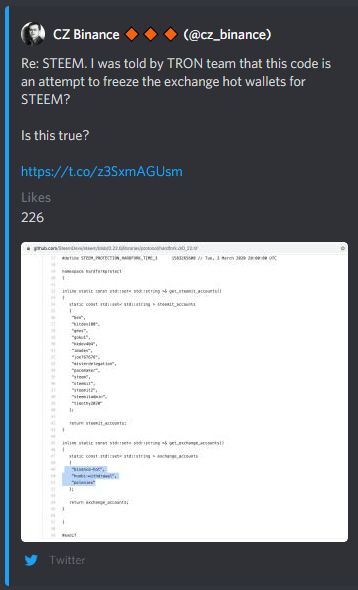 No, this is not true.
And he knows it's not true.
This is propaganda in favor of the hostile takeover.
https://twitter.com/cz_binance/status/1236373815447506945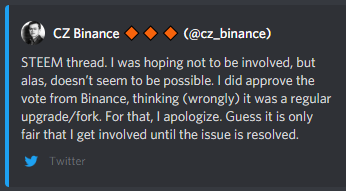 This is a precursor to a major escalation. They are getting ready to push the hardfork and may need the Binance stake to do it. This is why they haven't started a powerdown yet. They are worried the community will rally again and they won't have enough stake for the super majority.
Also, if the exchanges had started a powerdown on day one like they should have, they would have no excuses left. As soon as the first leg of the powerdown completed all those coins would be returned to investors and powered up against the coup. Once a powerdown is started, they know they politically can't stop it and also can't stop investors asking for their coins back to support the real witnesses.
Right now they are hanging by a thread. Their actions are obvious to us, but not necessarily to the rest of the world. There is a lot of plausible deniability because many people outside of Steem don't know how Steem works. We need to educate them.
This says it all: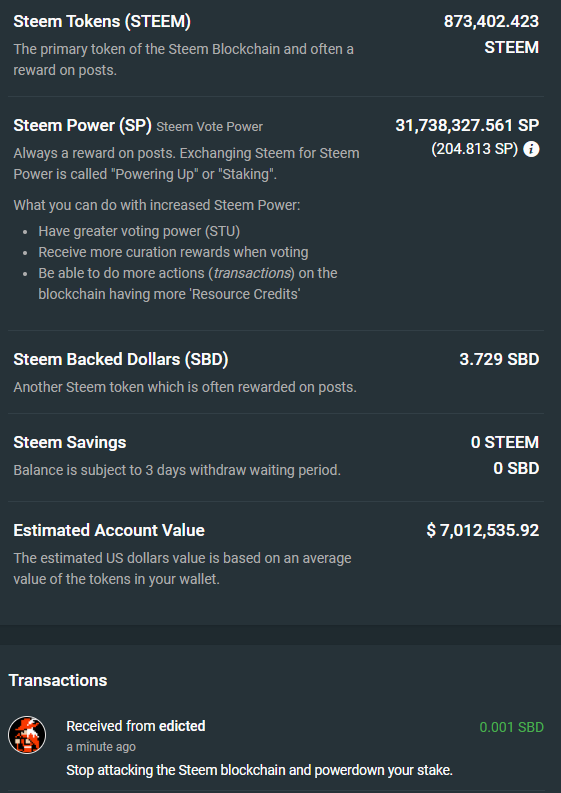 Binance has less than a million liquid coins. This is unprecedented. The fact that they aren't trying to get more liquidity with a powerdown proves they are still actively attacking the Steem blockchain. Please join me in solidarity by sending 0.001 SBD to @binance-hot and demanding they start a powerdown. It's actually a little sad that no one has done this yet, not that it will actually get them to start a powerdown :P
Conclusion
Justin Sun and CZ have a very strong business relationship. If this really was a misunderstanding CZ would be outraged at Justin and his dev team for blatantly lying to him. There is no such outrage. It's very obvious that Justin Sun and CZ know exactly what the situation is. This is especially true considering a lack of powerdown by all exchanges despite being told to start one constantly by the Steem community.
Just because Biannce's stake isn't actively being used to support the coup anymore, they are still actively attacking us through inaction... inactively attacking us? Whatever. You know what I mean.
Updated evidence of premeditated escalation: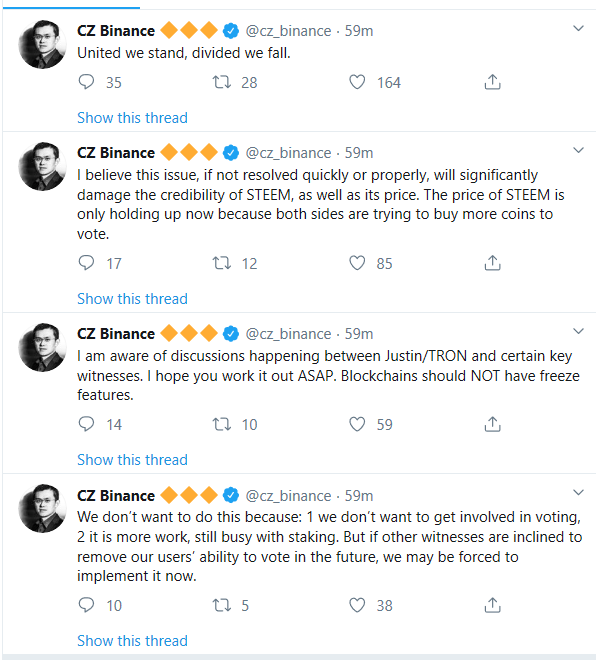 The hardfork is going to be pushed very soon. This will cause us to counter-fork to a chain where Steemit and the 3 exchange accounts are frozen. The exchange accounts will be unfrozen when they meet our demands. The ninja mine will probably be permanently deleted or we risk this happening all over again. I have no idea what will happen to the Korean split vote. There will be a lot of argument in that regard. The best thing will probably to pardon them, even though they have helped this coup "succeed".