Jetzt zwischen Weihnachten und Neujahr sind ja ganz spezielle Tage und Raunächte, wie schon von anderen ausführlich erklärt.
Es sind Tage wo man innehält, sich an altes und vergangenes erinnert, so ist das auch bei mir.
Zeit um Musik zu hören und wieder mal in alten Klang-Erinnerungen zu schwelgen.
Vor einiger Zeit hat @depot69 aufgerufen unter #bestalbumcover alte Vinyl- Raritäten vorzustellen.
Also, da muss ich doch unbedingt mitmachen und eine Lieblings LP von mir hier präsentieren!
Diese Vinyl Rarität heisst: Brain Salad Surgery von Emerson, Lake und Palmer kurz ELP
---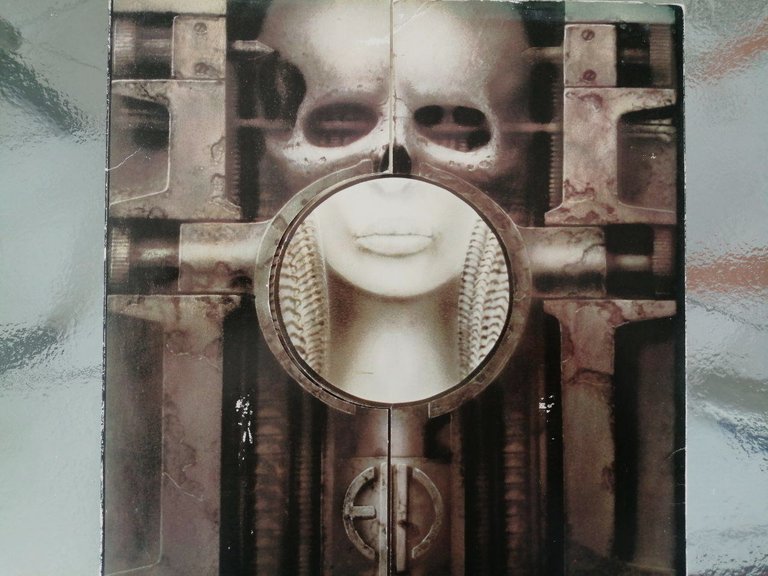 ---
Die britische Progressive Rockband wurde 1970 von Keyborder Keith Emerson, Bassist und Sänger Greg Lake zusammen mit Schlagzeuger Carl Palmer gegründet.
Diese Supergroup zeichnete sich durch eine keyboardlastige Mischung von verschiedenen Musikstilen aus. So kamen bei ELP Jazz- und Blueseinflüsse genauso zum Einsatz, wie auch klassische Musik so z.B. von Bach, Orff, Tschaikowski und anderen.
Dadurch entstand ein ganz spezieller Psycho Delic Sound.
---
https://www.youtube.com/watch?v=Mj2M8e1T_Oc&list=PLlRV9BCE7FActedbMpXX8BAxau6NNF-oP

So eine aussergewöhnliche, visionäre Musik verlangte auch beim Cover der Platten einen visionären, spezielle Künstler.
---
Wer bot sich da besser an als H.R. Giger. Somit entstand eine einzigartige künstlerische Zusammenarbeit.
H.R. GIGER
Hans Rudolf Giger wurde am 5. Februar 1940 in Chur (Schweiz) geboren und verstarb im Mai 2014 in Zürich.
Er war Maler, bildender Künstler und sogar Oscar Preisträger
Nach Beendigung der Schule und einer Bauzeichner Lehre studierte ab 1962 Innenarchitektur und Industrie Design an der Kunstgewerbeschule in Zürich. Bereits während seiner Ausbildung entstanden die ersten Tuschfederzeichnungen die er auch veröffentlichte. Leider blieb er aber noch einige Zeit unbekannt, was sich dann aber nach Beendigung des Studiums 1966 schnell änderte.
Zum Broterwerb arbeitete er nach dem Studium als Innenarchitekt beim bekannten Schweizer Designer Andreas Christensen und für die Firma Knoll-International schuf er einzigartige Möbel und Dekor Gegenstände. Dadurch erlangte er den Status eines angesehenen und bekannten Innenarchitekten, was wenig später auch die erste Ausstellung seiner Werke nach sich zog.
Bei seiner ersten Einzelausstellung 1966 zeigte er vor allem Tuschzeichnungen und Ölgemälde.
Mit der Veröffentlichung 1969 seiner Poster, die er weltweit unter seine bis dahin stehts wachsende Fan-Gemeinde brachte, gewann er immer mehr Bekanntheit und Anerkennung.
Kurz darauf begann er mit Airbrush und so entstand dann auch sein einzigartiger Freihand Mal-Stil. Diese surrealistischen bio-mechanischen Traumlandschaften, bildeten den Grundstein seines Ruhmes.
Bis heute wurden mehr als 20 Bücher über Gigers Kunst veröffentlicht. Doch als Gigers berühmtestes Buch, Necronomicon das 1977 veröffentlicht wurde, war das für Regisseur Ridley Scott's Film Alien, die visuelle Inspiration!
Das war der erste hochkarätige Filmauftrag mit dem Giger 1980 sogar mit einem Oscar ausgezeichnet wurde.
Auch für die Musikindustrie schuf er viele unvergessene grosse Werke: so die Vorlage für die Gitarre von IBANEZ und den Korn Microfonständer für den Sänger Jonathan Davis.
Aber auch viele Plattencover waren dabei und eines der herausragendsten, wie eingangs vorgestellt, ist für mich das Album Brain Salad Surgery von Emerson Lake and Palmer (ELP) das 1973 entstand.
---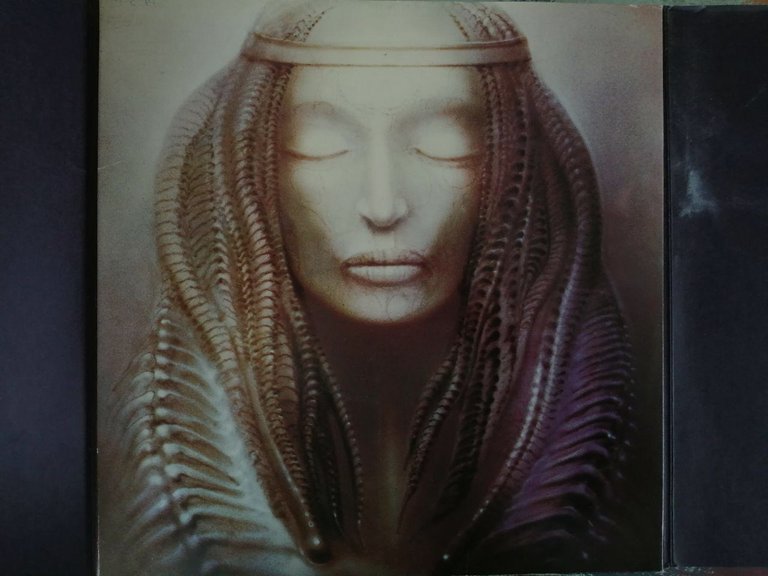 ---
Keith Emerson berichtet:
Soweit ich mich erinnern kann, war mein erstes gemeinsames Treffen mit H.R. Giger 1973 das auf Wunsch meines Promotors in Gigers Haus stattfand. Von aussen nahm ich ein eher bescheidener "Bugalow" war. Als wir dann aber hinein gingen, dann erschlug mich aber Gigers Wohnstätte und es riss mich fast um.
Diese Innenausstattung war überwältigend, gotisch bis zum Äussersten. Von der Decke bis zum Boden hatte seine einzigartige Airbrush-Technik einen einfachen Raum in eine Kathedrale verwandelt.
Wäre das nicht genug, wäre Giger dreidimensional geworden.
Seine Toilette hatte Arme, die den Sitzenden fast umhüllten. Das andere Dekor bestand aus Gasmasken. Er zeigte mir seine VD-Landschaft, die sehr Science-Fiction aussah, bis er mir erklärte, dass das Motiv aus medizinischen Fotos stammte.
Ich war gleichzeitig schockiert und fasziniert.
Es war dunkel und sehr ahnungsvoll, und für mich war es die Musik von ELP!
Ich schlug darauf hin Greg und Carl vor, sich alles selbst anzuschauen!
H.R. Gigers Arbeit ist bis heute in jeder Hinsicht unverwechselbar. Er ist erschreckend einzigartig!
Keith Emerson 1991 (Quelle: H.R. Giger – The Official Webseite)
So schuf der Schweizer Künstler H.R. Giger eine ganz eigene Plattenhülle für dieses Album.
---
Die Arbeiten von Giger sind immens mächtig und umfangreich, sie führen uns in eine surrealistische, bizarre Welt!
Wer mehr von diesem grossartigen Ausnahmekünstler erfahren und vor allem erleben möchte, empfehle ich unbedingt den Besuch im H.R. Giger Museum auf Schloss St. Germain in Gruyère in der Schweiz.
---
Vielleicht habt auch ihr zu Hause noch einige Vinylschätze, denn genau dafür bietet sich die Blockchain auf steem an, um solche Schätze zu bewahren!
STEEM ON
Ich freue mich auf eure Veröffentlichungen und bis bald
Eure Kizumo