He conseguido en este concurso un aspecto interesante de la fotografía ya que siempre me había planteado hablar de las fotos y de lo que me inspiran pero nunca la historia que se esconde detras de las mismas. En esta ocasión quiero mostrar lo que el cielo quiso regalarme hace un par de días.
-0-
In this contest I have achieved an interesting aspect of photography because I had always considered talking about the photos and what inspires me but never the story that hides behind them. This time I want to show what heaven wanted to give me a couple of days ago.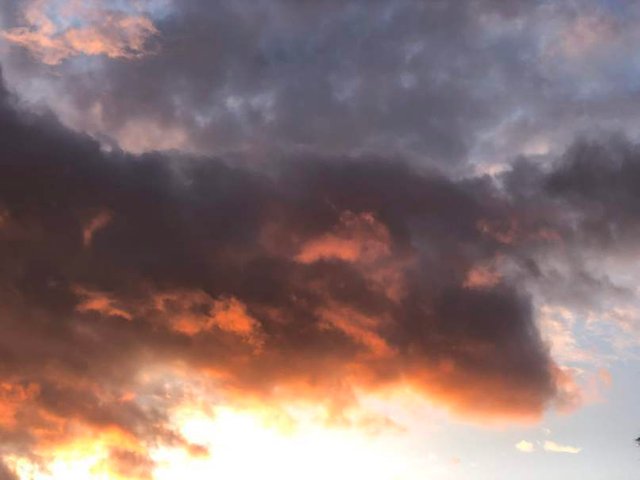 Es normal para mí buscar el sol cuando se acerca el fin de la tarde e inevitablemente capturar el momento con la cámara de mi teléfono. Tengo cientos de ellas en el mismo instante y en el mismo lugar cuando me resulta posible hacerlo. Esto hace que mi familia se ría un poco en tono de broma.
-0-
It's normal for me to look for the sun as the end of the afternoon approaches and inevitably capture the moment with the camera on my phone. I have hundreds of them at the same time and in the same place when it is possible for me to do so. This makes my family laugh a little jokingly.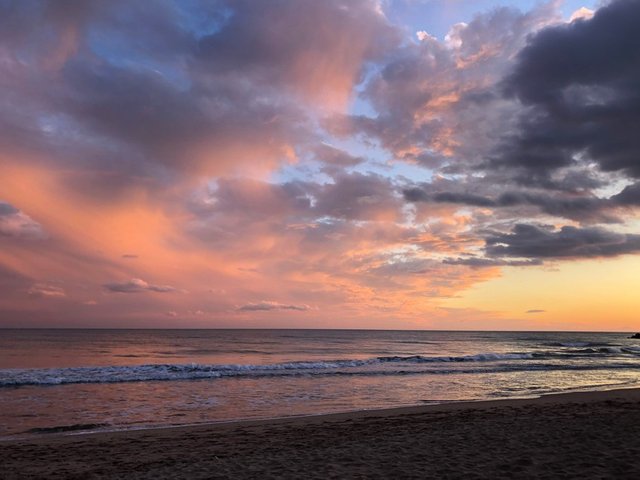 Este día que para mí fue especial.Viví un espectáculo celeste indescriptible. Me acerqué a la orilla del mar y descubrí que el sol ya no era visible, sin embargo el cielo era un lienzo de colores que se describían a sí mismos.
-0-
This day was special for me. I lived an indescribable celestial spectacle. I approached the seashore and discovered that the sun was no longer visible, but the sky was a canvas of colors that described themselves.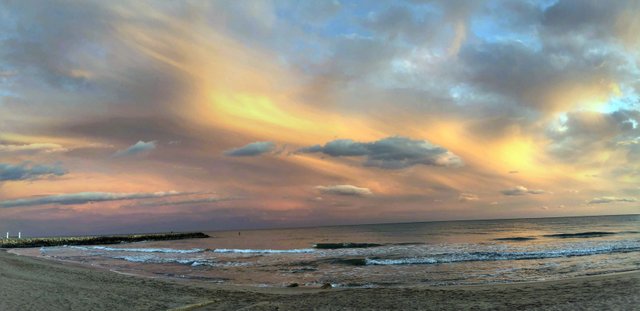 Al observar de derecha a izquierda y descubrir colores tan diferentes no quería parar de tomar fotos. A la orilla del camino en el vehículo me esperaba mi familia. Yo me aleje para ganar tiempo y al poco rato observe que todos a mi alrededor hacían lo mismo.
-0-
Looking from right to left and discovering such different colors I didn't want to stop taking pictures. At the edge of the road in the vehicle my family was waiting for me. I walked away to gain time and soon I noticed that everyone around me was doing the same thing.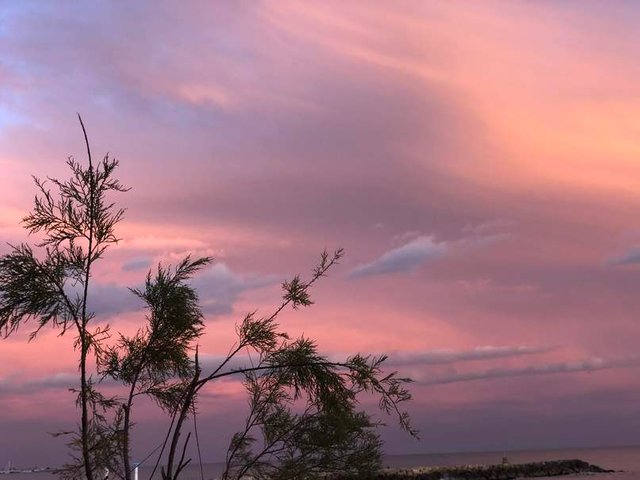 ¿Alguien puede enamorarse del cielo?
Mejor diré que amo la naturaleza en todas sus formas, suena un poco más normal.
-0-
Can anyone fall in love with heaven?
I'd rather say that I love nature in all its forms, sounds a little more normal.

Al final olvidé que me esperaban tomé mas de cien fotografías viendo la danza de las nubes hasta que mi nieta cansada de esperar me llamó a toda voz y me hizo volver a la realidad.
-0-
In the end I forgot that they were waiting for me. I took more than a hundred photographs watching the dance of the clouds until my granddaughter, tired of waiting, called me in full voice and made me return to reality.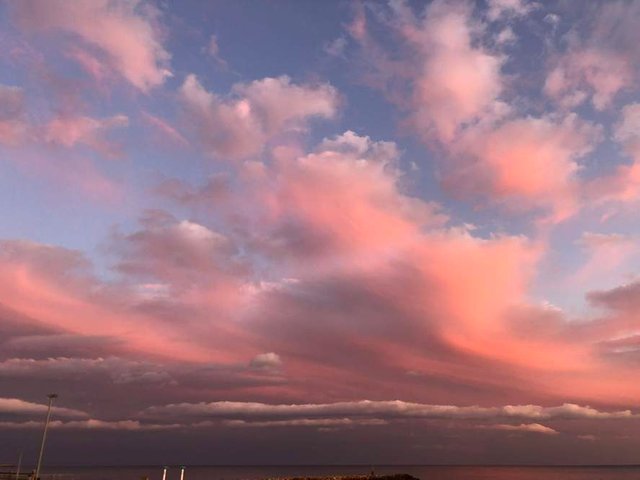 En resumen detras de estas fotografías hay sorpresa, bromas, esperas, resignación. También admiración y fascinación ante tanta belleza. Recuerden que estos hermosos paisajes están allí para todos.
-0-
In short, behind these photographs there is surprise, jokes, waiting, resignation. Also admiration and fascination before so much beauty. Remember that these beautiful landscapes are there for everyone.

Si quieres participar en el concurso las bases están AQUÍ

-0-


If you want to participate in the contest the rules are HERE

Todas las fotografías son de mi propiedad y fueron tomadas con la cámara de mi teléfono móvil, no se han utilizado filtros tal como se puede apreciar en las dos panorámicas, la variedad de colores estaba presente y se iban fusionando delicadamente. Solo utilicé la herramienta de ajustar la imagen y recortar antes de la publicación.

-0-

All the photographs are my property and were taken with the camera of my mobile phone, no filters were used as can be seen in the two panoramas, the variety of colors was present and were fusing delicately. I only used the tool to adjust the image and crop before publication.