Hello friends of Steemit, today I want to participate in this creative activity, which is focused on the art of photography, an area that I liked since I was a child, in my presentation I wanted to bring a black bumblebee back to life, which I found lifeless in A small field, take it to my house and save it, since it was very well preserved in a mummified state, today will fly again thanks to the magic of photography, greetings to friends Jury:
@nelyp
and
@johan.norberg
, for motivating these creative activities.
Sponsorship: We sincerely thank @appreciator for sponsoring this contest!


"The flight of the black bumblebee"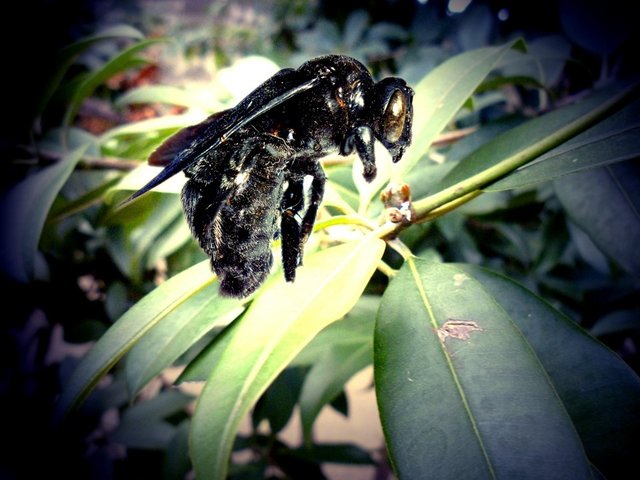 Let's talk a little about our friend
Bumblebees are robust, hairy, black, many have yellow, white or in some cases orange bands, the hair that covers almost the entire body is silky, with branched and feathery mushrooms, bumblebees are relatively large bees of 20 millimeters or plus. The queens are bigger than the workers and the drones. Adults feed primarily on nectar and collect pollen to feed their young, just like other bees.
• fuente


Step 1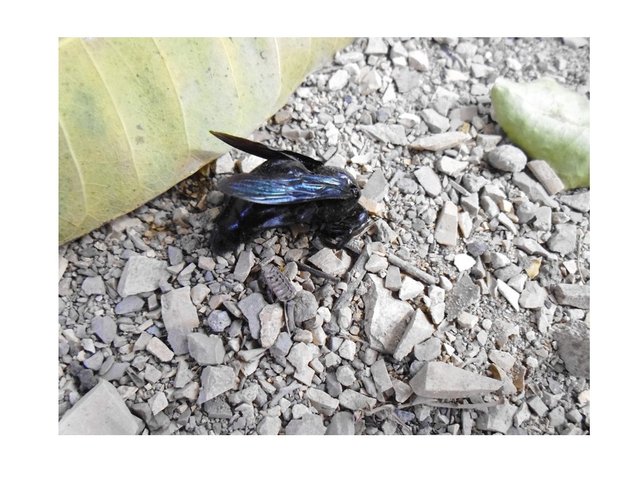 That day I went shopping for some blue pens, I moved by bus to the market, to get better deals, I was well able to get a good purchase of 15 pens, but when trying to return, it was all a collective madness, public transport was I join a protest and it all leads to a fight against the army of public order, people ran everywhere screaming, tear gas was very toxic, I also ran looking for an open field, there I went through some forest roads, after walk for several minutes on those trails, my attention caught something among the dry leaves of the road, there was the lifeless black bumblebee, I took it very carefully I put it in my bag and continued my way home.

Photography and assembly processes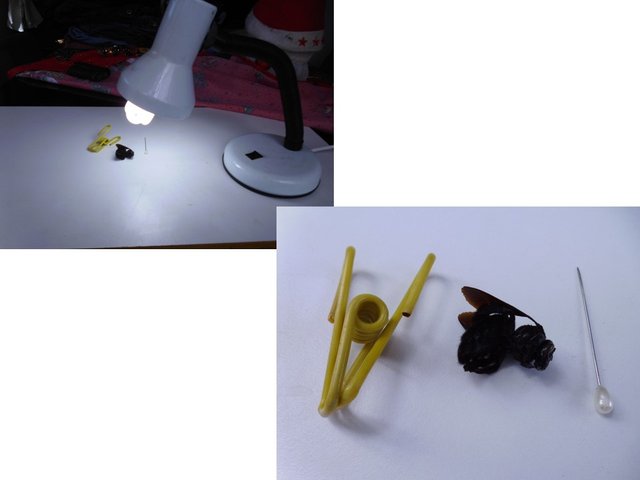 These were the materials I used, a wooden platform painted white, to use as the background of my image, a pin, a clothespin, a white light lamp for lighting and our friend "The black bumblebee".

Step 2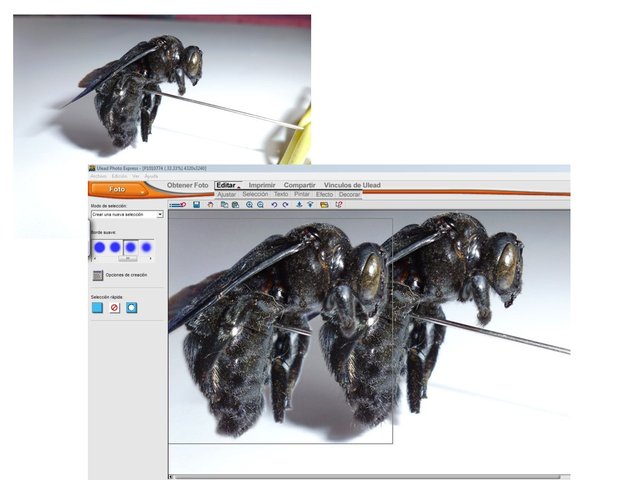 With the pin placed on the abdomen of the bumblebee, so we can manipulate it to take several photos and select our favorite, having the image selected, I proceed to transfer it to the digital photo editor, in this case work with "Ulead Photo Express 4.0" I am looking for selection image and capture only the target, which in this case is the bumblebee, the white outline and the silhouette of the pin are discarded, leaving only the image I want to obtain.
step 2 "Natural background image"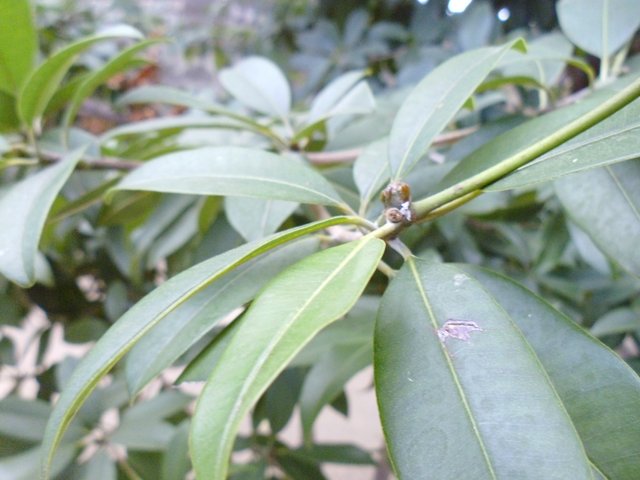 I obtained this image in the green areas that are outside my home, I wanted to take them very close to the leaves to match the symmetry of the insect with its surroundings.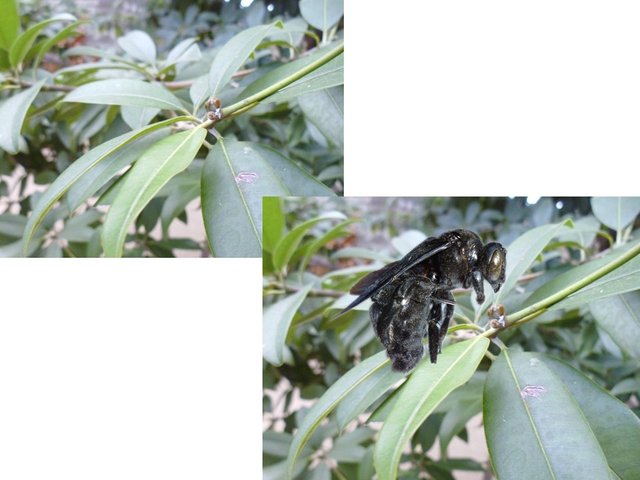 Presentation photography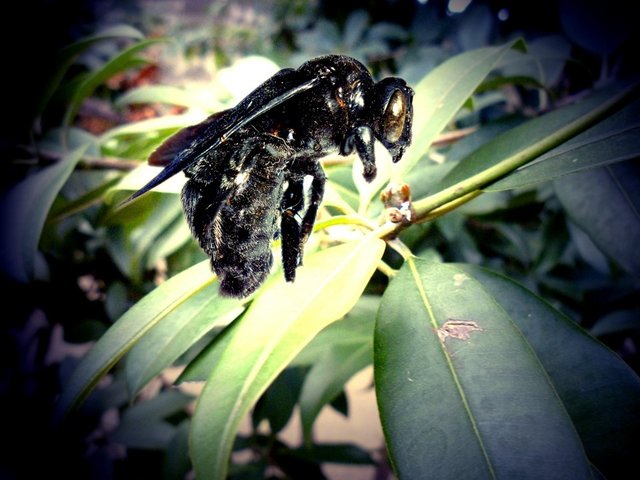 Here in this image we can see a high-speed attack formation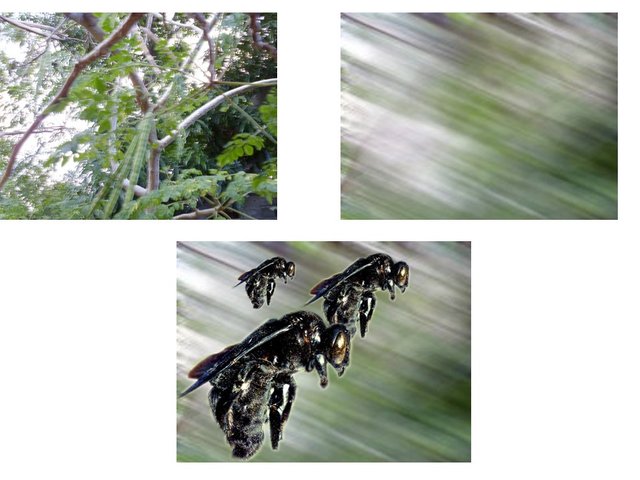 Presentation photography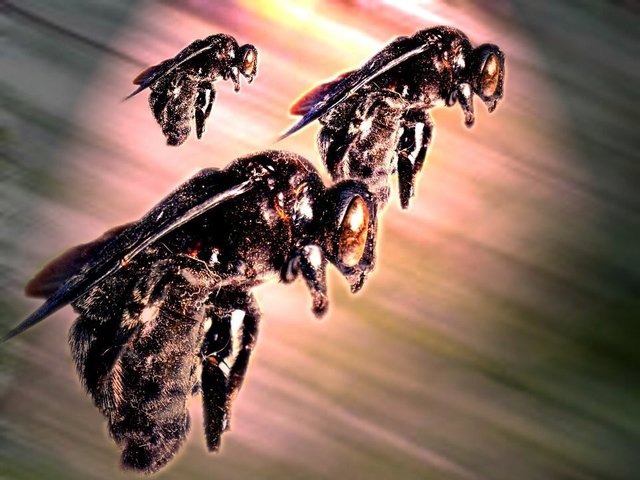 Thank you friends for your cooperation in the development of our community, greetings and success.
Here is the link to the contest
• contest