Hey everyone, what a bitter sweet momentous occasion this was. Bitter because this season took so long to start, Sweet well for a plethora of reasons, but mainly because we managed to harvest excellent sweet healthy delicious honey finally and in November, which technically is very late, last year the honey flow started around early September!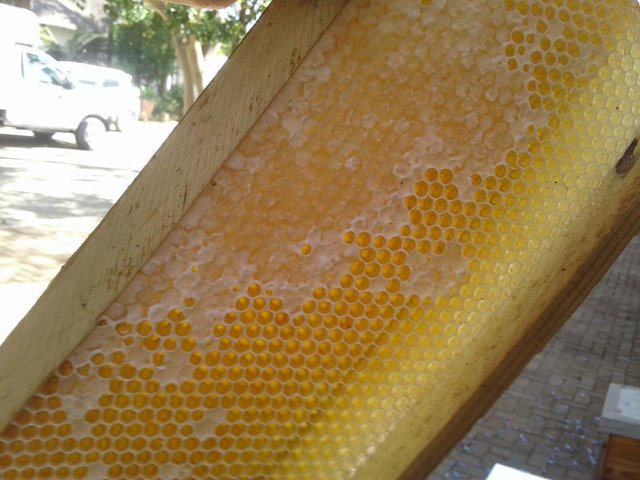 How fantastic are these pictures. These are freshly harvested super frames from our newer swarms. A lighter comb and honey is an indication of new fresh wax combs and honey. This can also be as a result of what the bees foraged in this case mixed floral, but mainly Jacaranda Blooms and Citrus.
Those darker spots on the comb are probably as a result of a less experienced swarm, generally they tend to put pollen, nectar, brood etc all over the show, in this case pollen, in a few of the wrong compartments!
The combs built on the outside of the super frame is because of space constraints, to solve this simple remove some full frames as we did or add another super. The stronger swarms in the middle of the honey flow can easily handle 2-3 storey's of super frames!
The honey taste, well how do I put this mildly??? BLOODY SPECTACULAR :) Well worth the long wait!
Below we have a wax comb which is around 70 % capped, generally you want to be harvesting honey with 90% capped combs or more, we decided to harvest this frame as generally honey is 'over mature' and this tends to crystalize too fast, which isn't a problem just harder to work with. In the event of crystal honey however just put in the sun or hot water, problem solved!
Last season I posted this machine, this is our honey spinner, it works centrifugally and basically after uncapping the honey, simply put in the machine and spin the honey off the combs, more about the uncapping process later in the blog...
How gorgeous is nature? This super frame I removed from one of the hives that had no longer contained bees. They had built all their 'infrastructure' and then for a 'plethora' of reasons decided to leave. In winter absconding bees are a common occurrence, their art left behind however much appreciated and admired!
Here we have the uncapping fork. Many folks use either this or a knife, a nice is larger and cumbersome so we opt for this to un-cap our honey combs.
Before we install the supers in the hives we put a clean wax foundation for the bees to build on, here we have a before pic.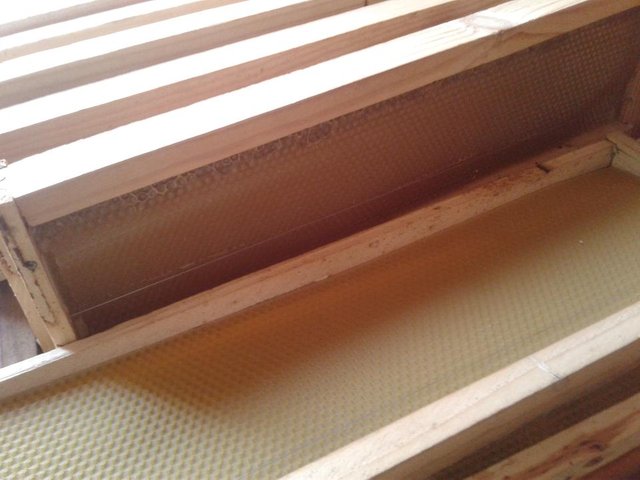 Here we have an 'AFTER' pic after the bees have gone to work, extended the combs from the wax foundation and filled up with nectar and capped, which is now ripe honey!
Quiet an interesting comparison here. The lighter comb is much newer and the darker comb older and more mature honey. The darker honey will be much thicker and the lighter newer honey more viscous, both just as healthy and nutritious!
Here I had just run the uncapping fork over the comb and was about to put into the honey extractor. This unit can take up to 8 frames which makes for a quicker honey extraction!
A few lovely ladies from the hives in the area foraging propolis and honey on the frames. Generally when working with honey they foraging bees in the area pop in for a 'sneaky snack' we generally never get stung in these situations, bees only really sting when their hives are threatened, whilst foraging they are always generally really calm!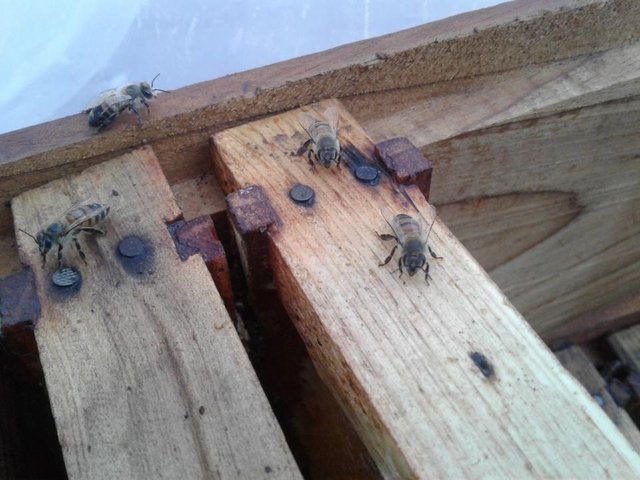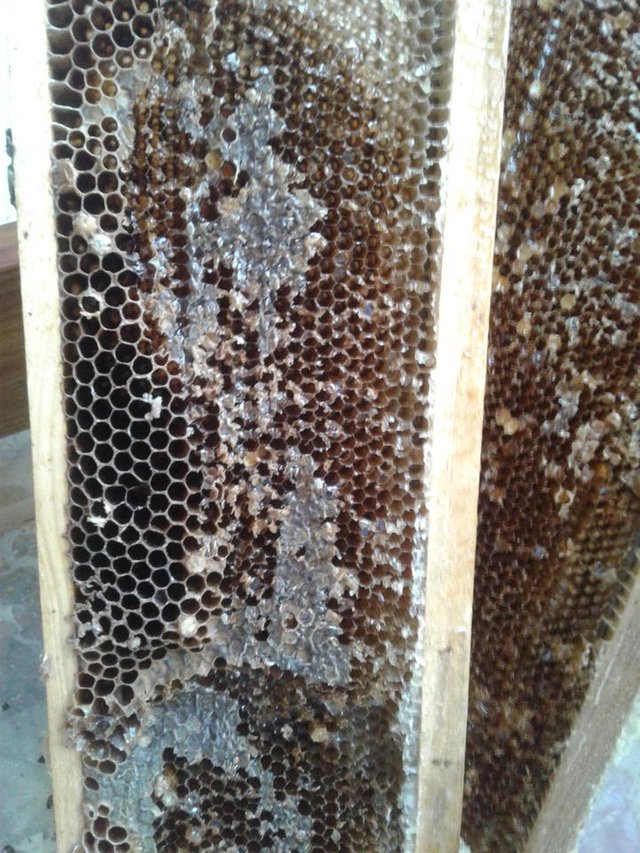 A peak inside the box containing all the freshly harvested super frames, each frame generally contains between 1.2 and 1.7 kgs of honey, cool right?
Close-up of the capped mature raw honey on the left hand side and the open compartments on the right containing everything from nectar, honey, pollen, propolis and more.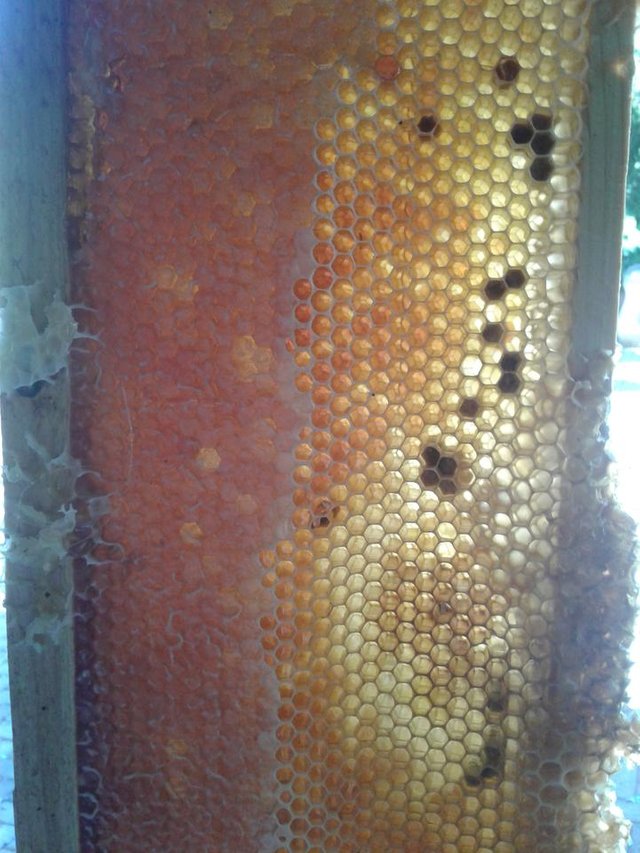 A nice capped frame, only issue here is they had not built the comb all the way to the bottom wooden cross member. If we left this for another couple of weeks it would be fully built and full with honey and capped, at this point however it was perfect for harvest.
Here we go the last step of the process before bottling. The honey is tapped off the main spinner and into what we call a settling tank after gravity feeding through two sieves, to remove larger debris. Not heated, not irradiated etc, honey literally does not get more pure than this.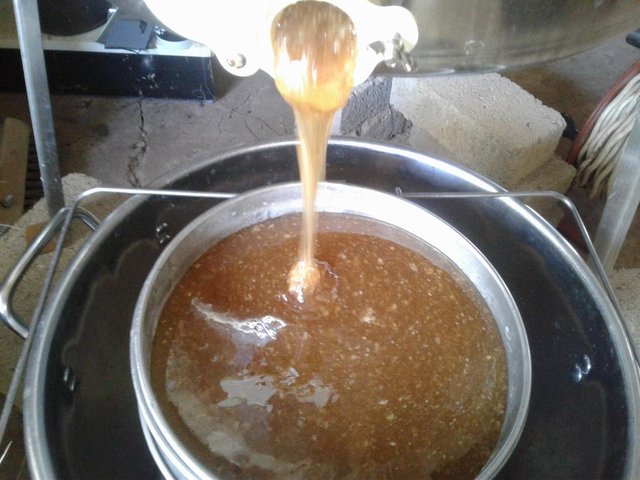 Coming soon we shall be installing our 'wine barrel bees' into their new home soonest, be sure to stay tuned for that.
Trust you have a super cool weekend.
Cheer$;)