This #beersaturday, I tell a tale of visiting a palace among the cow fields. A monolithic bastion of beer well off the beaten path. Here is my trip to Cowbell Brewing Company!


Source:
https://www.pinterest.pt/goldensaintbeer/
with a little Zeke design on top.
Earlier in the week, I foreshadowed this post with a little food angle of Cowbell https://cowbellbrewing.com/ using the @tasteem www.tasteem.io platform here https://steemit.com/tasteem/@zekepickleman/tasteem-da21ae It was good enough to win me runner up for the Drinks with Friends contest but I purposely held out on the beer focus.
Welcome to Cowbell!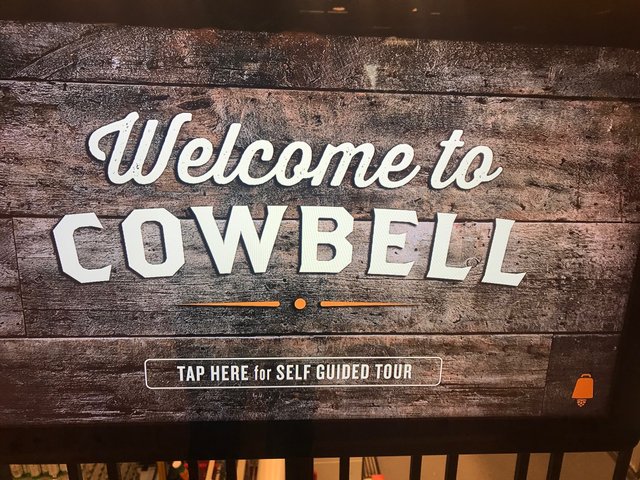 This brewery has a neat part in the narrative that is the proliferation of craft breweries. Generally, these breweries spring up regularly and in every small town or neighbourhood around. Generally, they are simple and modest to start and, perhaps more importantly, to stay in business. A neat story, unique branding, clean drinkable working man's ale, something dark and an IPA seems the standard.
As you will see, Cowbell has some of those but not the modest beginning.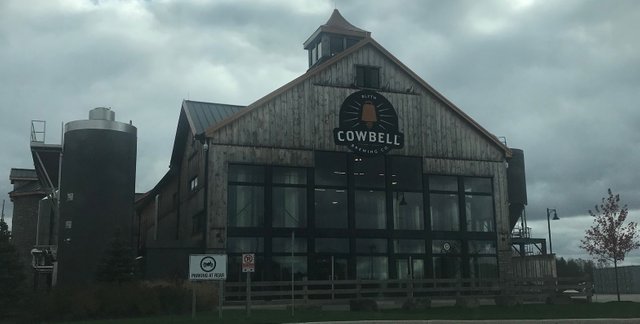 This is the Colosseum you see driving into Blythe on a road you might not even have a reason to travel. It is a neat town with a good amount of history and personality. That being said, I may have flown through this place once at 60km an hour on the way up to cottage or camping. It wasn't the sole reason for my trip that day but was a 10-minute detour from my itinerary so I had to take a look. I liked the beer well enough and had the bonus motivation of scouting it out as my better half has expressed interest in visiting. Better take her next time or I will miss out on some good wife points.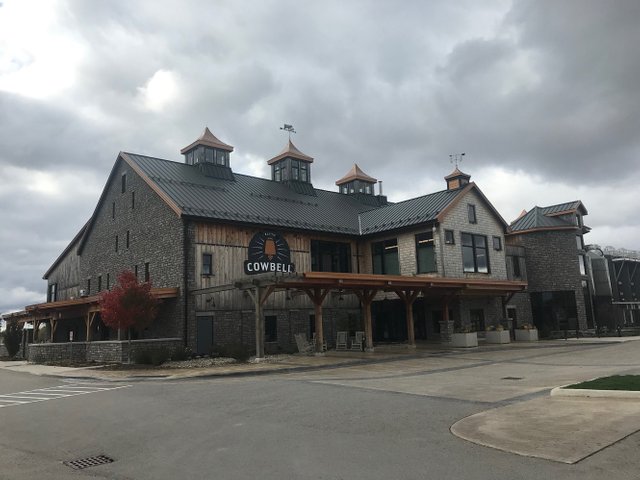 Here is the view walking in from the parking lot and you can see they spared no expense on branding, architecture and sheer size. Slightly smaller than a hockey arena I suppose and probably the talk of the town when it opened.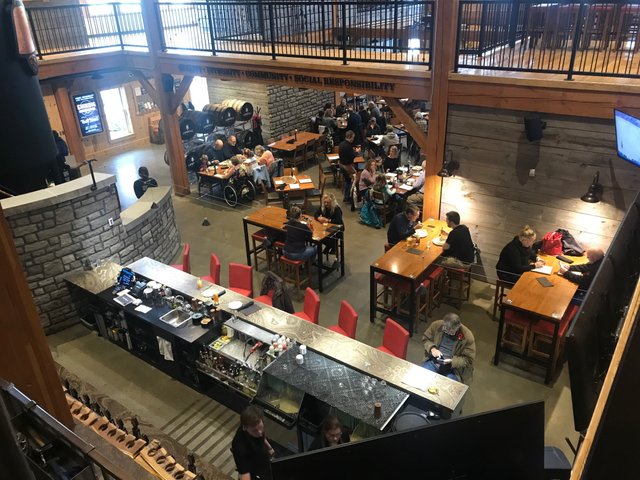 On the inside, they did as nice a job and have even wisely invested heavily in the kitchen/dining experience to make it into a destination. You can check out the @tasteem post for the menu which has a very nice selection of locally sourced meats and produce in a varying and well built menu. On the Wifepoints front, I should make out fairly well when we go back.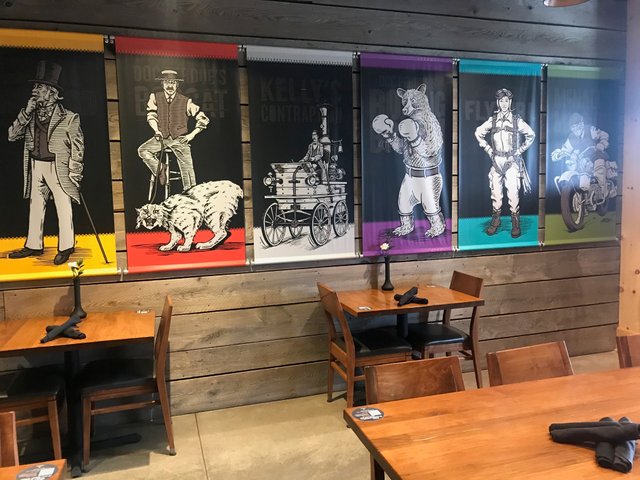 These are the brands form their founder series which are regularly brewed and fairly easily available in retail locations and other bars. My favourite is the Boxing Bruin IPA
https://cowbellbrewing.com/beer/doc-perdues-boxing-bruin
as you might expect with its 5 hops including my preferred Mosaic. My better half likes the Absent Landlord Country Kolsh which is a far cry from her regular "beer that tastes like beer" preference. They have a wheat ale, honey brown, plain ale, red ale and a stout as well to make sure to please a great variety of beer drinkers.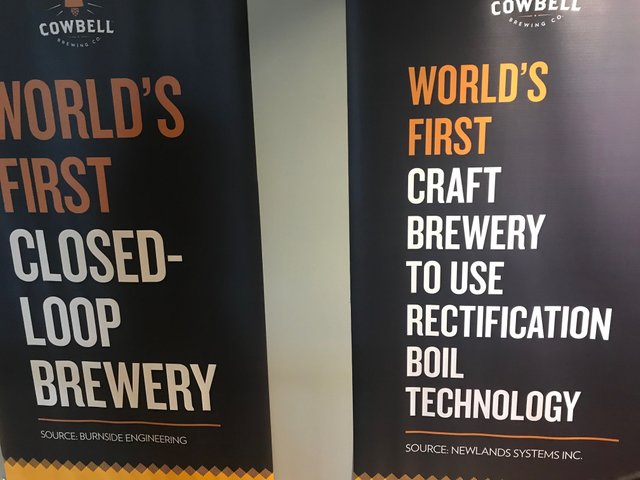 Closed Loop and Rectification Boil technology in use here. Not sure what those mean exactly but I might look into it being a self-proclaimed Beerologist.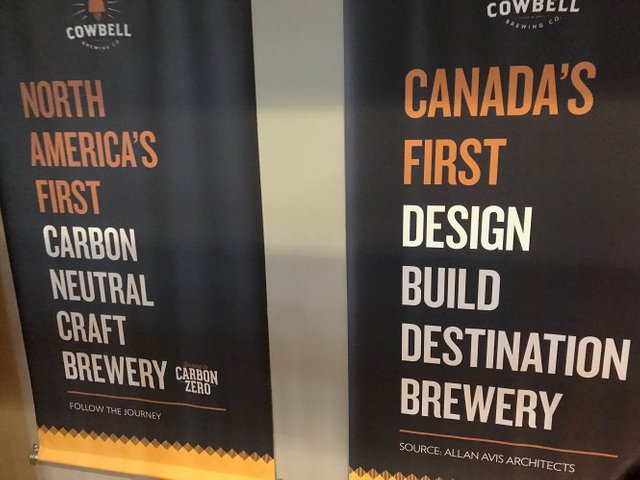 Design Build seems a little generic but I do know what Carbon Neutral is and am a supporter of the environmentally friendly nature of any business.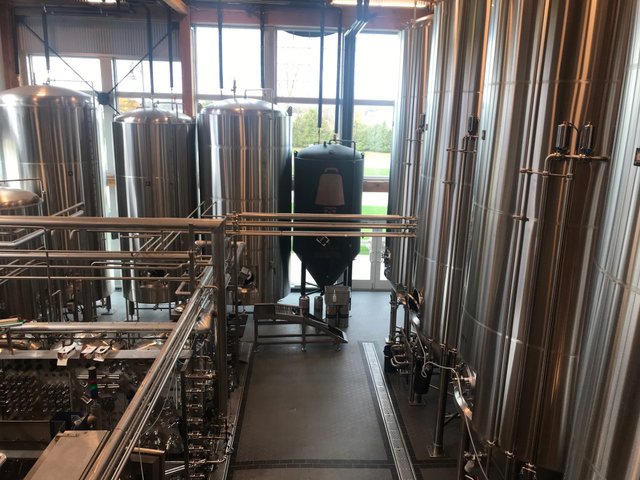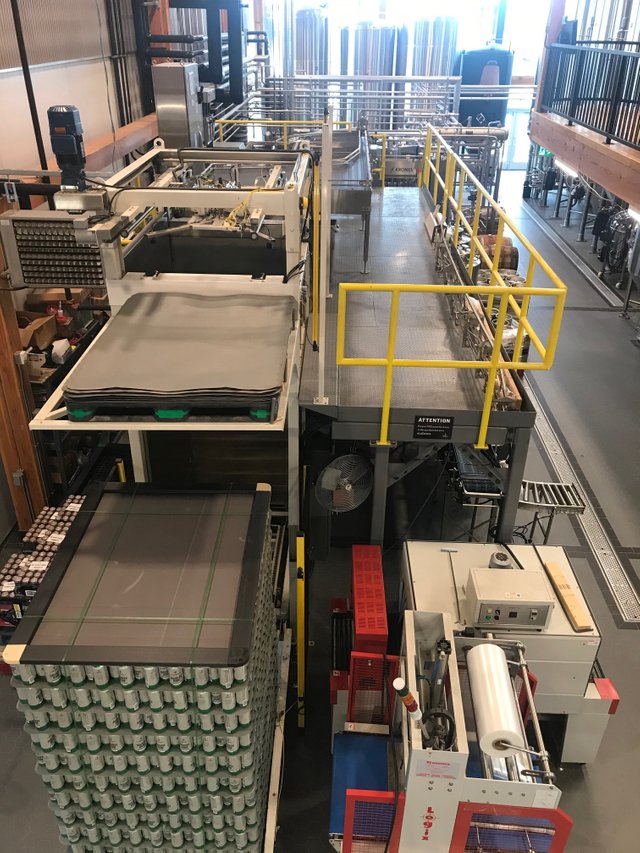 I am also a fan of big shiny things and there are plenty here. They were thoughtful enough to create a walking path up high so that you could show yourself around the brewery on your own unguided tour. I am sure they have guided ones as well and I may just take them up on it next time. The brewing capacity and canning facility is simply awesome with the capacity they have for production.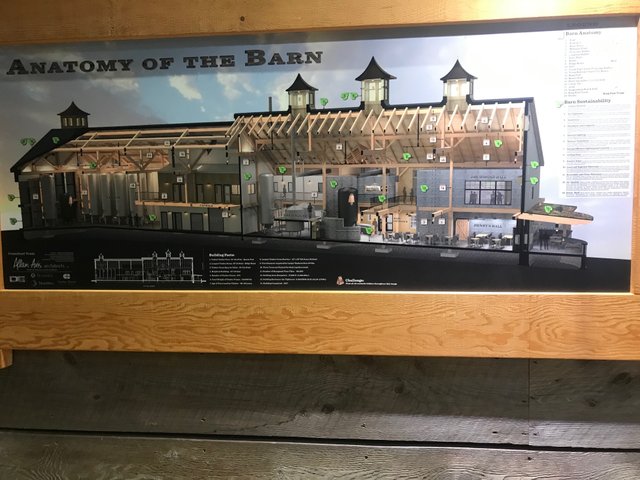 Cowbell really takes the opportunity to tell you their story while you are there. Even the explanation of what makes up the big old barn is a learning experience.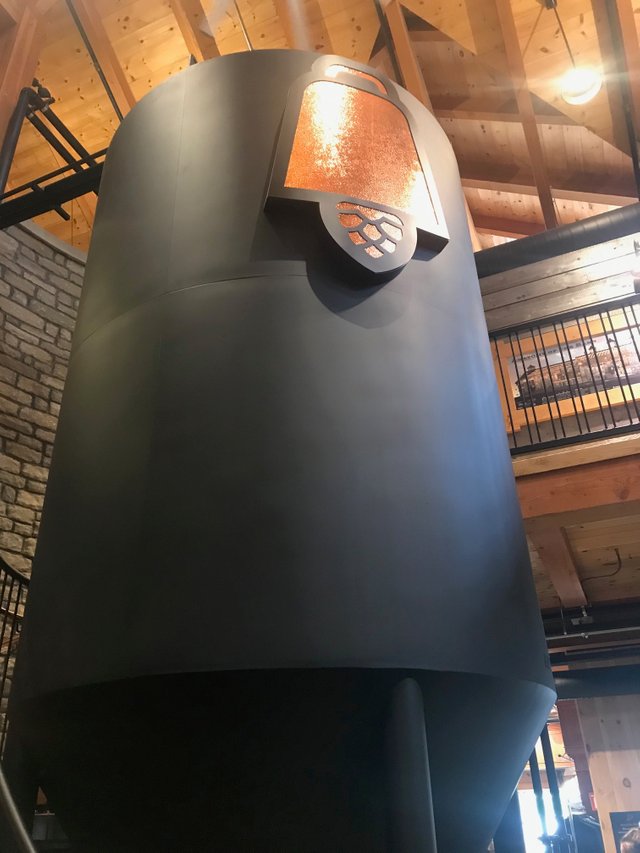 The matte black tank in the main dining area/bar is a really nice touch.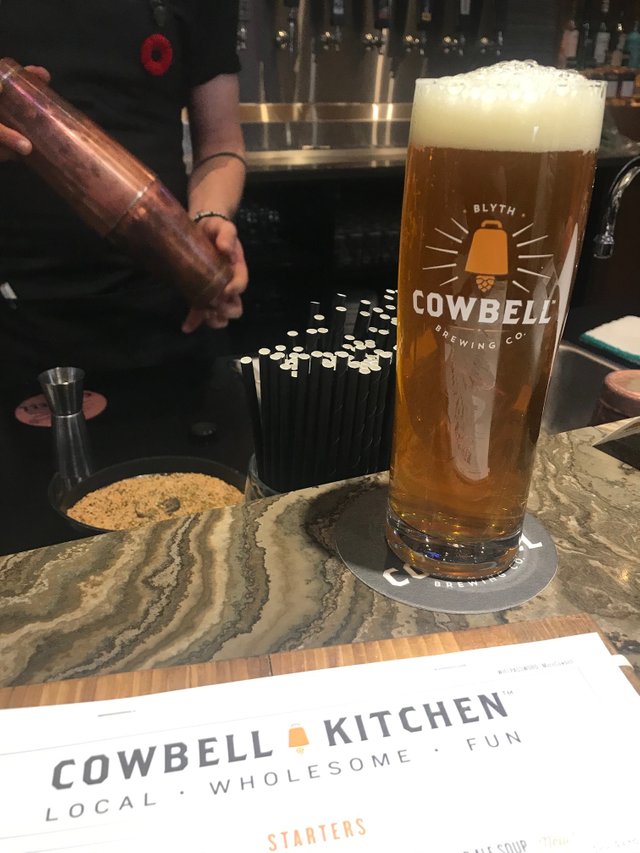 As for the beer, I had to have a taste of the Boxing Bruin on tap. Having had it many time in the can and enjoying it, I like having it fresh on tap to see if there are differences, understand whether the canning and transportation process changes things, and generally find the fresh draft to be better if anything.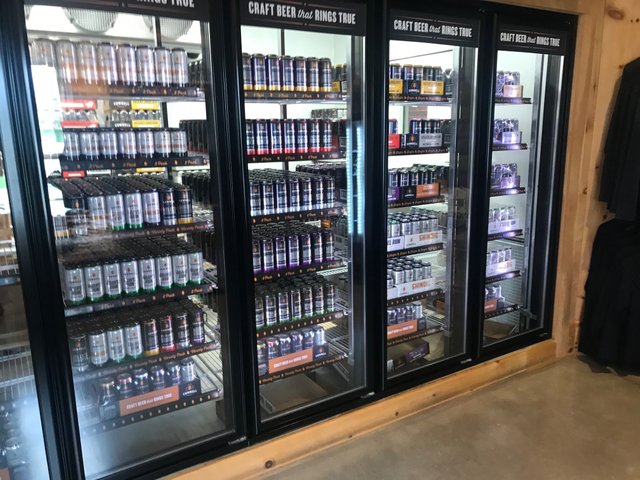 It was the bottle shop I wanted to visit most when it was time to leave. The can section had a good variety of the regular brands I could easily get in my home town. So what else you got?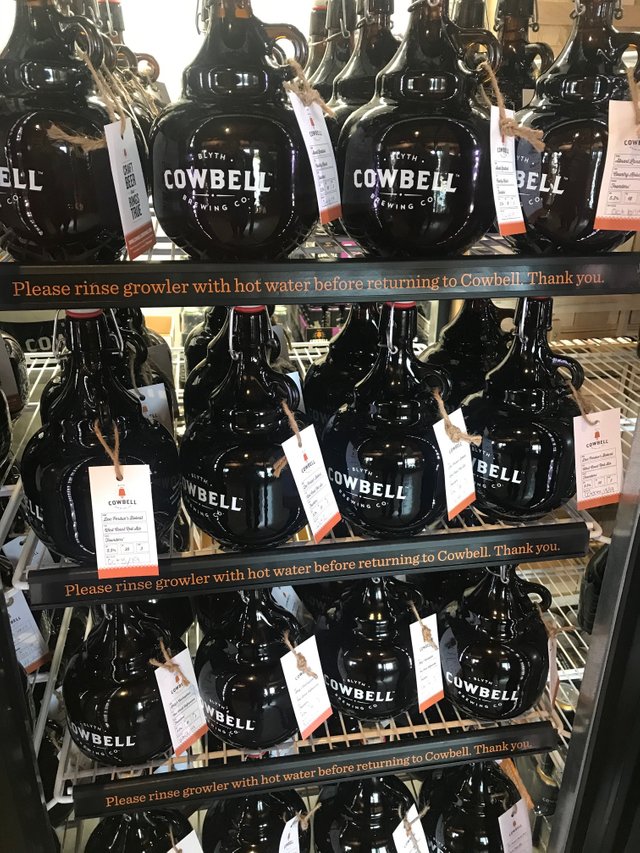 AHA! The Growlers! My international followers get a kick out of the growlers every time and I love them as they are generally the vessel for one-off or playground beers that are a little more rare. These growlers are kinda neat as they have a unique shape and the flip top you might find on Grolsch bottles.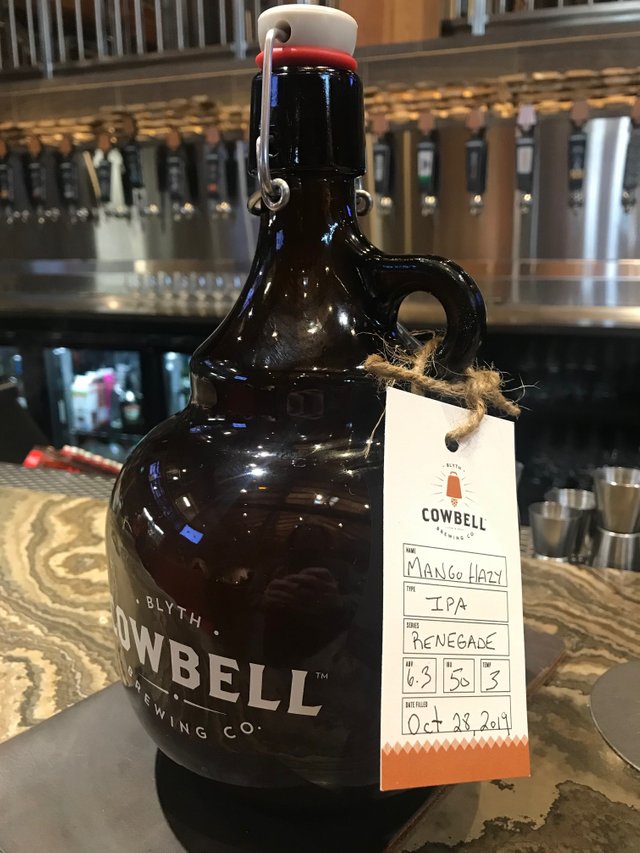 I was exceptionally pleased to find some IPA in the growler section. Especially so seeing as it was a hazy IPA (unfiltered and potentially less processed) and discovering that it is infused with Mango! I like the sweetness of IPA and you don't often get mango so it is a special treat.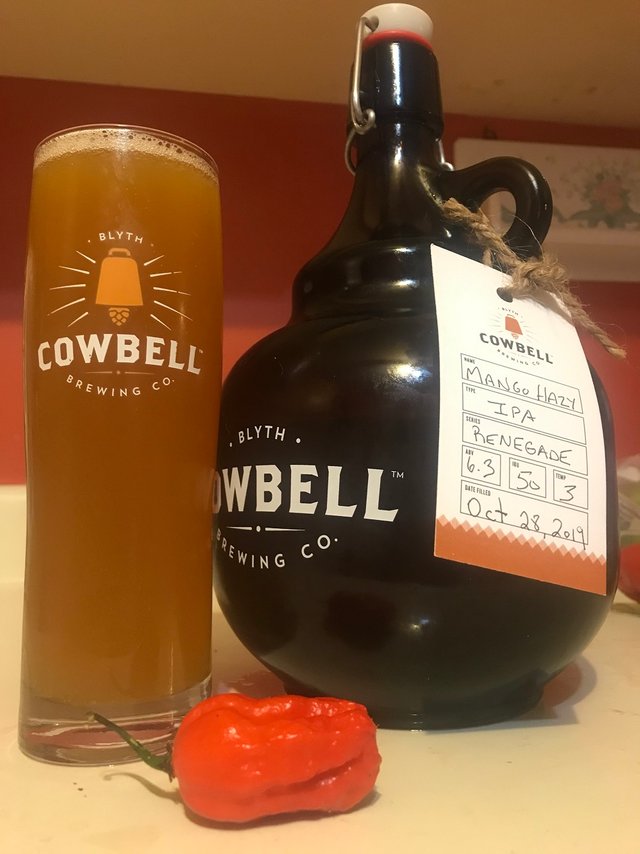 You will be happy to see the growler made it home and into my familiar photo studio - the kitchen counter where my family has become accustomed to entering to find me kneeling and taking a picture of beer like some madman. You may be shocked to hear that the growler didn't last long. Once you open it, the clock is ticking as oxygen gets in and eventually flattens the beer. I finished it in the standard 2 nights and my little one seemed incredulous when she saw it rinsed in the sink only 2 days later.
As of now, it is sitting up on top of the shelf and calling to me so that I return it to the big barn. The deposit was $20 so you are damn right I am going to return it. The next post your read from me involving this place will hopefully see me up a bunch of wife points. I will return the growler, have a date night road trip with my better half and get a little more into the cuisine!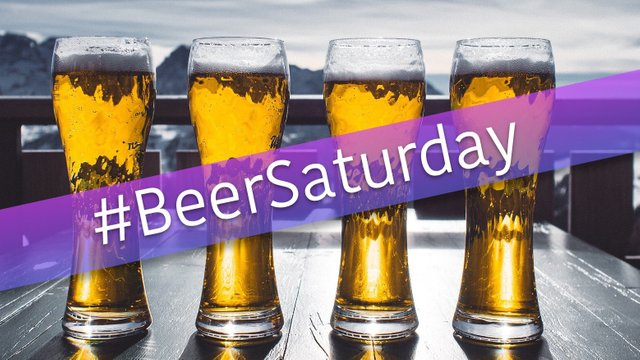 That is it for my crazy journey up the road to explore another unique and delicious brewery. I would suggest you join my drinkin' buddy @detlev and create your own Beer post. Great prizes and an even greater community as we have some social drinks via the blockchain. https://steemit.com/beersaturday/@detlev/beersaturday-week-126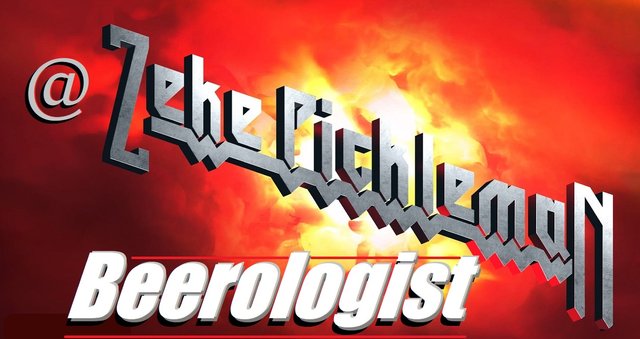 Thanks for accompanying me to another unique beer destination!
---
Posted via Marlians.com