Hello everyone,
Hope you all are well ...
I started my post today by thanking everyone.
This is my new Drawing Canvas Call (Rong Tulir Aka)
Today Art Concept: Fishing in the Sea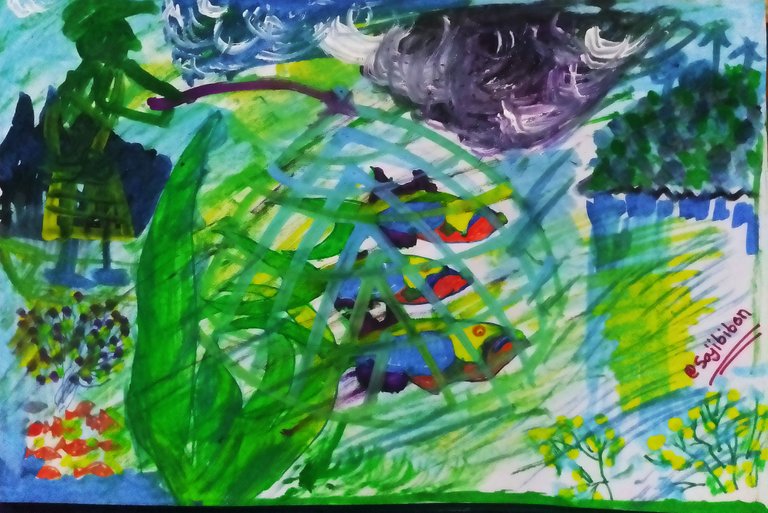 One of the things I thought of when I started Drawing fish in the Ocean was to highlight the art well. But it's from keeps Changing Again and again. I am drawing one and becoming another look are show
so let's go to...
How to Draw Fishing in the Sea
Step by Step I will show how
The drawing was made in my hand
step 01
First, a Design with light Blue Color. let's color some places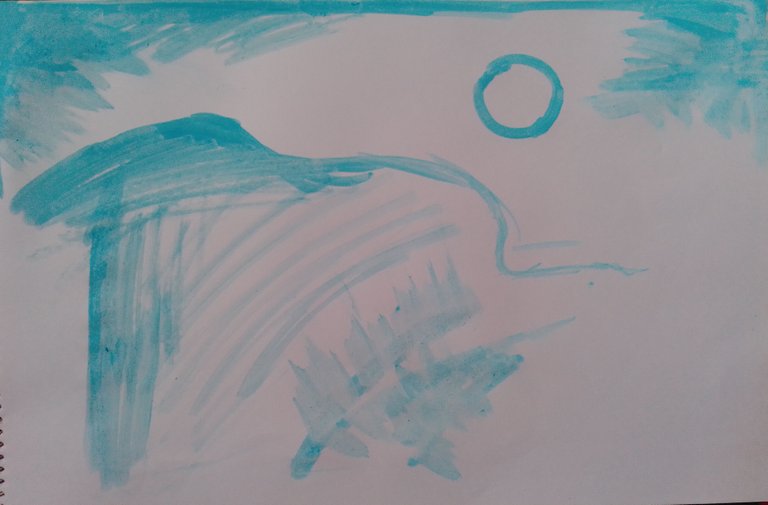 step 02.
Now let's try a seaweed shape with green color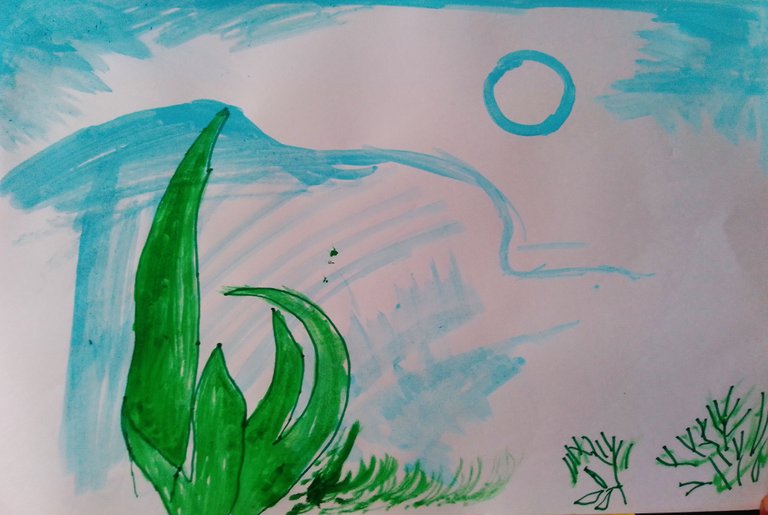 step 03
Then I caught a few fish and I drawing fished them like a vacuum fish it's more colorful fish and looks very nice
The fish and the algae are like the first pages of my son's home Drawing book.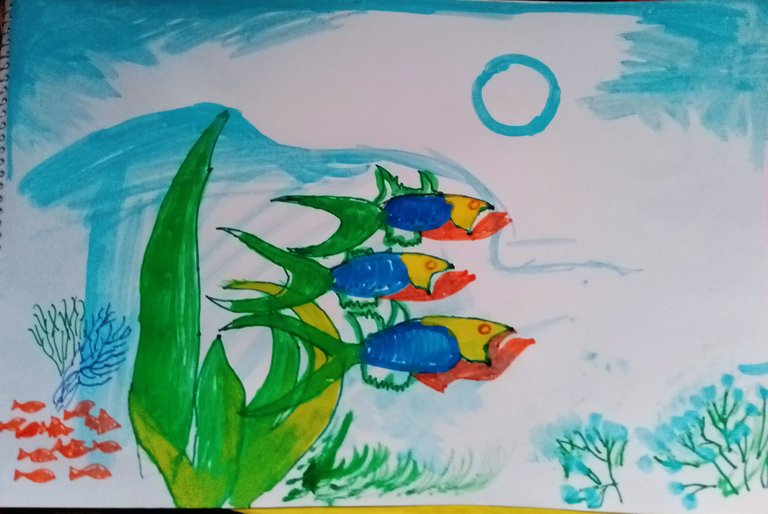 step 04
Here I mean that the fish are wandering around with a lot of joy. The Mountains on one side and the birds on the other side are roaming happily. now this picture is a little bit similar to my son's drawing book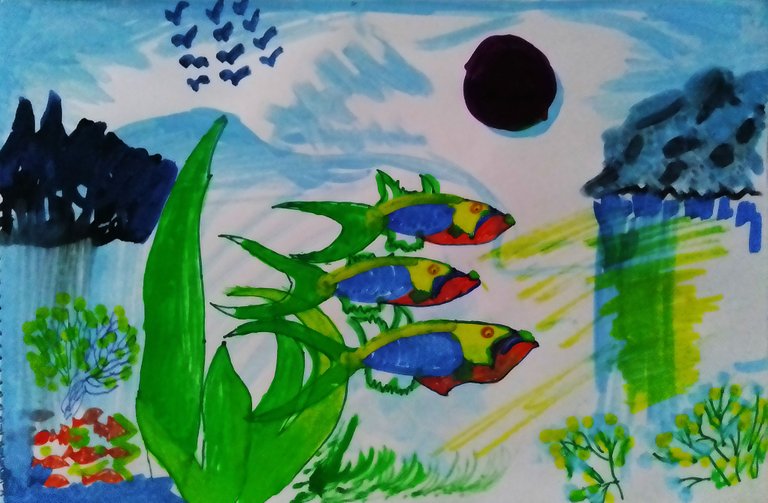 step 05
Suddenly black clouds appear in the sky. The birds all went to their homes. the quiet environment suddenly became turbulent. looks like something is going to happen in a while. The sun became black for a while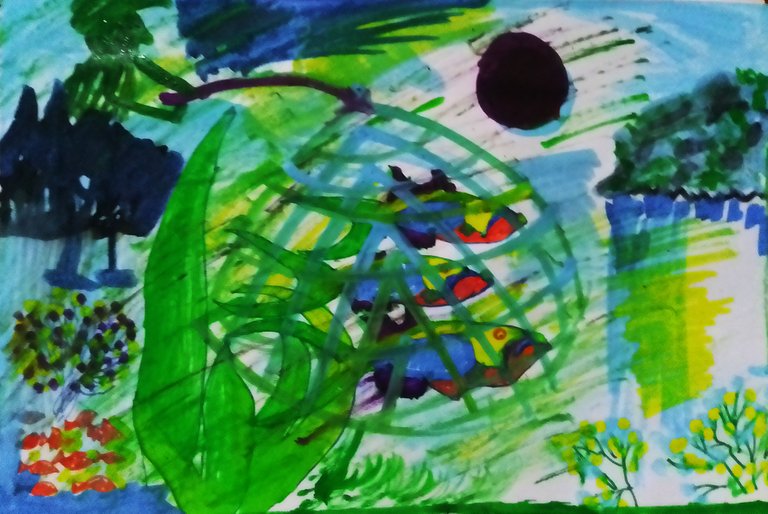 Final step.
This is what I have been trying to draw for so long. now nothing is like before.the fisherman cast their nets for fishing in the sea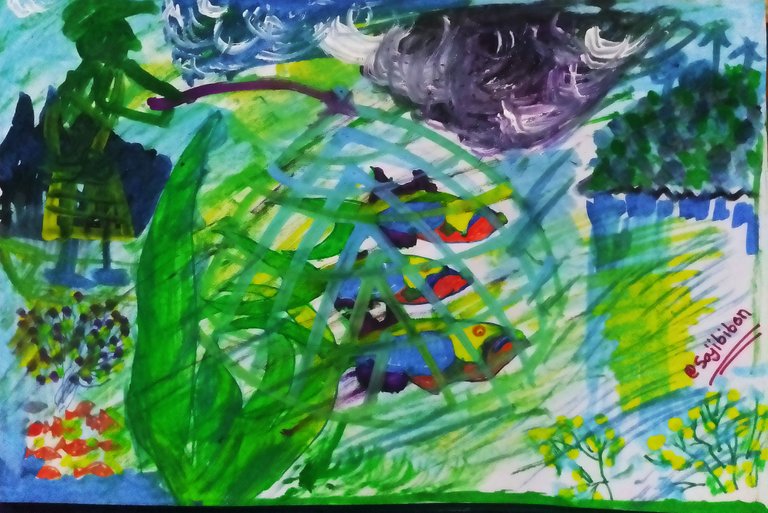 fisherman able to catch the fish and my drawing was successful
thanks please Hit the up-vote button if you like this post and leave a comment if you wanna say anything about this post i will try to better next Drawing Canvas DIY
Let us all stay home and keep ourselves healthy,
All those who come from outside, wash their hands with soap for at least twenty seconds and wear masks and protective clothing
Good Luck to all of you
That's all for now. I'll come with an interesting post again.
Hit the up-vote button if you like this post and leave a comment if you wanna say anything about this post or by any other new posts.
Please support me to keep having more of my works and you can follow me so that you can see my future posts and you're always welcome to my blog.
"About Me""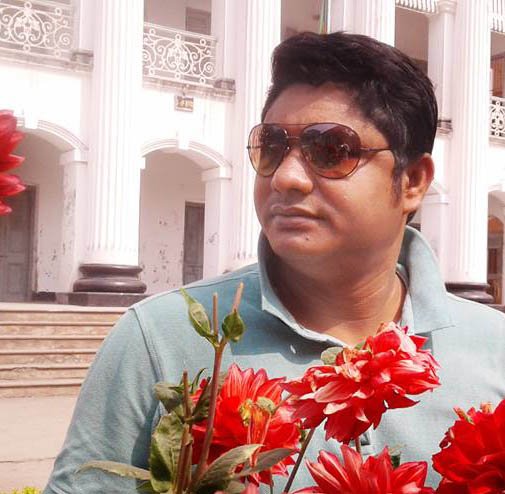 Generally...
I'm a writer (I write poems+short stories), Traveler (I travel whenever I get free times and resources as it's a part of my life actually), Photographer (I love it too much) and Designer (Currently I'm the lead head of designer of a multinational company(Buying House).
Thank you to everyone.
"Be easy, Take easy, Think easy and Do easy"
"STAY HOME SAVE YOU AND SAVE ALL"