A Nearby vault to clear out
---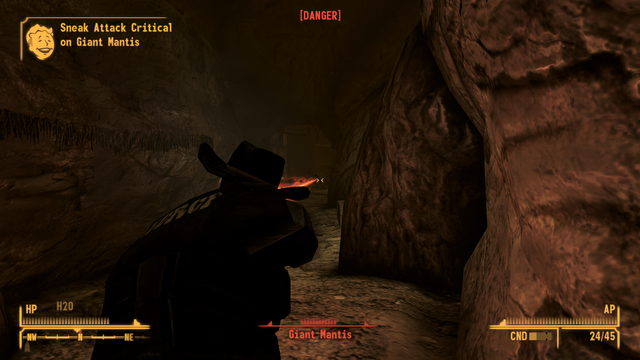 After the tough fights and starting to explore outwards, we find TheGoliathhh coming across a rundown vault in which there are praying mantis' everywhere, or so one vault was said to have. Seeing one straight after arriving inside the vault got his hopes up for an easy clear out with the contents of the vault to loot up once he managed to make it safe again as there are always leftovers from those inhabitants who couldn't take too much and had to leave things like some weapons and ammo and other goodies, when their carry load was enough.
"Freshly fried Mantis is what that first one is now. I am loving an easier paced day of exploration this time, unlike the last that needed time to recover. No this time I am clearing and looting this vault, chatting to Franky for some work then heading out on the missions."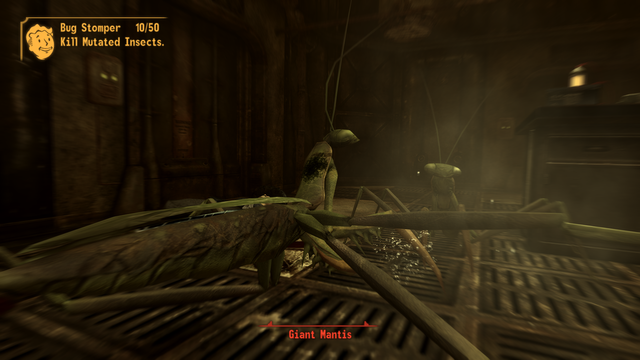 But after clearing out a heap of weak Praying Mantis with dynamite to make chopped up Mantis, then clearing out stragglers in the nearby rooms, it got to a point where TheGoliathhh would come across some Legendary Praying Mantis! A little bit strong than the giant ones but still manageable, especially when entering V.A.T.S.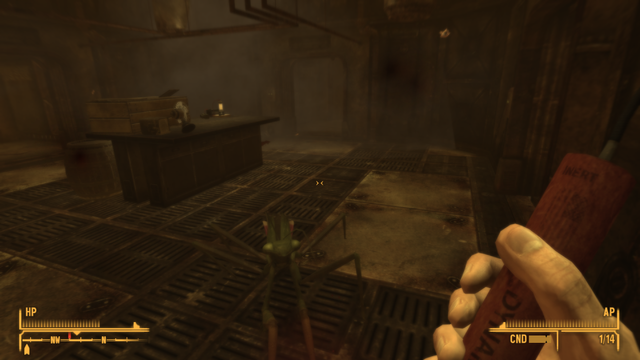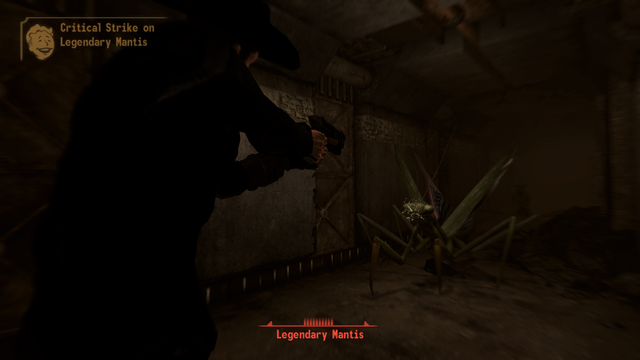 "Level 4 has been reached and I can feel myself getting much stronger now and with this rapid reload skill to increase my weapon reload speed, it will make for easier work on tougher enemies, using the better weapons I find!" he happily said.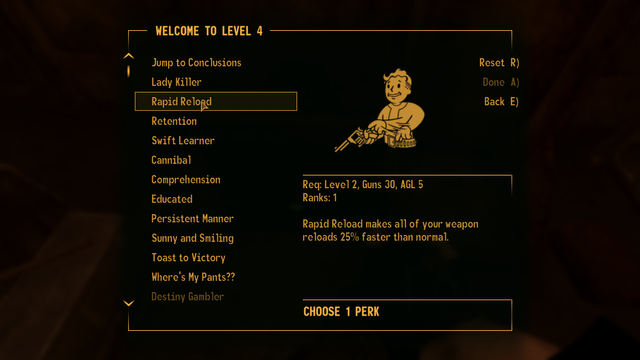 Continuing through the vault after clearing out the remaining enemies, an easy clear led to some quality looting in the one room found, with a variety of ammo, some weapons, weapon cleaning kits and other bits and pieces.
Once looting was finished and he had left the vault, TheGoliathhh headed over to Frankies to pick up some work. Work that was going to be tough right now but some careful planning and killing would see possible success.
"What's going on Franky, need to get some work from you if you got anything going on at the moment?"
"Yes I sure do and it's a pain of a mission that you couldn't possibly do until you get stronger and more skilled. But to help you prove to me that you can do this mission, I have more which includes clearing enemy infestations. One area is Devil's Gullet and has a gecko infestation led by the big guy Labal then I will also mark the locations of others so you can clear them out when you are ready" Franky said in hopes of success.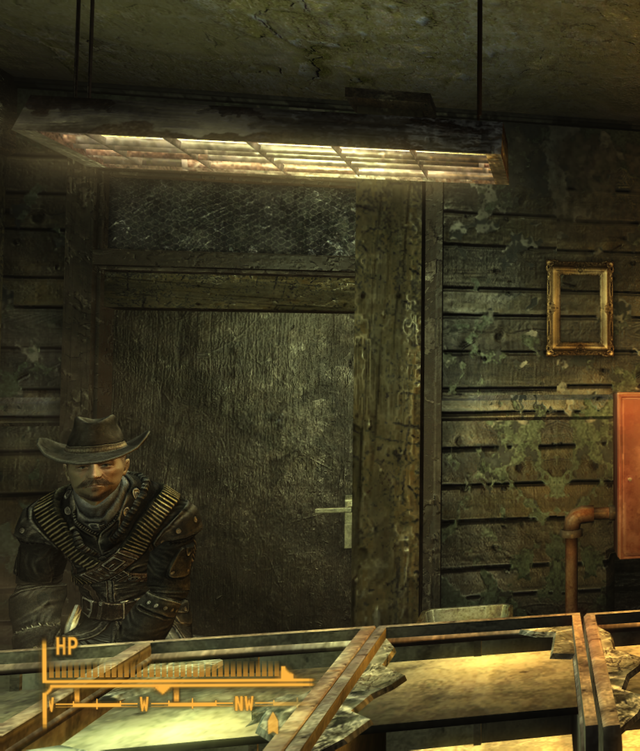 Devil's Gullet
---
Our hero rushed out to Devil's Gullet to start his new mission with hopes of easily taking out these infestations to show how good he really is. Labal was the target but first was a bunch of Golden Gecko's to clear out and not just a few, but there were many inside and it would be a little tough to start with but manageable with skill.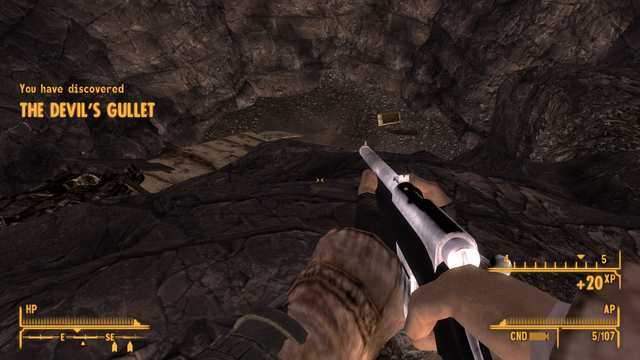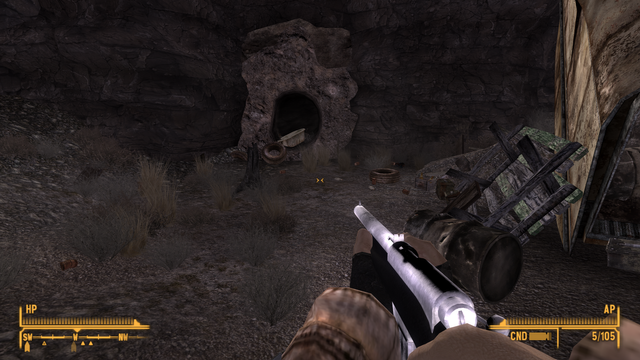 "So it begins now. These Golden Gecko's stand in my way of killing Labal and moving onto the next location. Once I clear this spot I think I will rest, sell some of the loot I don't need, stock up and head out again" TheGoliathhh said to himself as he got inside the cave.
The Gecko's started charging at him from the get go and our hero proceeded to start chunking them down, taking out the first before moving onto the second. More were cleared out as he progressed through the cave. These were the smaller and easier Gecko's.
Eventually there was a room which Labal was residing in and had stupidly gotten stuck for most of the time that TheGoliathhh was there allowing for a quicker, easier killing with some quick shooting, quick reloading and the death of Labal. The screams let out from its death made other Gecko's nearby scream out in response.
"Shut up with your annoying screams I am coming out to finish off the last of you miserable creatures and then heading back to Goodsprings to rest up" he shouted before heading into the next room.
More started screaming at our hero while he shot at them to swiftly take their health down. They didn't get a chance to continue charging at him before they started to drop dead, just two more with some others to clear out just after them also.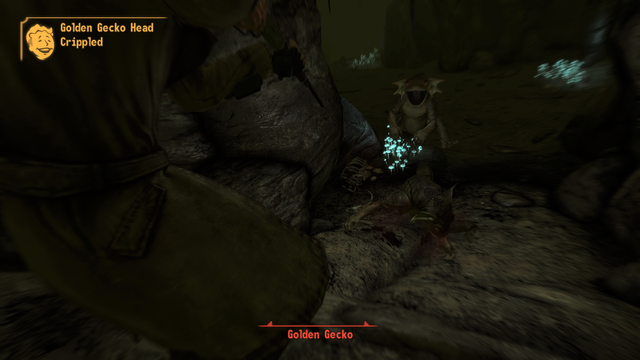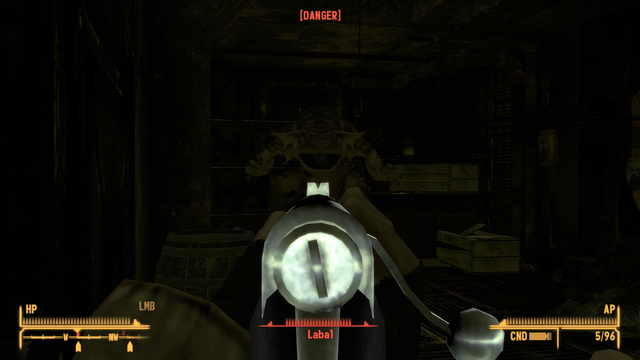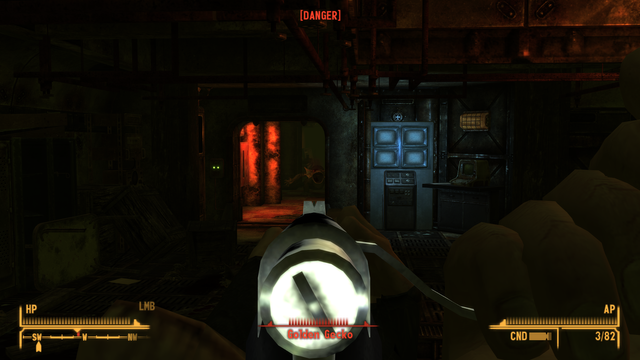 Finding some Powder Gangers to kill
---
Before heading back to Goodsprings to get the well earned rest we see TheGoliathhh heading south for a little, heading towards Primm to find a spot where some Powder Ganger's were chilling. Dynamite was a good choice here with an open area and a few of them to be taken out from this location.
"Bombs away! Suck on this already lit dynamite, you troublesome Powder Gangers!" shouted TheGoliathhh as he threw the dynamite their way, watching them get all messed up from it.
A finally kill was carried out inside the building, the skydiving registration building and disappointment was had that there would be no chance of ever getting to skydive in this wasteland world.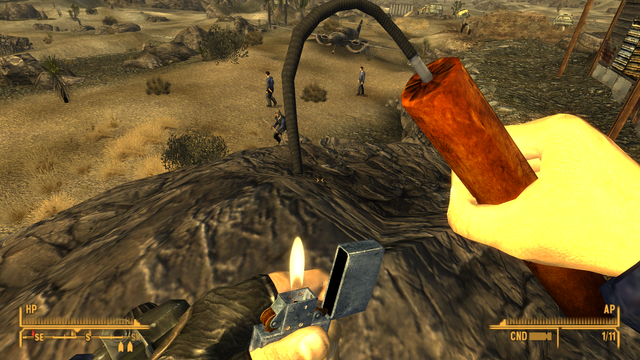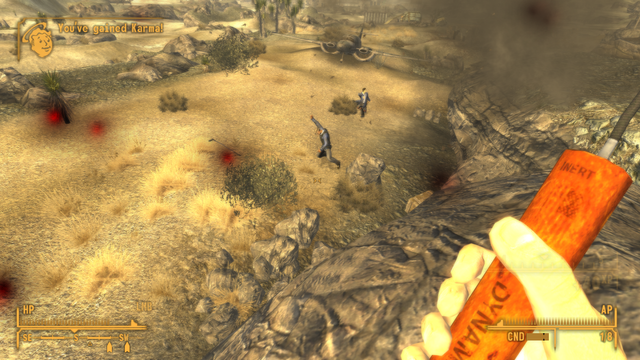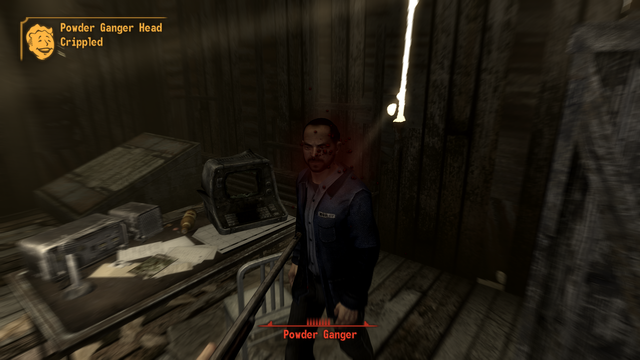 With those locations cleared, enemies defeated, loot obtained and weary eyes, the Guardian of Humanity set off back to Goodsprings once more, to rest and prepare for another day of adventure and exploration.
---
This was part 3 in a series accompanying TheGoliathhh, Guardian of Humanity as he cleared a vault, Devil's Gullet and killed more Powder Ganger's.
Stay tuned for part 4 to see what comes next for our hero.
---
Join the OPGaming community, BattleGames community or SteemAce community to find great gaming content and like-minded gamers at the OPGaming Discord , BattleGames Discord & SteemAce Discord