Back on our feet
---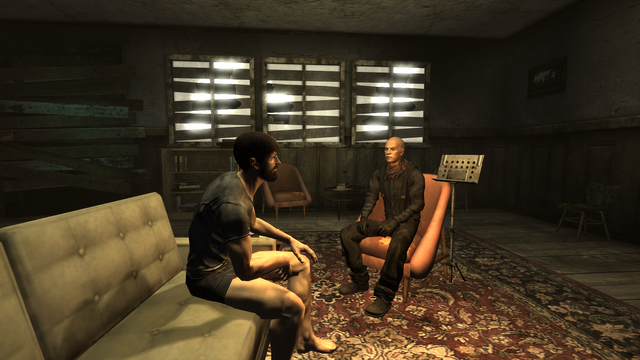 Starting off vanilla but with multiple mods to enhance the game.
After being shot and left for dead the courier known as TheGoliathhh, Guardian of Humanity was rescued and set to rest is Doc Mitchell's house, in Goodsprings. It was tough to know he barely survived but TheGoliathhh talked it out with the Doc, sorted out what he is good at, got some supplies for the journey to come and set out from the house, to find work starting in Goodsprings.
"So Doc Mitchell, how am I doing now you know how I feel? Do you think I can get back on my feet to search for my attackers?"
"Why I believe so young man. You seem to be a lot better now and just need to take it easy when you can, for the first day or two" Doc Mitchell said before walking TheGoliathhh to the door.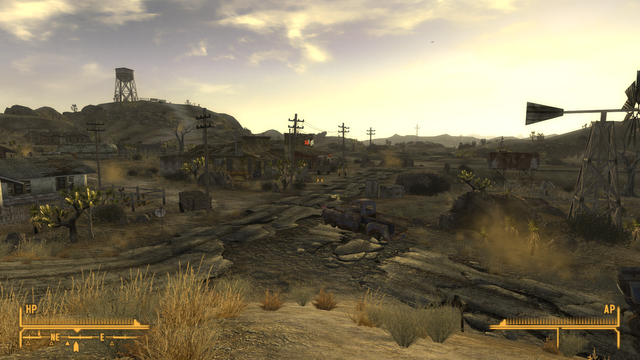 Sunny Smiles was in need of some help to clear the nearby water stations/pumps of the gecko infestation that has taken over the area. For accepting this work was a nickel-plated hunting rifle, some ammo for it and some target practice out the back to prepare and show he was ready.
Killing geckos with the hunting rifle was pretty easy work as the range allowed some damage to be done before they got close. There were a bunch in each area to clear, 2 or 3 and a nice bit of starting work to start earning.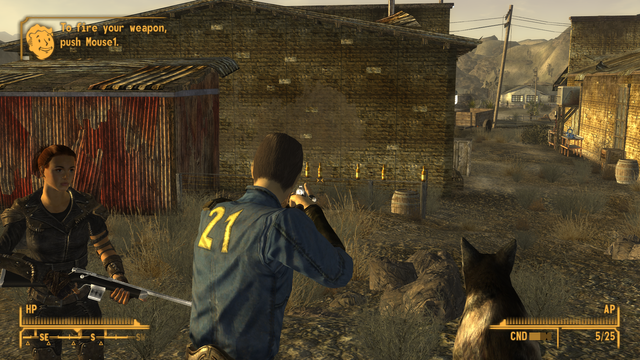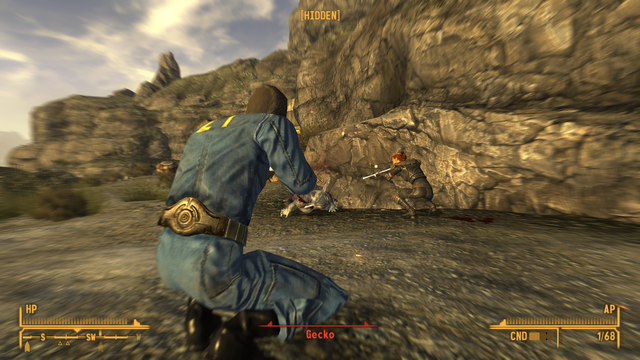 Powder Gangers with fricken laser beams
---
Ringo was hiding out in the Goodsprings gas station as the Powder Gangers were after him and hiding was needed. Normally they are not so bad to fight but they got an upgrade to laser weapons, some of them did, so the fight of the town against them got harder.
TheGoliathhh ran in close while they were distracted shooting at the others and entered VATS to get off some good shots onto one Powder Ganger, before proceeding to take on the rest. It was lucky that multiple people were there to help in the fight due to how many there were to kill off and the hunting rifle isn't the best weapon for this sort of fight.
"Die Powder Gangers and leave these people and Ringo alone, you don't belong here. But I shall take all your belongings as you won't need them after we are done with you!" TheGoliathhh shouted before firing his weapon.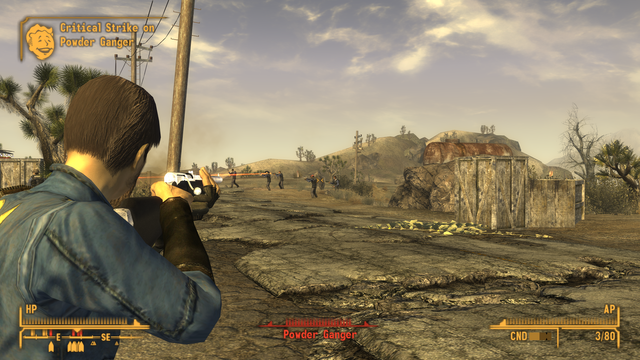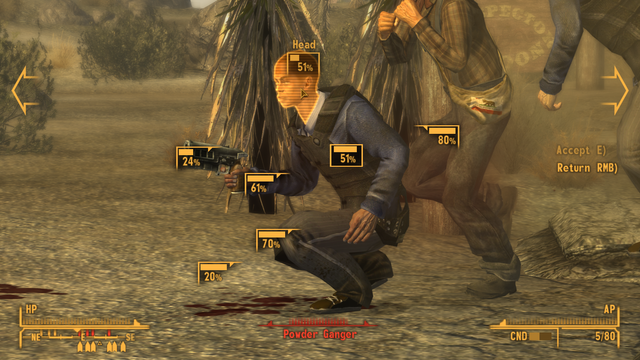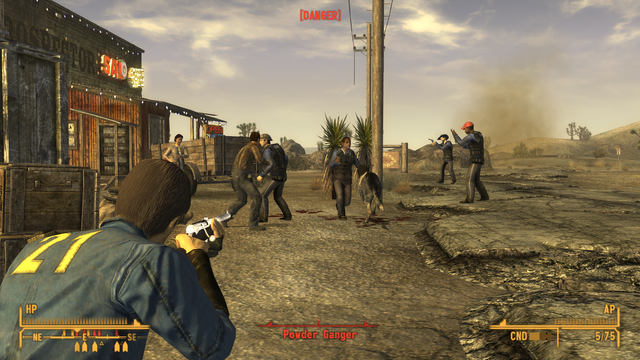 After the fighting was over and multiple dead bodies lay in the main street of Goodsprings, TheGoliathhh started looting while checking over who from his side had been killed. Cheyenne the dog of Sunny Smiles and also Trudy were two of the main deaths. On the plus side, the was some good loot for our Guardian of Humanity, including multiple weapons and ammo for them which he could use on the next steps in his journey to find those responsible for almost killing him.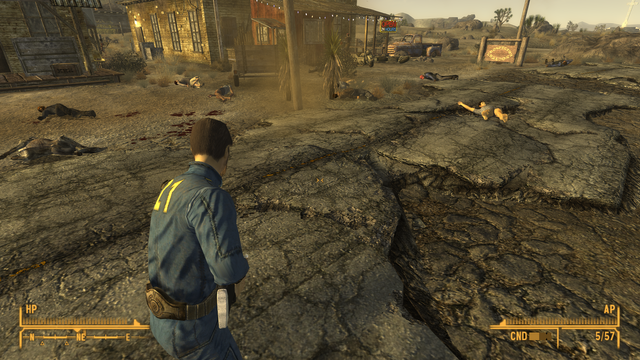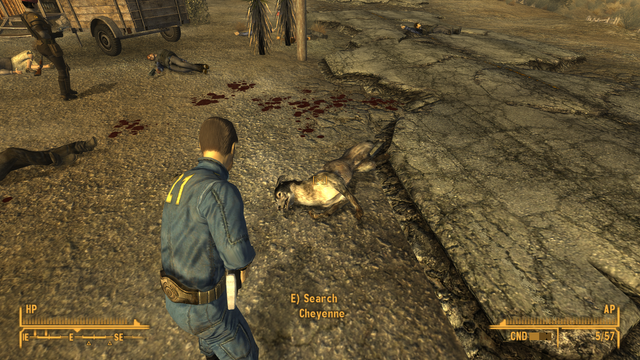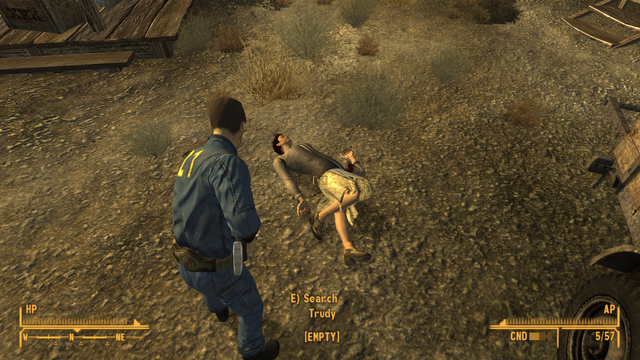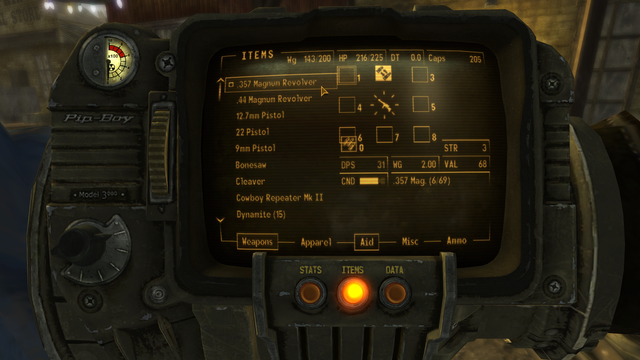 ---
This was part 1 in a series accompanying TheGoliathhh, Guardian of Humanity
Stay tuned for part 2 to see what comes next for our hero.
---
Join the OPGaming community, BattleGames community or SteemAce community to find great gaming content and like-minded gamers at the OPGaming Discord , BattleGames Discord & SteemAce Discord