A Genocidal Maniac
---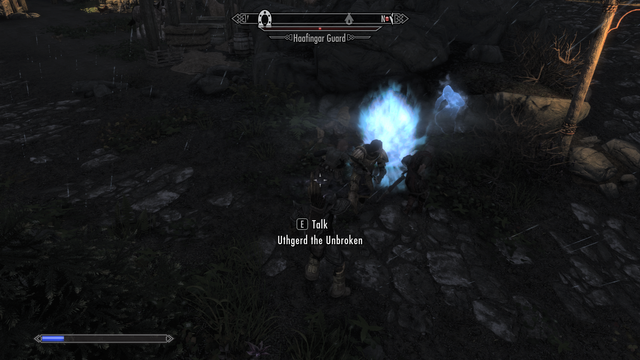 Returning back to where his Outlaw ways began, we see Rothgar traveling to Katla's Farm and the Solitude area i.e. Haafingar, where he had a big bounty on his head. This return was immediately greeted by a guard wanting to take him in, just like at Dragon's Bridge and just like that time, the guard perished. Not only were the people to be slain but the livestock as well so rebuilding is not possible or at least not by themselves.
Pigs and horses and all livestock were slain. The few buildings there were entered with the occupants mercilessly slaughtered by Rothgar, Outlaw of Death with no care in the world while he did it and the bounty started to rise once more, on his head.
"Nothing like the smell of death and decay in the air. The fear spreading constantly throughout the land and the destruction of a civilisation" Rothgar said before smirking.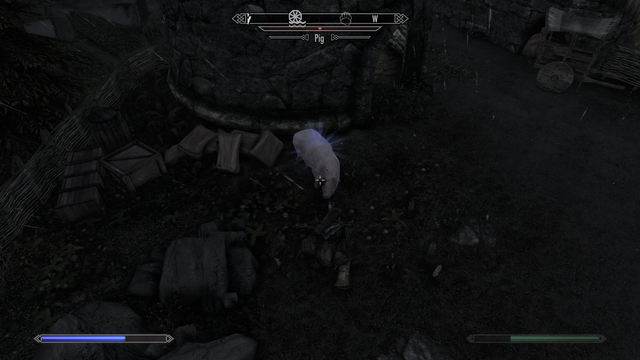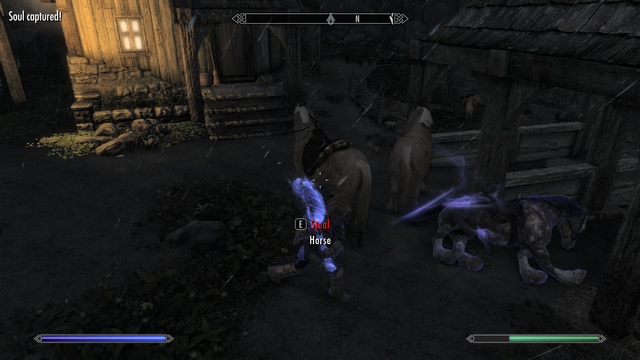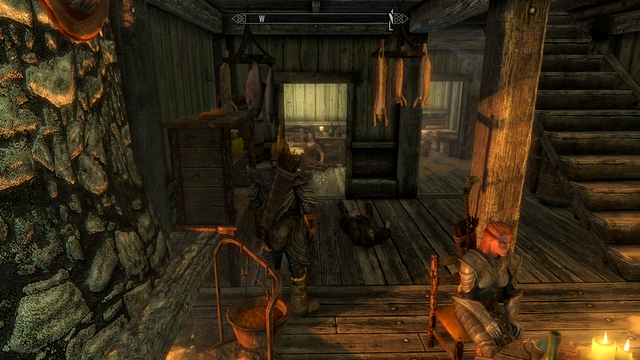 Moving up the path from Katla's Farm and towards Solitude we see our hero finding easy targets to cut down including some guards trying to protect the town. They knew who was coming for them but as a guard, it is their duty to protect the townsfolk from threats like Rothgar.
"FEAR ME!!! You will not live to see tomorrow so give up now!" Shouted Rothgar in a sprint towards the guards.
"Back away now or we shall take you down, you scum!" said a scared guard heading towards The Outlaw of Death.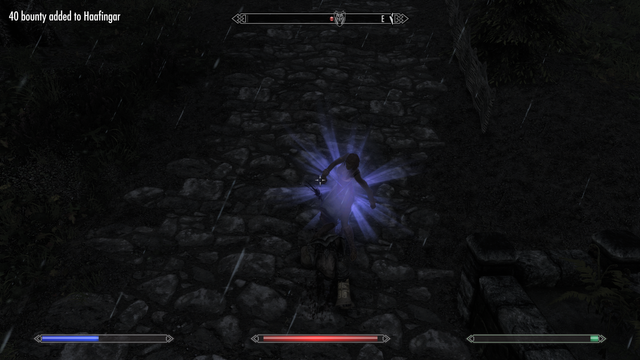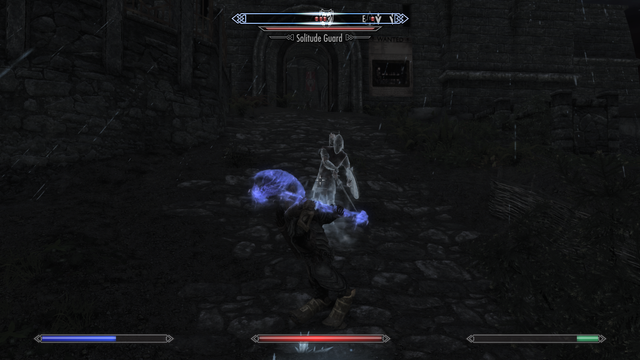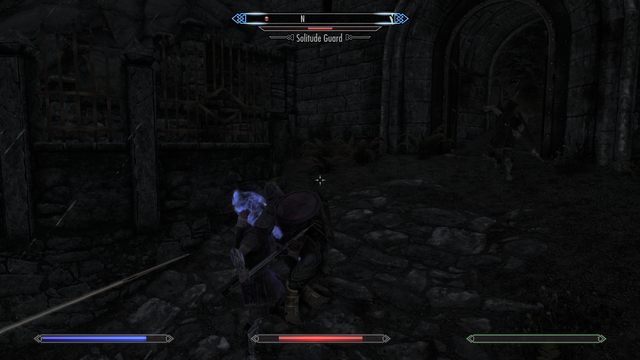 After slicing through the guards the was a smile on Rothgar's face as he ran up to the open gates of Solitude and ran inside. Lots of people filled the streets and soon those streets will be filled with bodies which with some quick attacks from him and his companions, it was quickly accomplished.
"Okay let's do this. We are all in it together and this is what you were paid to do, I know you have warmed up to the killing now" he said to his companions while they barged into the streets of Solitude.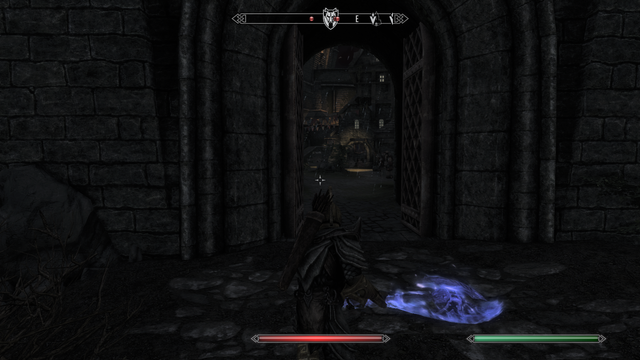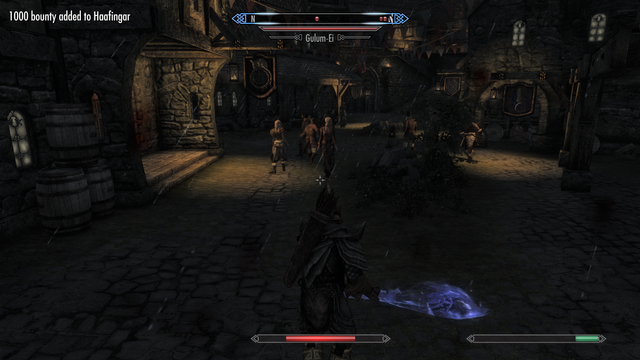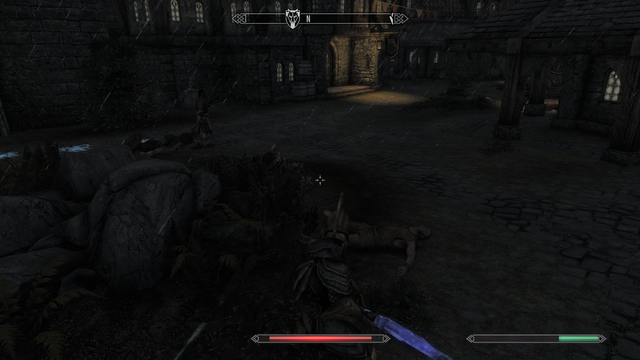 More guards came to stop the genocide from continuing, Imperial Soldiers, ones that realised they were about to become a part of those killed in the very genocide, they were trying to stop. Rothgar and companions were all having a lot of fun causing all this bloodshed and pain, sending shockwaves throughout the land of Skyrim and simply becoming the most feared band of Outlaws to have ever existed.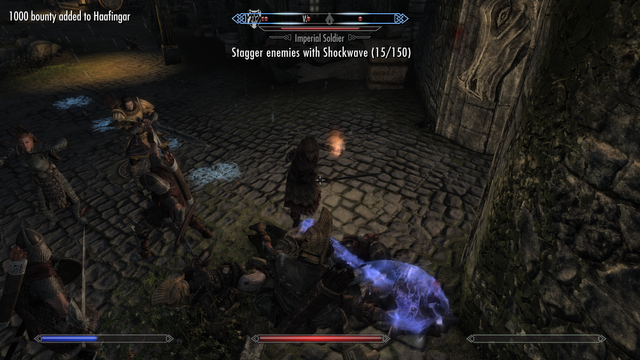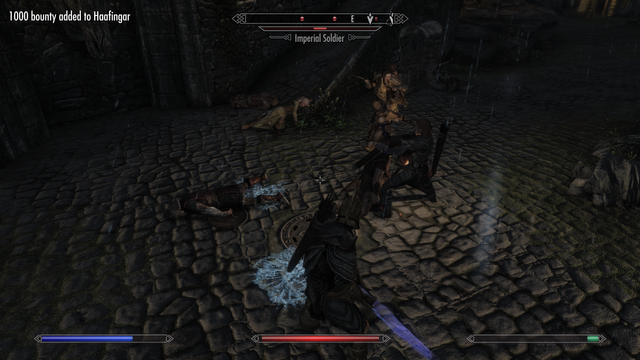 It was calm in the night with the inner buildings of Solitude to clear out like the castle. So a need to check the bounty he has on his head and all of the committed crimes was done. The total bounty just for Haafingar had reached 31040 gold which is the highest ever accomplished, plus his crimes had gotten to 36 for assaults and murders. This was enjoyed in the sights of a calm, lifeless sort of town which is what Solitude looked to be right now.
"We have done it and become so feared with such a massive bounty and high murder rate just from people in towns and on the road. Add in all these guards and you will be getting closer to double the murder rate!"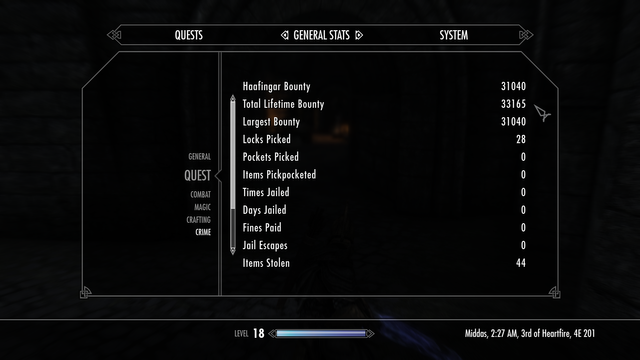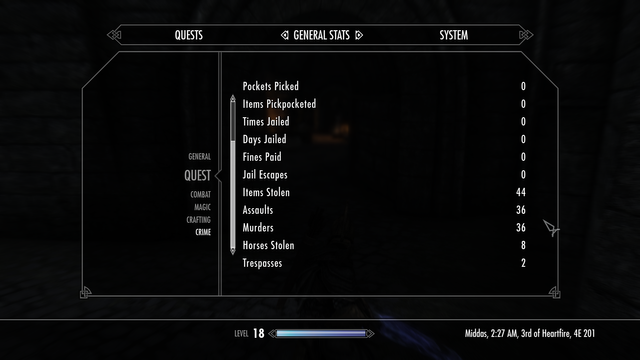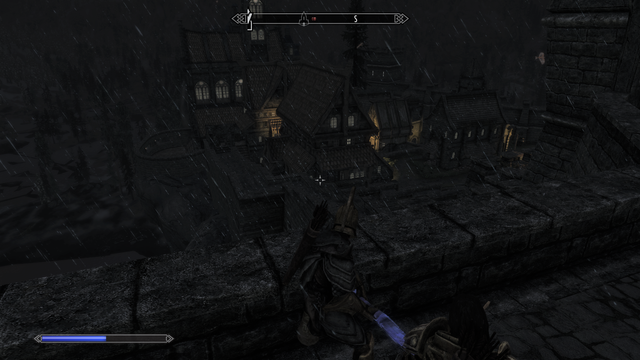 Castle Dour was the next stop in this genocidal rampage which had some tougher characters which at least put up a decent fight, before being taken out. General Tullius and his second in command Legate Rikke got into a mass fight against Rothgar and companions, seeing blood shed on the castle's floor. This was the main thing left to clear with sights set on the final place, The Blue Palace which had the Jarl and others residing in.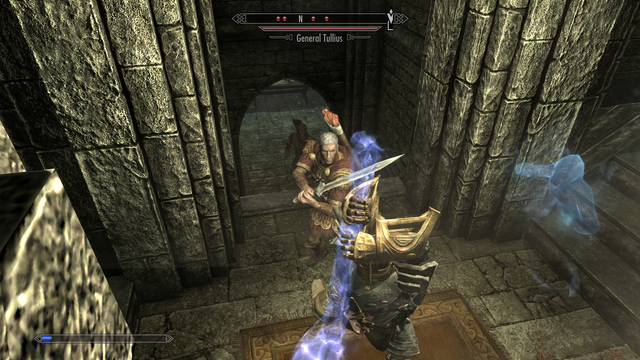 Not only were enemies in the upper floors but also the dungeon where prisoners were being taken to and from their cells, ones that had to be freed with some getting some of the guard weapons from corpses brought by Rothgar.
"You are free now so you can run or you can help me fight to take out this filth who captured and tortured you."
"I have no weapon so I shall do an inspiring dance for you to cheer you on as you kill this scum off" the prisoner announced.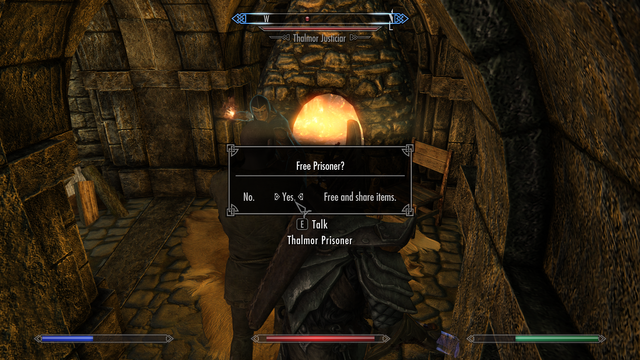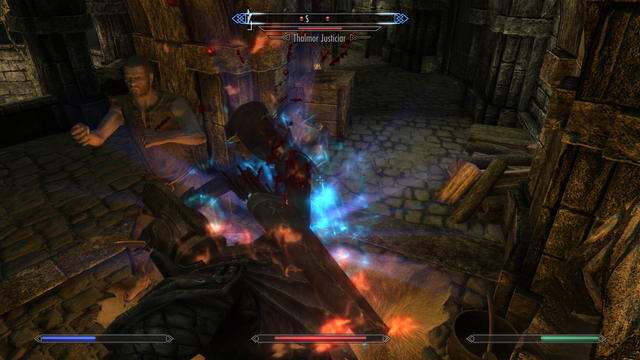 A quick stop off in a house before The Blue Palace to slay some people for some fun.
"I think you dropped this, here, take a closer look. You won't be happy with it though" said Rothgar as his conjured battleaxe came back before it hit Vittoria Vici in the face.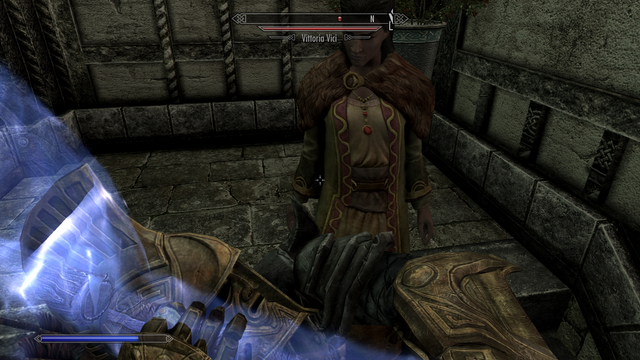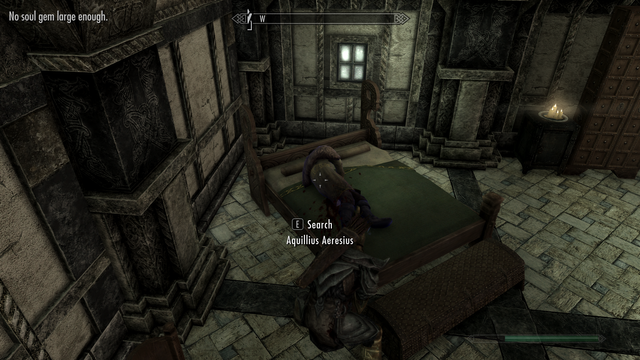 Upon entering The Blue Palace the guards inside went straight to kill mode to hurt The Outlaw of Death in an attempt to stop him as same as a couple of people, once they worked up a bit of courage. Yet like all before them they couldn't do a thing to claim the bounty or slay him who is impossible to slay. The Jarl tried to play fists against axe but who knows why, she was a silly person to try it.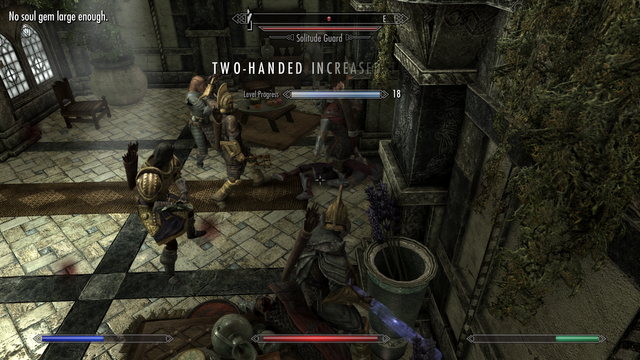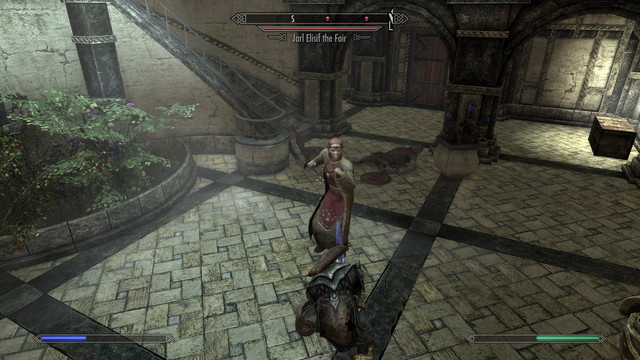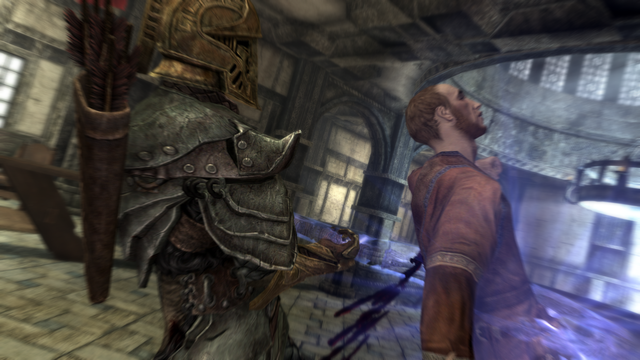 Finally after these two guards that popped in, after all this hard work, all this killing, fear and pain it is finally over. Rothgar, Outlaw of Death has taken his claim to the Skyrim land as the most feared, merciless, evil person to exist. Bodies lay everywhere, throughout Haafingar in the town of Solitude and in Katla's Farm.
"Ah at long last my friends we have done it and we can rest easy now. This journey has come to the end of its path and I think we should just spend some time in a remote location sometime soon. Just take it easy and find occasional times to go out to explore and loot. The killing will only be when we need to now."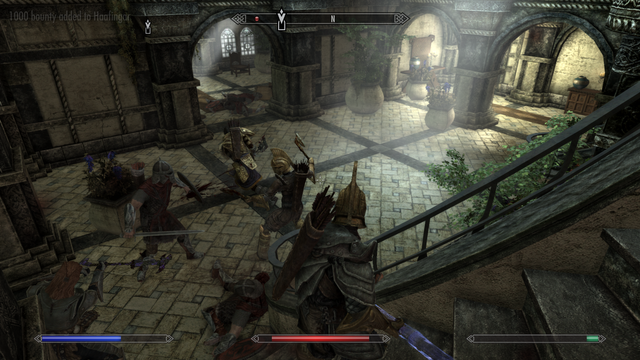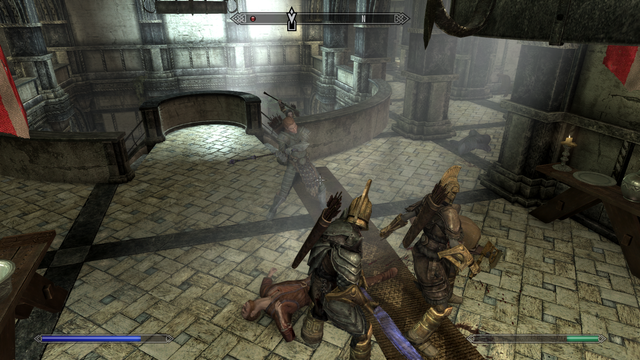 ---
This was the finale in a series accompanying Rothgar the Outlaw of Death to head back to Solitude and surroundings to cause genocide on their people.
It has been a long but enjoyable journey with so much killing going on.
But have no fear as you can catch my new character series, on Fallout: New Vegas at TheGoliathhh, Guardian of Humanity to follow along with how that series unfolds!
---
Join the OPGaming community, BattleGames community or SteemAce community to find great gaming content and like-minded gamers at the OPGaming Discord , BattleGames Discord & SteemAce Discord