White deck with angels and life gain shouldn't be left to scale
---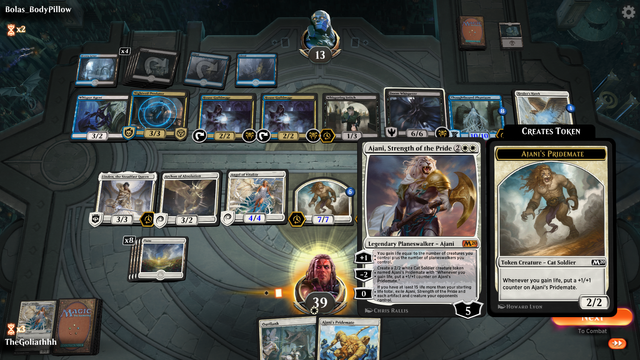 I recently have been smashing out the matches using my white angel life gain deck, including jumping into ranked last night and this morning, but yesterday I had a normal match which was a stalemate until I scaled up my life.
My Ajani planeswalker is helpful to both gain life per creature you and planeswalker you control, while being able to summon Ajani's Pridemate which is a deadly card when scaling up. So we were both waiting for the best time to attack while I kept previously attacking with a few cards, before the board was more full like it has become here. My Steadfast Queen provides 1 life per attacking white creature and had seen a nice chunk of life gained earlier on. Angel of Vitality means when you gain life, you gain that + 1 more and my Pridemates would keep getting +1/+1 each time.
I was left to scale so I could hit the 15 life above the normal 20 and I got to perform my planeswalkers final move, to exile him and wiping the opponent's board of creatures, oh the glorious tears he would've let weep!!!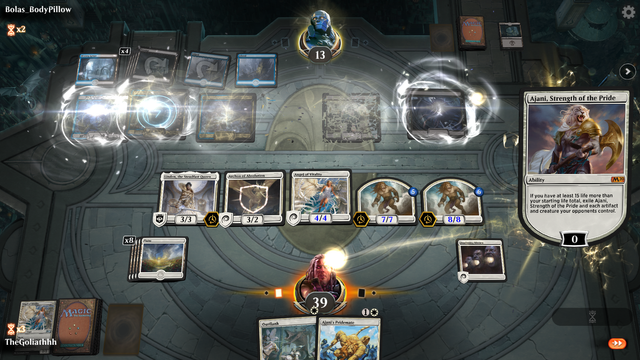 This then provided me with an open board and a big damage output to end the last 13 life my opponent had and finish the match. Now they put up a good fight and got me down lower in life, earlier in the match so I did start to think I could lose it, until of course, I got my scaling going and just blew through the turns until I could end it.
He was lucky I didn't have my Angelic Guardian, when each attacking creature gains indestructible, so damage also wouldn't destroy them from battle. Or my God-Eternal Oketra, with double strike and whenever I bring out a creature, I summon a 4/4 zombie creature token. Such deadly cards in this deck!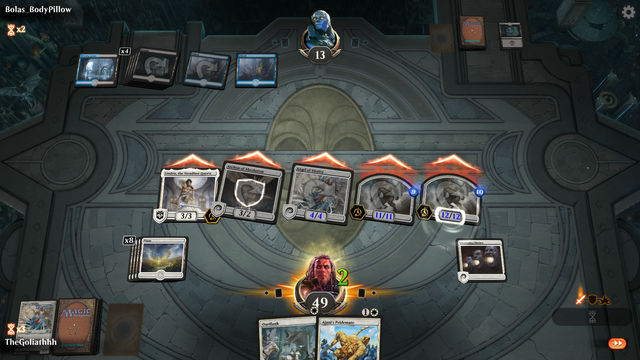 An example of some of the other creatures in play can be seen from another recent match where the poor opponent with a blue/white deck, just couldn't do anything to stop the onslaught and complete destruction to befall them.
You see some deadly cards out in play in this match from my God-Eternal Oketra, to Angelic Guardian, my Steadfast Queen and others too. Going full out attack and no blockers takes the 21 life, down to -18 life and this is without having Ajani's Pridemate there, who would've gained +7/+7 and jumped right up.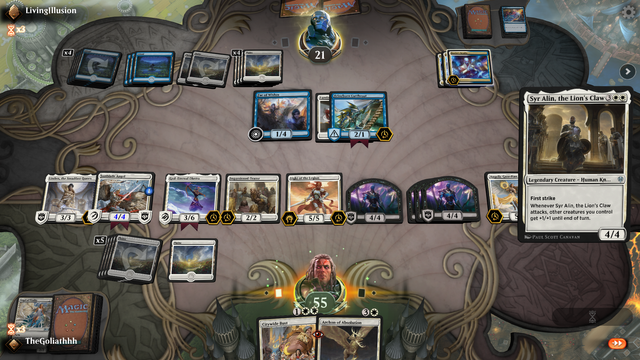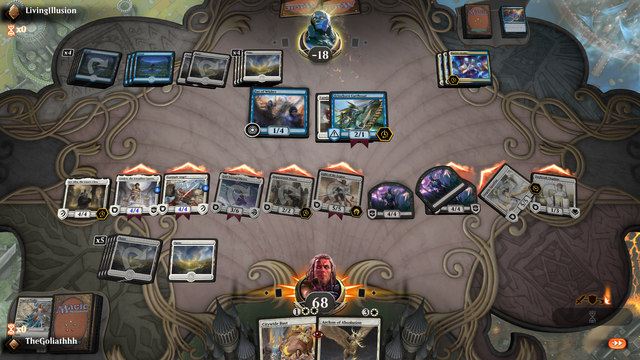 By far, this is my favourite deck at this moment. Old decks that I had to delete due to being unusable with updates over the year, means my old favourites are not present, but I am working up the decks to get a nice selection of quality varieties to use.
---
Join the OPGaming community, BattleGames community or SteemAce community to find great gaming content and like-minded gamers at the OPGaming Discord , BattleGames Discord & SteemAce Discord