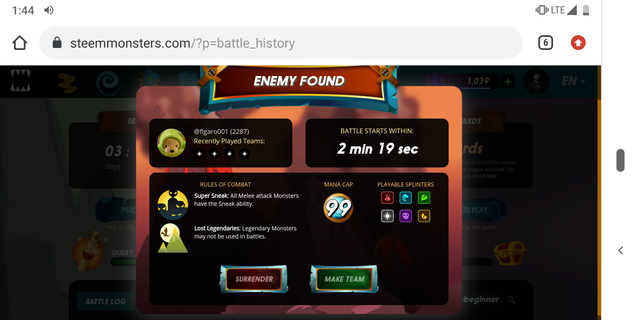 My past few posts have all been just about Steem Monsters. That itself should explain how engrossed I am with Steem and Steem Monsters. If you haven't tried already do give it a try. It is an interesting game powers by the Steem blockchain.
For those who already play SM, here are 2 ruleset ideas I have. Please let me know which one of the below sounds more interesting.
Exchange buffs or debuffs:
In this one I propose that the buffs or debuffs which are provided by a summoner should be exchanged. i.e. If I use Natura Lyanna it typically adds a life to each of my summoned monsters. In this ruleset it should add life to the opponent's summoner ers. Also if the opponent choses the Malric Inferno it ideally adds a mele attack to all summoned mele attack monsters. Instead it should do it for the opponents.
Inverse buffs or debuffs:
In this ruleset I propose an inverse buff or debuff. If I chose Malric Inferno and the opponent choses Alric Stormbringer then ideally it adds a mele attack to friendly summoners and adds a magic attack to opponents summoners. Instead it should reduce mele attack of friendly summoners and reduce a magic attack of opponents summoners.
Please share your thoughts in the comments below. I want to tag @clove71, @zaku, @rentmoney so that they can evaluate this suggestion and help reach the right person if it makes sense. Thinking about the double ruleset scenarios in Gold and higher leagues, these would make the permutation combinations even more interesting.
Posted using Partiko Android