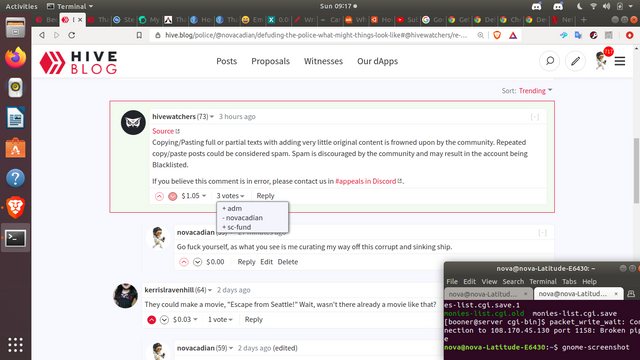 Who are these ass wipes to threaten and bully? Part of the V.22.2 Cabal of course.
Please note how these dick wipes self voted their own comment. Well not exactly a self vote so much as they use the same technique used so often by the V.22.2 Cabal, be it their comments or witness circle jerking voting.
Wake up to the scam folks and turn that powered down STEEM into something that is not heading to dust. BTC for example. Where do you think the HIVE is coming from that you are buying? From the token grinding circle jerking top of the pyramid of this scam; the V.22.2 Cabal.
You are invited to look at the post in question to get your own opinion of if it was somehow offensive or informative.
https://hive.blog/police/@novacadian/defuding-the-police-what-might-things-look-like