---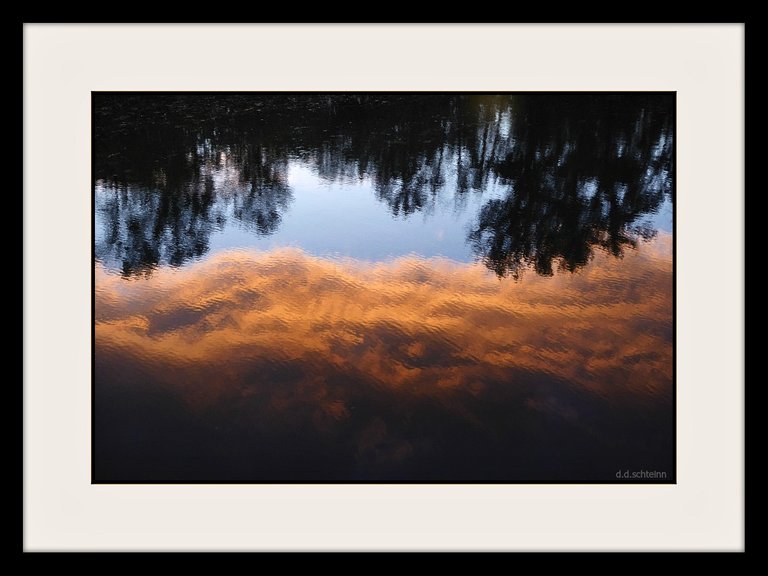 Rêve rêveur au bord de l'eau
(Wistful Dreaming By Water's Edge)
---
---
"If Only I Could Speak French..."
...and be famous, and be an Impressionist. Oh, and paint. Ah, the larger than life dreams of said-such life. But we cannot all speak a cool, artsy language, and have talents that rival the old French masters. But we CAN buy a camera. With as much 'free film' as one could ask for. Or at least until the card gets full.
And we ALL have impressions, concerning the wonders we see around us every day. So, why not? It's the same thing, at least in my book. And since I cannot paint worth a hoot, unless it's the side of the garage, DO own a camera, and have been called highly impressionable at times...maybe these lofty dreams are not that far out of reach. In this world of the finer arts.
Onward, To My Impressions
The images you see below were all taken on an evening bike ride along the river bike path. The wind was rippling the water quite nicely, as were some of the local floating wildlife, and the visual imagery and artistic action was stunningly spectacular. OK, I suppose I get a bit carried away by the nift of it all. But it WAS pretty cool.
The trees, clouds and waning light of the evening sky reflected on the waters, and as the waves gently moved across my viewfinder, the imagery reminded me of the Impressionist paintings I've seen on museum walls in MoMA, the Smithsonian and other fine art galleries of the world. I was Impressed.
So, WITH further ado, peruse on, into the burgeoning world of the American Digital Impressionist Movement.
---
---
~ § ~
---
---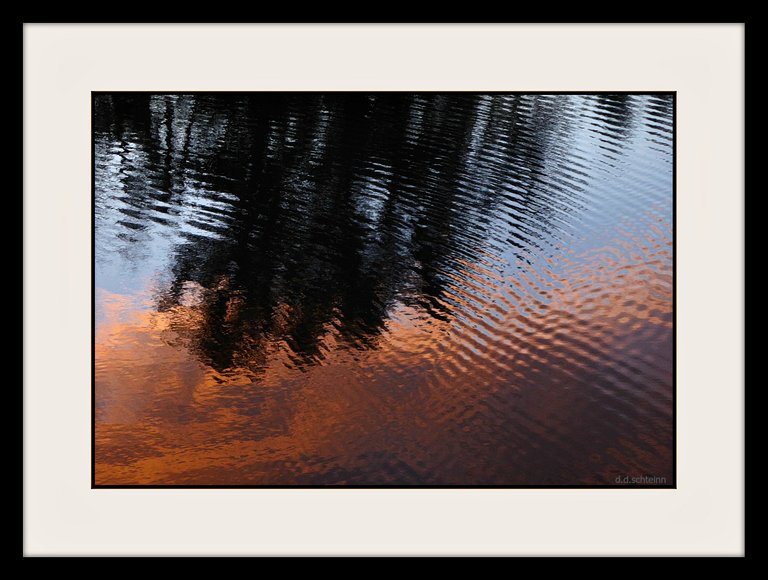 Des géants touffus à la lumière déclinante
(Clumpy Giants In Waning Light)
---
---
~ § ~
---
---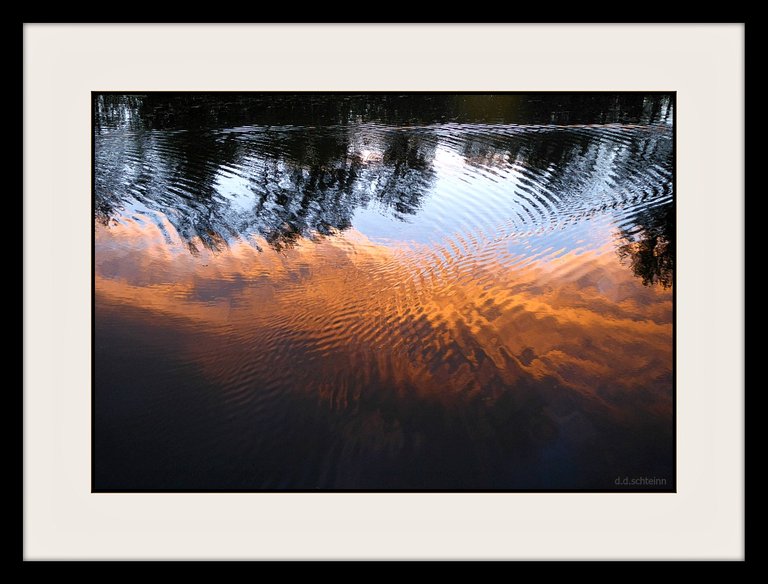 Canards colvert sur toile aqueuse
(Mallard Tracks Upon Watery Canvas)
---
---
~ § ~
---
---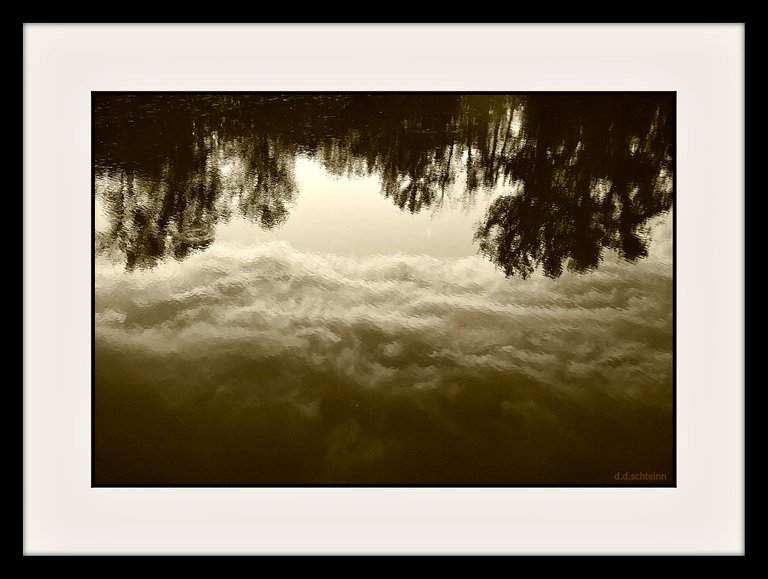 Rêve rêveur au bord de l'eau - À travers des lunettes impressionnistes françaises de couleurs sépia
(Wistful Dreaming By Water's Edge-Through Sepia Colored French Impressionist Glasses)
---
---
~ § ~
---
---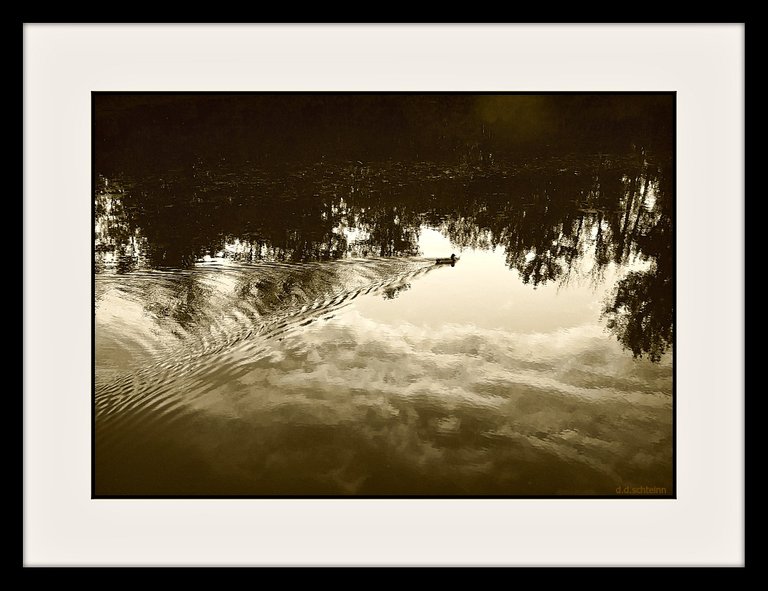 Canards colvert sur toile aqueuse - À travers des lunettes impressionnistes françaises de couleurs sépia
(Mallard Tracks Upon Watery Canvas - Through Sepia Colored French Impressionist Glasses)
---
---
~ § ~
---
---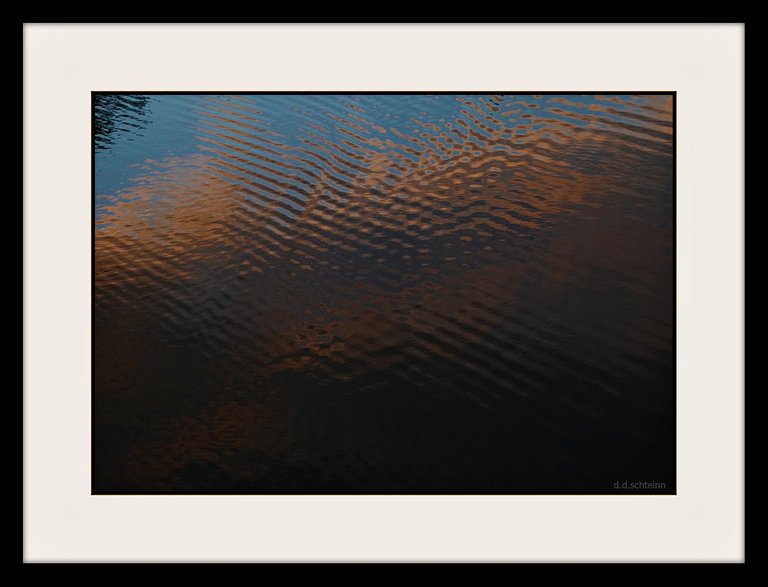 Impressionniste Français - Enfoncer le déclencheur à un mauvais moment
(French Impressionist - Pushing Shutter Button At Wrong Time)
---
---
~ § ~
---
---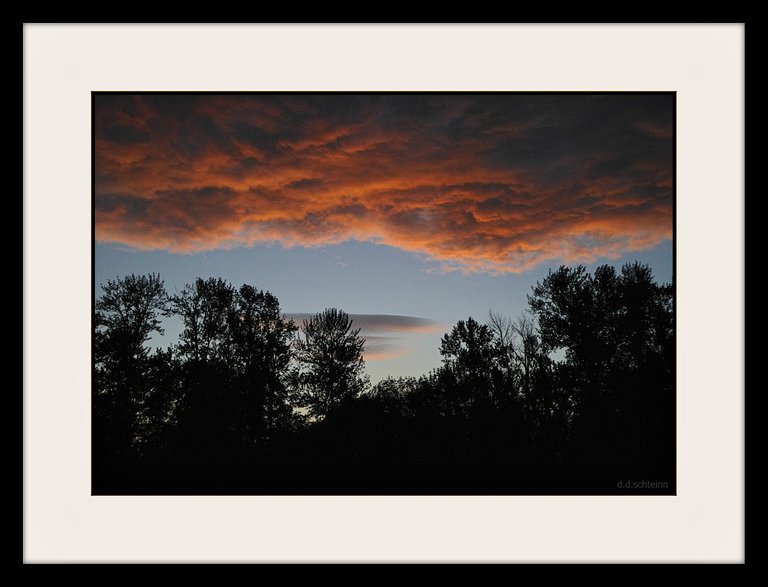 La vraie vie toujours la vie - Sans aqueux reflet de l'impressionnisme
(Real Life Still Life - Without Watery Reflection Of Impressionism)
oo
~ Finto ~
---
---
( :
---
---
Author's Note: I realized after putting this out, I didn't say all that much about trees. And since this IS a Tree Tuesday post, I have included a short poem below, in deference to these 'missing' trees. It just seems like the right thing to do. Plus, Google translate said I could. Cheers to more trees.
---
---
Ode Numérique aux Arbres Aquatiques
Je pense que je ne verrai jamais,
un poème aussi beau qu'un arbre.
Et des arbres, dans ce ruisseau?
De quelle vue, je viens de prendre?
Je souhaite que je pourrais prendre stylo,
et de telles lignes, zen poétique.
Mais toute cette rime, cette poésie,
n'est pas en place, au fond de moi.
Ces lignes bardes, si grandes, ravies,
Doit sortir de moi, tout pixelisé.
-dds
---
---
Translated To English
Thank you, Joyce Kilmer, for the first two lines of my 'poem'.
---
---
Digital Ode To Watery Trees
I think that I shall never see,
a poem as lovely as a tree.
And of trees, in yonder brook?
Of whose view, I just took?
I wish that I could take up pen,
and coin such lines, poetic zen.
But all this rhyme, this poetry,
is not in place, deep down in me.
Those bard-ish lines, so grand, elated,
Shall spring from me, all pixel-ated.
-dds
---
---
---
Author's Note²: I deeply apologize to anyone from the French speaking countries, if I've bludgeoned your lovely language to smithereens in the above translations. You may blame Google Translate and the interpreter (moi), if I have made a mess of things. (If anyone out there DOES know the true translations, as they 'should be', I'd LOVE to hear about it. And change it to proper correctness. Thank you.

---
---
Thanks for stopping in and viewing Tree Tuesday through French Impressionist wannabe eyes. If you have any thoughts about trees, trees in different visual form, French Impressionist paintings and photography, paddling ducks making waves across your images, or anything else this post reminds you of, please feel free to comment away in the spaces below. I'd love to hear from you.
---
---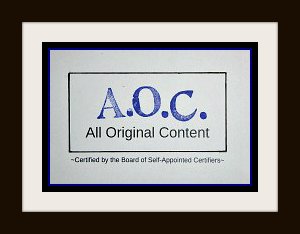 ---
---
Please UPVOTE, COMMENT and FOLLOW if you enjoy my works.
And go to @ddschteinn -- There's a whole lot more...
Posted: 07/16/2019 @ 14:30 ~ Post No. 321
---
---

---
Excerpts From Late-Night Conversations With A Mechanical Cat
Fact Number 156
---